New Cars on the Block
Experimenting with technologies that will power and guide the vehicles of the future
By David Brazy, Andrea Poet, and David Staudacher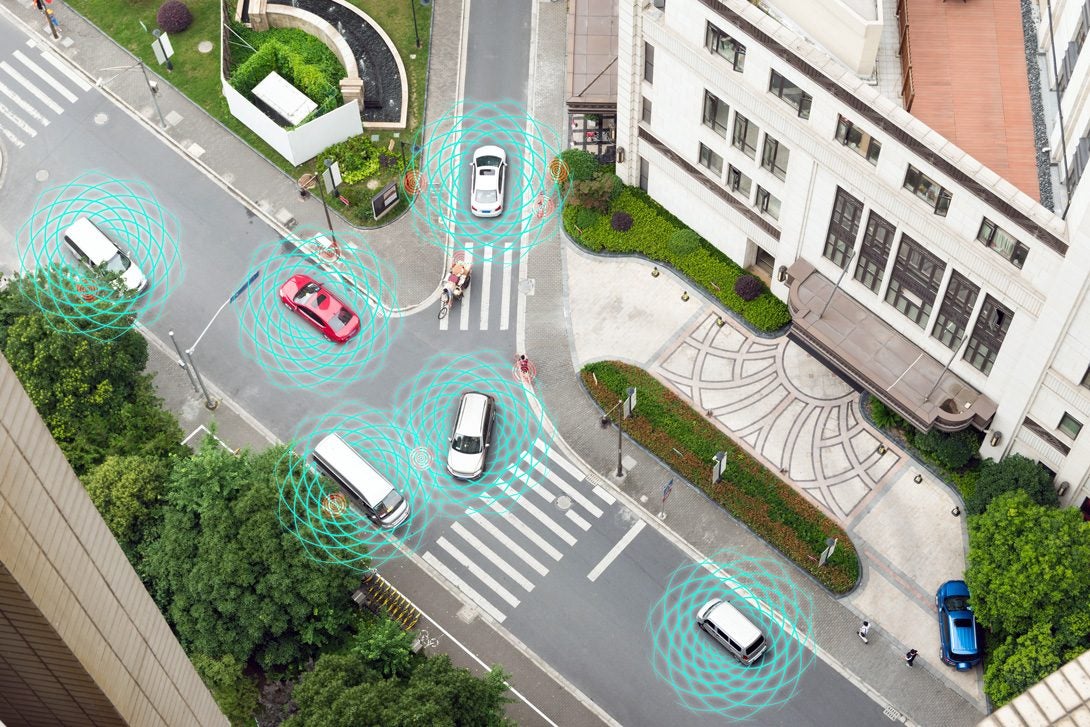 It's no secret that the auto industry faces some major changes, among them one prediction widely endorsed by experts: that the internal combustion engine will completely disappear in the next 30 years. Gradually, electric and self-driving cars are paving the way for new forms of mobility. To stay on top of these trends, UIC Engineering students are experimenting with technologies that will power and guide the vehicles of the future.
A crash course in autonomous vehicles
Tech companies and auto-industry stalwarts are collaborating and competing to bring self-driving cars to market, each hoping to shape the nascent industry. At UIC Engineering, 60 graduate students took a spring 2019 course in autonomous vehicles (AVs), examining all the major issues relating to their development and eventual widespread implementation.
Due to overwhelming interest in the subject, students were selected to participate via a lottery.
"Who wouldn't want to take this course?" said Akshay Sachdeva, who is pursuing a master's degree in electrical and computer engineering. "It's a fantasy for us."
This is one of the first multidisciplinary AV courses offered by a Chicago-area university and the first of a number of cross-area projects being developed by the College of Engineering.
The class features 15 guest lecturers and is coordinated by four core faculty members. It covers some topics one might expect in an engineering course on AV design—power consumption, computer vision, and signal processing—and others that one might not expect, such as public policy, philosophy, and ethics in human-machine systems.
"We have to realize that as well as we write code or as well as a program works, it's very important to consider that this has an impact on people."

MS student in mechanical engineering

|
Peter Lauer, who is pursuing a master's degree in civil engineering, works at a nonprofit shared-use mobility center. He is curious about the effects of AVs on pedestrians and on other transportation choices.
"Are cities declining to invest in other transit sources due to the potential for AVs? I wanted to understand more on the technical side," Lauer said.
The college is continuing the course and plans to expand the AV program.
"We want the course to turn into a master's-level concentration or certificate program," said Milos Zefran, professor and director of graduate studies for the electrical and computer engineering department. "There is quite a lot of interest from industry in this specialty, [and] we are well-positioned in that Chicago is a transportation hub."
Engineering batteries
The global market for lead-acid batteries is projected to reach $80 billion by 2026, according to Transparency Market Research. Intrigued by this growing market, UIC Engineering students are learning the ins and outs of this electric fuel source by engineering a battery of their own.
The students are members of the Chem-E Car team, the chemical engineering department's newest student organization.
This year, the team built a custom-designed, rechargeable 4.4-volt lead-acid battery. It's similar to a battery found in cars such as the Toyota Corolla or the Ford Fusion hybrids, only on a smaller scale. Composed of two cells of two lead plates each, this type of battery creates energy using the reactions between the acid and the chemical bonds that hold together water molecules. Now that the battery is done, it powers a shoebox-sized car for competitions run by the American Institute of Chemical Engineers.
"The [students] had to understand the electrochemistry, how lead-acid batteries work, and the chemical reaction used to create the power," said Meenesh R. Singh, their faculty advisor and an assistant professor in chemical engineering.
"There has been a lot of learning on the spot," said James Fell, one of the team members who helped with the trial-and-error phase of the build cycle. "I went through a lot of research that did not tell us how to build a lead-acid battery, just how the battery works. So, we had to kind of come up with a recipe."
He and teammate William Rawson found inspiration in the kitchen. They used a meat tenderizer to punch holes into the lead plates to increase their surface area, leading to a much higher current than other methods they tried.
Exercising ingenuity is one of the many ways in which Fell, Rawson, and the other students on the team agreed they have gained invaluable experience by challenging themselves to build more environmentally friendly vehicle technology.
Not only that, they've earned a spot at the national competition that takes place this November in Orlando, Florida.
Formula racing without the oil changes
If it seems like you see more electric vehicles on the roads and more charging stations in parking lots, you aren't imagining things. Manufacturer investment, less expensive and more technologically advanced batteries, and consumer demand have led to a greater selection of electric vehicles at a wider range of price points. It's causing a shift in the industry.
Recognizing this shift, a group of UIC Engineering students started a new organization called Vehicle Electronics and System Engineering, or VESE, to design and build the university's first electric Formula 1 racecar—and to prepare themselves for careers in the field.
Amru Qutub, an undergraduate electrical engineering student and the president of VESE, says the beauty of the electric Formula 1 car is that it requires interdisciplinary skills: "It is based on electrical systems, but there are mechanical components that have to be built like any other race car."
VESE students take a build-from-scratch approach to all of the car's standard subsystems—body structure, frame, suspension, steering, and brakes—as well as its electrical components, including a motor, accumulator, and accelerator-pedal position sensor. As a result, they are immersed in the entire development process, from researching and modeling parts to validating and manufacturing them.
The team is gearing up to participate in a competition sanctioned by the national Society of Automotive Engineers, called the Formula SAE Electric, in spring 2021. The contest has attracted attention from universities all over the United States, growing from nine entrants to 23 since its inception in 2013. Soon it will include UIC, as our students test their all-electric vehicle in acceleration, skid pad, autocross, endurance, and efficiency events.
"This will be an exciting opportunity for students of all skill levels to push themselves. We will do the whole product development cycle—and not that many people get to do that. It's a very unique experience, and I think it will be fun."

Undergraduate student in mechanical engineering and VESE member

|