Engineering Innovation Building
The new 57,500 square-foot Engineering Innovation Building adds depth and breadth to the range of engineering facilities at UIC. It houses engineers who are investigating phenomena on a scale from the very large—bridge and highway components—to the exceedingly small, such as nanoscale components that will drive the next generation of thermal batteries.
The building's primary residents are the chemical engineering department, which finally joins the college's other five departments on UIC's east campus, and the civil and materials engineering department, which oversees the High-Bay Structures Laboratory.
The $43 million structure at the corner of Morgan and Taylor Streets highlights UIC's investment in its rapidly growing engineering programs. Enrollment at the College of Engineering has almost doubled in the last 10 years to more than 5,000 students.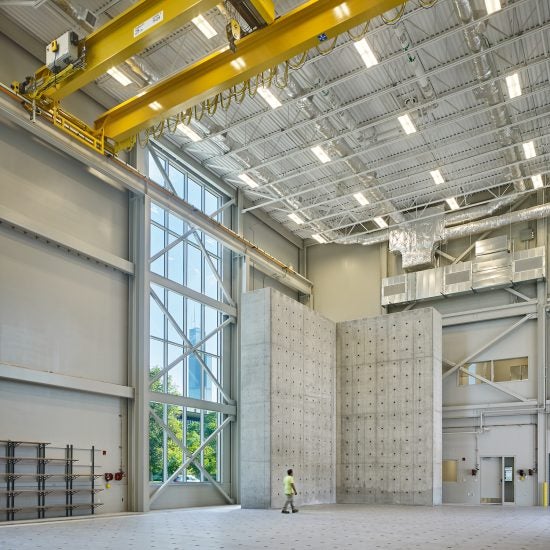 High-Bay Structures Laboratory
The Engineering Innovation Building is home to the High-Bay Structures Laboratory, which enables engineers and industry professionals to develop and test large and heavy infrastructural components. Here, researchers and government agencies are able to develop and test large-scale structural components and determine how they behave under various loads and conditions.
Learn more about the lab
Pete quote
The UIC College of Engineering is well on its way to becoming a top-five public, urban engineering college, and the new Engineering Innovation Building represents another big step in that direction. It enables us to offer our students unique opportunities to learn in a state-of-the-art space that also will support Illinois companies that are eager to hire our students.

Dean, College of Engineering

|
The Engineering Innovation Building in Photos
Vikas quote
We are addressing the world's water and energy crises via our research in membrane purification, artificial photosynthesis, molecular photovoltaics, thermal batteries, and fuel cells. We also are leading the work on drug delivery, cancer detection, biocompatible surfaces, complex fluids, 3D printing, and nanoelectronics. The department has world-class talent, and now it has world-class facilities.

Department Head, Chemical Engineering

|