Engineering Experience Camp
Our next camp experience will be held in summer 2022!
To safeguard the health and safety of the families that participate in our UIC Engineering Experience Camp, we have opted not to run our camp in summer 2021. Online instruction, which is still the dominant mode during the pandemic, would not allow for the hands-on experiences and teamwork that are hallmarks of our camp.
We plan to return with a bigger and better camp experience in summer 2022 that incorporates activities and experiences from all six UIC Engineering departments, so please bookmark this space and watch this page for updates. Thank you for your support of the UIC Engineering Experience Camp, and we hope to see you on campus in the future!
Camp format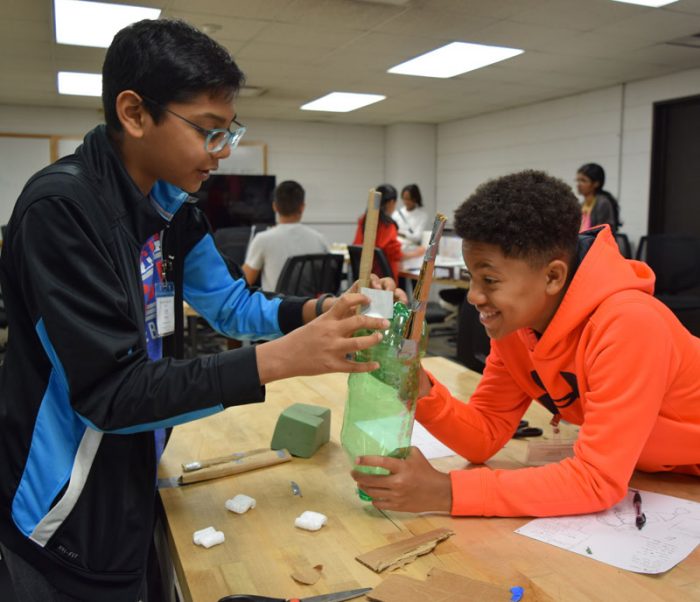 UIC Engineering is home to multiple departments that represent different disciplines in engineering. In any given year, five of these departments participate in the camp, such as:
Bioengineering
Chemical engineering
Computer science
Electrical and computer engineering
Mechanical and industrial engineering
Each day, students get a chance to experiment—literally—with a particular field. Participants complete hands-on challenges based on concepts developed by UIC engineering faculty members. One day that might be writing computer code; another day, it could be robotics or biomechanics.
Students also hear about potential future careers that might await them in each engineering discipline, from nanotechnology to self-driving vehicles to creating transplant-ready organs to save lives.
Participants begin each day at UIC's east campus and spend each of the five days of the camp in an engineering lab run by a different academic department. From morning drop-off to afternoon pickup, each participant is accompanied at all times by camp staff: faculty, graduate students, and undergraduate chaperones. All camp personnel are highly experienced and highly trained, and comprehensive background checks are performed to ensure the proper protection of minors. The expected participant-to-staff ratio is between 5 to 1 and 8 to 1.
Cost and schedule
Cost for 1 week: To be determined for summer 2022, when the camp is expected to return to operation.
The fee includes daily lunch and a camp t-shirt.
Children of University of Illinois (UIC, UIUC, UIS, or System Office) employees receive a 10 percent discount.
Optional after-care from 4pm to 6pm is available for an additional $20 per day.
Scholarships are available to assist families who have demonstrated financial need.
Daily schedule (approximate — to be updated with exact info before summer 2022)
8:30am – 8:50am: Drop off at 801 S. Morgan St. (UIC Daley Library)
9am – 12pm: Project and design challenge #1, with short break
12pm – 1pm: Lunch and outdoor recess
1pm – 3pm: Project and design challenge #2 (and #3, if applicable), with short break
4pm: Pickup at 801 S. Morgan St.
4pm – 6pm: Optional after-care ($20 additional per day)
Orientation information and other details are emailed to the parents/guardians of registered participants a few weeks before the camp start date.
Is UIC Engineering Experience Camp for you?
UIC mechanical and industrial engineering faculty member Yeow Siow calls the camp ideally suited for students who are "inquisitive and curious about the world around them, want to try new things, meet new people, and use their heads and hands to solve problems."
At UIC Engineering Experience Camp, students can discover the creative aspects of engineering while also getting a sense of what life is like as a college student.
Contact
For more information about UIC Engineering Experience Camp, contact the camp director, Dr. Zhinan Wang, at engineeringcamp@uic.edu.