Women in Engineering
Women are a growing force in engineering and computer science. According to the most recent data from the Society of Women Engineers, a national professional and advocacy organization, there was a 54-percent increase nationwide in the number of bachelor's degrees in engineering and computer science earned by women.
Still, there is work to be done. The SWE data show that only 13 percent of engineers and only 26 percent of computer scientists are female, a phenomenon that also plays out at the college level, where only about a fifth of the students earning bachelor's degrees in engineering and computer science are women.
UIC Engineering has developed strong programs to help create greater balance in academia and the engineering workforce. This page provides a broad summary.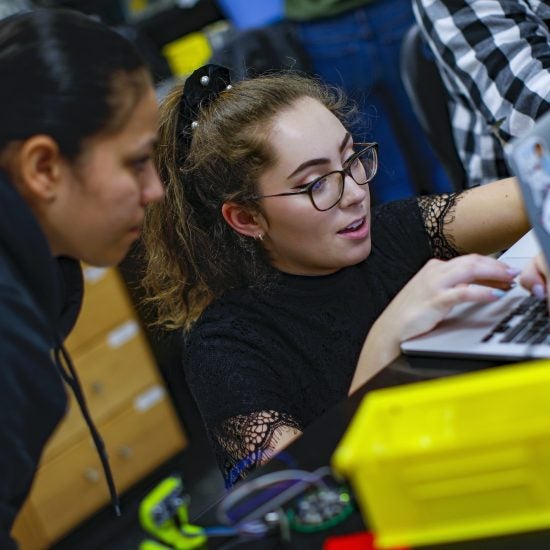 Supporting women in computer science
UIC's computer science department is home to Break Through Tech Chicago, part of a national initiative to prepare more women and nonbinary individuals for careers in tech. Funded by a group of organizations led by Melinda Gates, Break Through Tech Chicago offers no-cost introductory courses, career support, and a strong community of people who seek to diversify the tech world.
Visit the Break Through Tech Chicago website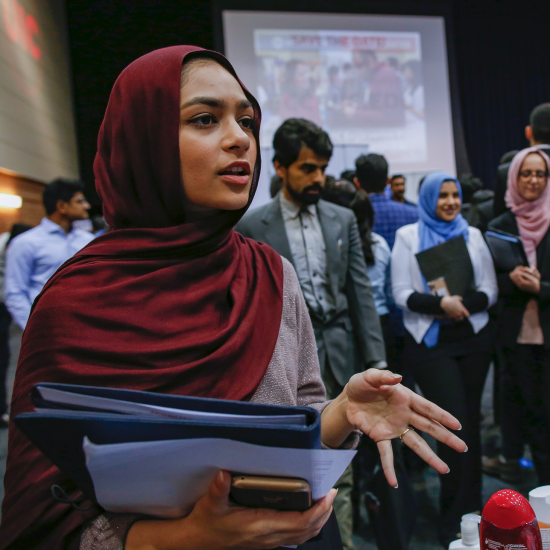 Supporting women in engineering
Our Women in Engineering Program helps women to succeed in engineering education. In addition to programs for current UIC students, WIEP offers K-12 opportunities—including Girls Who Code and the Women in Engineering Summer Program—and helps the Society of Women Engineers with its Shadow Days, in which girls who plan to apply to UIC can meet students and faculty.
Visit the Women in Engineering Program website
More about Break Through Tech Chicago
Break Through Tech Chicago is dedicated to giving women and nonbinary individuals the academic preparation they need to go out into the world and add diversity to the high-tech workforce. Its offerings include:
Guild, a one-week program that allows students to experiment with solving a pressing social problem through technology. Working in teams and supported by industry mentors, Guild participants learn new strategies to think through a difficult challenge and come up with creative ways to address it in a tech-oriented way.
CS 111, an entry-level computer science course that gives students the fundamental programming knowledge they need to continue on toward a major or minor in computer science or data science. The computer science department offers this course each fall and spring, but Break Through Tech Chicago runs a special section in summer session 1 that is tuition-free to all students chosen to participate.
Sprinternships, three-week micro-internships with Chicago-area companies that give students their first work experience in tech. A Sprinternship is a powerful résumé credential that can help students go on to secure their first full-summer-long tech internship.
More about UIC Women in Engineering Programs
Programming for women in engineering at UIC is continually growing and changing to meet the needs of our current—and future—female students. Services currently include:
Scholarship support, including merit scholarships that are awarded to high-achieving first-year female students in engineering and computer science. Our women in engineering office also advises students on places where they can seek additional external scholarships.
Leadership opportunities through the Society of Women Engineers and other activities. UIC Engineering students inspire the next generation of girls to pursue computer science and engineering by leading events such as Introduce a Girl to Engineering Day, participating in the Girls Who Code program, and working with high school juniors and seniors in the Women in Engineering Summer Program, sponsored by Knowles Corporation, a champion for the advancement of women and girls in engineering and STEM fields.
Community development through student organizations as well as outside-of-class personal and professional development programs and events that help current female UIC students to meet successful UIC alumni.