News Briefs
Read a roundup of stories featuring alumni and student achievement, faculty research, and college milestones.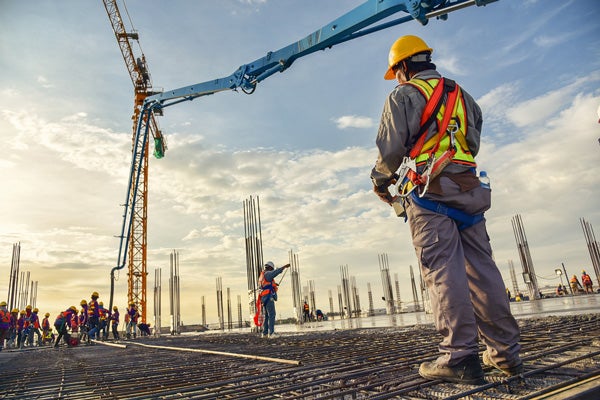 Mastering the science of construction
Illinois is one of the top five U.S. states for job opportunities in construction management, according to the Bureau of Labor Statistics. To help meet the demand, UIC Engineering has launched a new two-year master's degree in construction engineering and management.
Students in the program will study everything from project estimating to game-theory applications in construction, and they will focus on best practices in integrated construction project management for complex projects.
For more information, visit the program's overview page.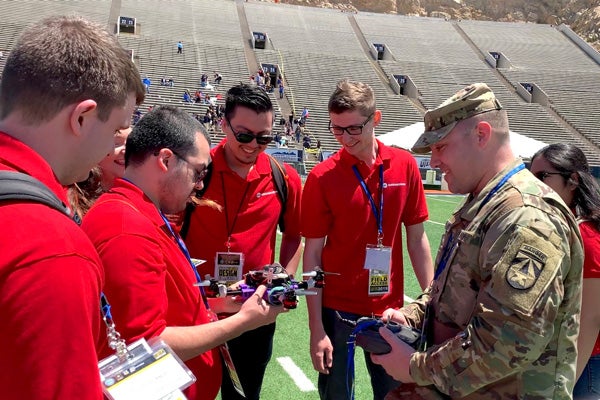 Drone in a million
Imagine having to not only fly a drone accurately, but also design and build it.
UIC students took on the challenge at a competition sponsored by the U.S. Army Combat Capabilities Development Command. More than 1,700 colleges and universities were eligible to compete, but only the top 11 proposals made the finals. Finalist teams had to propose and prototype solutions to real-world technological problems that the Army faces in the area of unmanned aerial vehicles.
UIC's design used 3D printing technology to eliminate copper wires, minimize assembly time and user intervention, and improve structural rigidity—all properties that are useful in the field. For their ingenuity and in-flight performance, the UIC team won third place in the competition and $3,000 in prize money.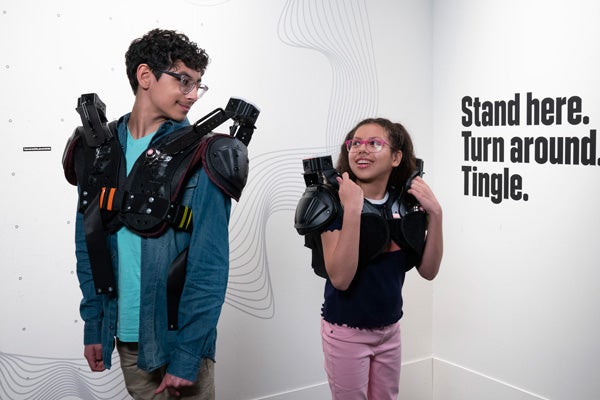 Fashion Sense
Visitors at the Wired to Wear™ exhibit at Chicago's Museum of Science and Industry test out SpiderSense, a tactile vest developed by computer science alumnus Victor Mateevitsi (PhD '18). The wearable technology features haptic feedback sensors that vibrate when the user approaches nearby obstacles. Mateevitsi invented the vest for the visually impaired and for people who work in low-visibility conditions, such as soldiers or firefighters.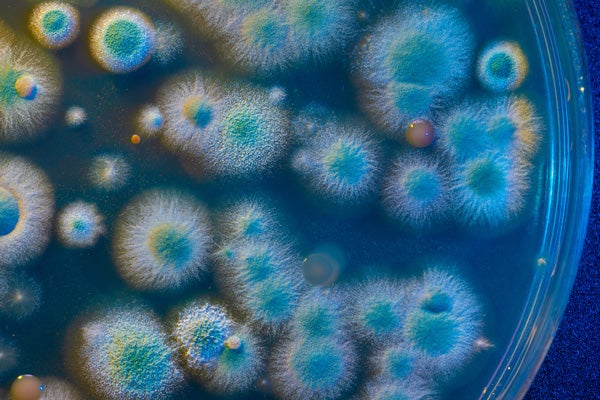 Beating the bugs
How can scientists combat the bacteria that keep evolving to resist antibiotics? Associate Professor Tolou Shokuhfar of the Richard and Loan Hill Department of Bioengineering has one approach: try destroying them without the use of drugs at all.
Shokuhfar is creating a nanomaterial surface covered in tiny structures that kill bacteria on contact. Her mechanical approach  eliminates the need for antibiotics, thereby depriving bacteria of the opportunity to evolve resistance. The design was inspired by the wings of certain insects, which are carpeted with bacteria-slaying nanopillars. Shokuhfar's examination of the wings' surface under a microscope inspired the technique, which she is calling "touch-and-kill."
"What makes me so excited about this design is that I can apply it everywhere," Shokuhfar said. "We could put it on myriad devices. It could be incorporated in a hospital setting, a clinic setting, or even the home."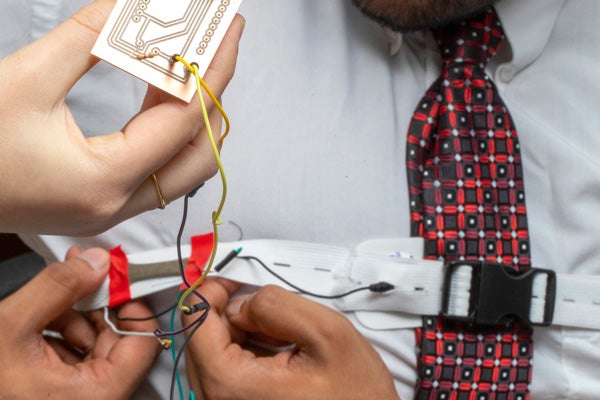 A class on wearables
A robotic arm to help lift heavy objects and a device that alerts potential helpers when someone has fallen are two of the many devices that bioengineering and computer science students teamed up to create in the UIC Engineering's Wearables and Nearables Technology Laboratory course. The class, which debuted in spring 2019, is designed to give students the skill set to enter the rapidly expanding markets for bio-sensitive technology that people can wear or use in the environment around them.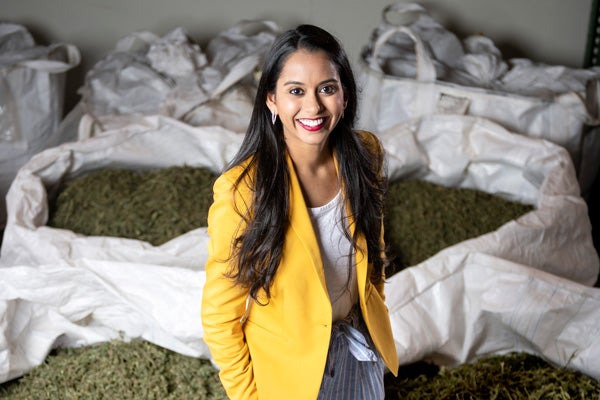 Ground to market
Chemical engineering alumna Priyanka Sharma (BS '11, PhD '16) envisions a new line of products in people's medicine cabinets: cannabinoids without the THC. Her company, Kazmira LLC—co-founded with Pulak Sharma—is a leading largescale manufacturer of THC-free CBD isolate and oil derived from industrial hemp, a wildly popular crop that recently became a legal agricultural commodity to grow in the United States. Sharma's team of experts specializes in methods such as purification and extraction, both of which take place in Kazmira's state-of-the-art analytical laboratory to produce the purest raw material for customers.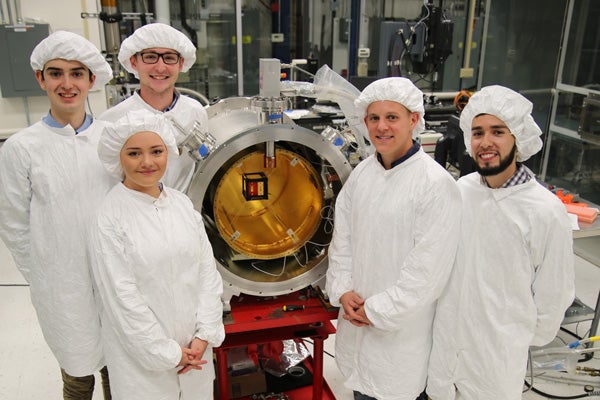 Bringing space home
Five undergraduate students built a vessel that will help scientists continue their hunt for the existence of dark matter in space. Spending much of their spring 2019 semester in this Fermilab cleanroom, mechanical engineering majors Alexander Bulger, Eloise de Castelnau, David Laczak, Christopher James, and Jose Luis Salinas designed a thermal vacuum chamber for their senior design capstone project. The chamber allows researchers to examine how miniaturized space satellites will experience temperatures from minus 100 degrees to 100 degrees Celsius, mimicking what the objects will experience in low Earth orbit.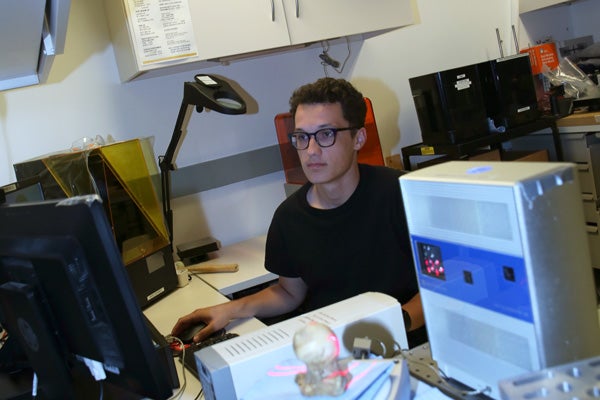 The geometry of life
What if technicians could create models of patients' anatomy without exposing them to the ionizing radiation that occurs in CT imaging? Using MRI imaging sequences as an alternative, undergraduate bioengineering student Jacob Gasienica built computer models of cadaver elements to capture and analyze their geometrical features as part of his internship in the biomechanics lab at Rush University Medical Center.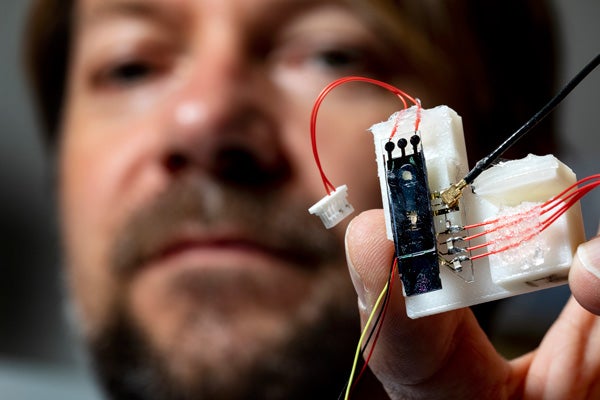 An air filter you can wear
After the wildfires last year in California, sales rose for personal devices that monitor air quality. Seeking to meet consumer need, a team from UIC Engineering's Micromechatronics Systems Laboratory and the aerosol technology company Kanomax USA have patented and licensed the PM Badge, a novel wearable sensor that detects dangerous air particles.
The small, low-cost sensor—created by Igor Paprotny, Omid Mahdavipour, and Dorsa Fahimi—has an air-microfluidic circuit that separates particulate matter smaller than 2.5 micrometers from the air stream. Fine particles of that size, which measure about 3 percent of the diameter of a human hair, pose the greatest health risk because they can travel deep into the lungs and may even enter the bloodstream. The sensor operates at a low flow rate with very low power consumption. Combined with its small footprint, these properties make it a great candidate for wearable applications.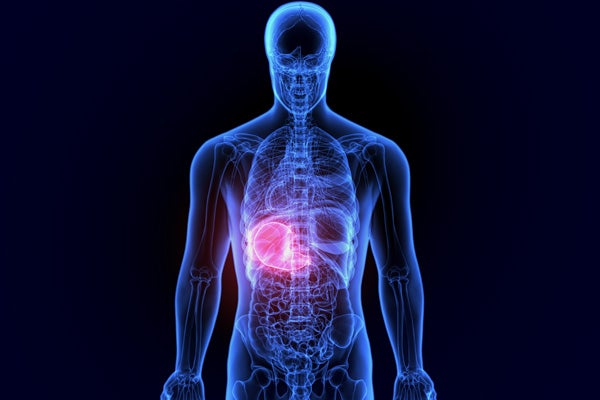 Diagnosing with sound
Think of the ways in which your doctor might diagnose a patient with an illness. Certain tissues or organs may look different on an MRI or other imaging scan. They may feel different when a doctor palpates them. Researchers in UIC's Richard and Loan Hill Department of Bioengineering are investigating how they may sound different—specifically, how the way in which sound waves travel through compromised tissues and organs can help to identify problem zones.
With funding from the National Science Foundation, Professor Tom Royston and Associate Professor Dieter Klatt are working to improve the non-invasive technique of elastography by analyzing the measurements created by the passage of sound and vibration through the human body. When scientists scan more complicated "anisotropic" tissues and organs, such as the white matter of the brain, which is laden with fiber tracts, or skeletal muscle, which has an aligned fiber structure, they need to solve what is known as the "anisotropic reconstruction problem" to create an accurate map of those complex structures. Royston and Klatt's advanced analytical techniques, which address the anisotropic reconstruction problem, stand to enhance the quality and accuracy of elastography, which could lead to improved disease detection.