UIC undergrad chemical engineering student finds equilibrium to help future students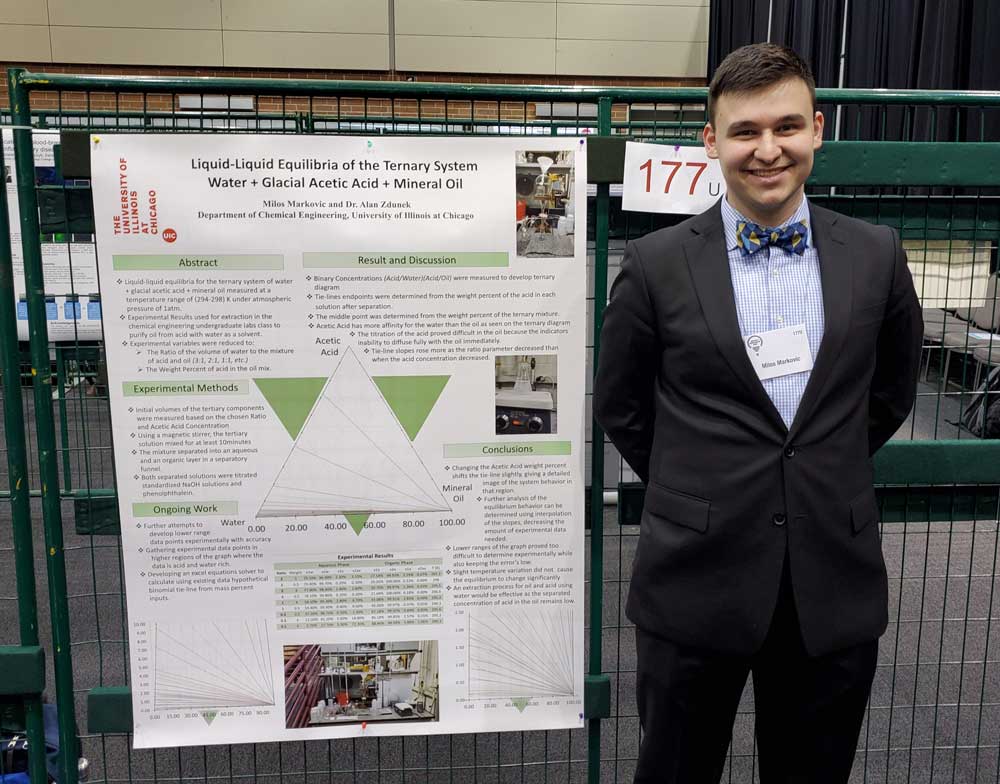 Senior chemical engineering students at the University of Illinois Chicago face all sorts of challenges when completing the required unit operations lab, which requires students to take the knowledge and theories they have learned previously and conduct actual experiments. However; the next group of seniors' lives will be a little bit easier thanks to the hard work of student Milos Markovic.
During his junior year, Markovic approached Clinical Assistant Professor Alan Zdunek about completing a research project this year. Zdunek had a project for Markovic that was eight plus years in the making.
As part of the ChE 392 undergraduate research course, more commonly known as the unit operations lab, the students complete a liquid extraction experiment where they are required to remove a specific amount of acid from mineral oil using water. Zdunek explained the experiment previously used kerosene instead of oil, but the department switched to mineral oil around a decade ago. While mineral oil is not toxic and does not have the pungent smell of kerosene, it is missing key equilibrium data students need to analyze the experiment completely.
Enter Markovic, who agreed to take on the charge of testing for and plotting the equilibrium point for the mineral oil system. He completed a series of experiments where he made up different compositions of those three components, stirred them up, then equilibrated them. He then separated the water and oil and measured the acid left in the oil and the water.
"His information is available to other students. It provides the literature values for this system, which doesn't exist right now. I searched and searched, and I could not find this system," Zdunek said. "The equilibrium data is the true equilibrium. What the students get in the system is based on a process that has a lower efficiency. So, at a given composition level, it will be lower during the study."
Markovic jumped at the chance to be in charge of and run his own research project. He said he is planning a future career in a research and development lab in industry and possibly working toward his PhD and researching at a university.
"As I was conducting the experiment, I realized this is something that I want to do. The work kind of proved my point that R&D is a field that I was attracted by and something that I am going to go into one day," Markovic said.
The research went so well in the first semester that Zdunek approached Markovic about continuing with his work and writing a paper and presenting a poster on the work this semester.
He presented a poster of his work titled "Liquid-Liquid Equilibria of a Ternary System: Water Glacial Acetic Acid Mineral Oil" at the UIC Impact and Research Day on April 10. Markovic added he is working on a paper that he hopes to have published in the UIC-led Journal of Undergraduate Research this semester.
"I don't think there was any hesitation in my voice or my thoughts when I said 'yes' I am going to present my work. I will do it," Markovic said. "I can't wait to publish my own paper; the feeling and anticipation is something I want again."
Modified on June 30, 2020