UIC researchers awarded more than 1.5 million to establish industrial assessment center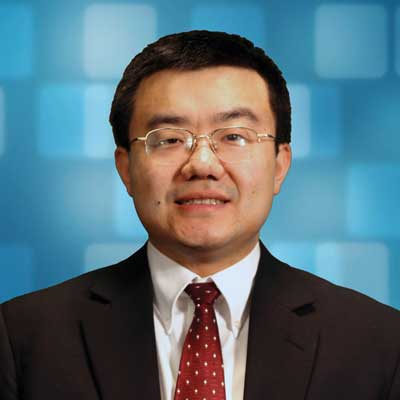 Center to Conduct Engineering Research and Provide Free Energy-Efficiency Assessments to Manufacturers
The College of Engineering at the University of Illinois Chicago is establishing at new Industrial Assessment Center (IAC).
Led by Professor Lin Li, of the Department of Mechanical and Industrial Engineering (MIE), a team of researchers from three College of Engineering departments and the Energy Resources Center (ERC) were awarded a new five-year grant for $2,087,872 – with $1,575,000 coming directly from the U.S. Department of Energy – to set up the center.
The new center is one of only 28 located at higher education institutions from 25 states across the country. Teams from the center will conduct advanced research on energy efficiency and smart manufacturing. Simultaneously, they will provide technical assistance to Illinois and Northwestern Indiana small- and medium-sized enterprises and water facilities in improving energy efficiency, increasing productivity via smart manufacturing, energy management systems, and enhancing cyber security threat detection and mitigation. Eligible manufacturers may receive a no-cost assessment provided by the center.
Furthermore, the center will support education and training to develop the future energy conscious workforce and address the growing shortage of engineering professionals with applied energy and smart manufacturing related skills. The funds under this center will allow UIC to establish an energy efficiency research resource and a technical resource call center for regional manufacturers.
"The newly established center will conduct a variety of research activities and provide technical assistance services in the manufacturing and energy efficiency sectors at the national, regional, state, and city levels," said professor Li, who serves as the center's director. "For student education and training, it will provide training for a minimum 13 students annually and issue DOE certificates of achievement to at least five students per year. The operational model for the center will be based on maximizing the number of students participating in the program and providing them the forum to grow into the next generation of energy conscious engineers. UIC faculty and staff truly believe in the motto: 'The University teaches them engineering, the Industrial Assessment Center teaches them how to be engineers.'"
According to the National Association of Manufacturers, Illinois and Indiana represent a noteworthy manufacturing base in the United States, ranking third and sixth in terms of total annual manufacturing output — $99.67 billion and $93.61 billion respectively. The two states represent 19,782 manufacturing firms and 1,091,800 manufacturing employees. By being located in Chicago, UIC can strategically serve a significant number of manufacturing enterprises in Illinois and northwestern Indiana, including facilities in economically disadvantaged areas.
UIC operated a center through the Energy Resources Center for 10 years, but funding expired in 2011. With the success of re-establishing an IAC, the College of Engineering can provide vital support to small- and medium-sized manufacturing companies and water facilities seeking energy efficiency, create jobs, and expand UIC's engineering curriculum with a unique blend of hands-on experience gained through conducting assessments.
Li is the principal investigator for the grant titled "Industrial Assessment Center for Energy Efficiency, Smart Manufacturing and Cyber Security of Illinois and Northwestern Indiana Small and Medium Sized Manufacturing Companies and Water Facilities," which runs until the end of August 2021. The co-principal investigators are Department Head Farzad Mashayek of MIE, Interim Department Head Karl Rockne of Civil and Materials Engineering, Professor Venkat Venkatakrishnan of Computer Science, and Interim Director Clifford Haefke of the ERC.
Learn more about the Energy Resources Center at http://www.erc.uic.edu. More information about the Department of Mechanical and Industrial Engineering is at www.mie.uic.edu.
Modified on June 27, 2020