UIC hosts international conference on liquid atomization and spray systems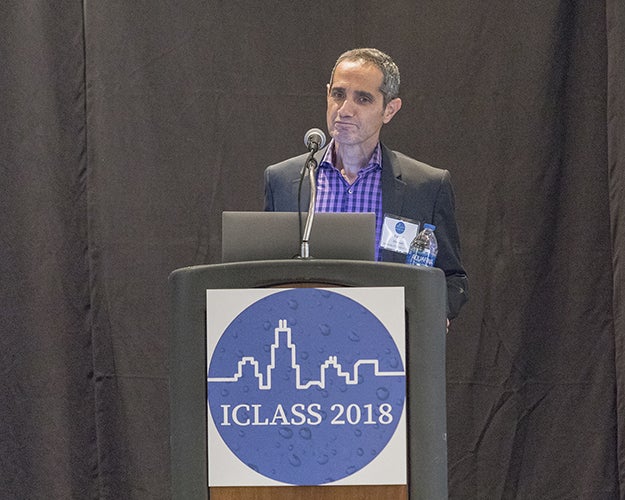 The University of Illinois Chicago and Spraying Systems Co. hosted researchers, industrialists, students and academics from all backgrounds for the 14th International Conference on Liquid Atomization and Spray Systems – ICLASS 2018.
The conference, which is hosted in the United States once every nine years, was held from July 22 through the 26, and served as an excellent opportunity to showcase UIC to nearly 500 researchers from around the world. The event is the largest conference the Institute for Liquid Atomization and Spray Systems has hosted to date.
ICLASS provides an opportunity for the international community to convene and share information, experiences and technical advances in liquid atomization and spray system optimization.
"Several UIC faculty members work in areas related to this conference," said Dr. Farzad Mashayek, Department Head of Mechanical and Industrial Engineering. "In particular, UIC has been traditionally known for strong research in combustion, liquid breakup and drop dynamics. We also have a strong research and education relationships with Spraying Systems Co."
Mashayek was a key member of the local organizing committee and facilitated arrangements for the conference to be held on the UIC campus. The prolific researcher also had several papers and chaired a session to help with the technical program.
Along with attendance, the conference flourished with a record number of paper presentations and posters that produced a robust technical program covering topics such as:
Primary and secondary atomization
Novel numerical methods
Gasoline and diesel sprays
New diagnostic techniques
Medical sprays
Cavitation and phase change
Alternative fuels
Combustion
Drop and ligament breakup
Industrial and agricultural applications
Pressure and air-assisted atomizers
Supercritical/transcritical atomization
And more.
ICLASS 2018 also boasted the inaugural Gallery of Atomization and Sprays, where researchers submitted leading-edge visualizations of sprays and atomization processes in simulated and experimental environments.
Among the attendees were students, who represented more than one-third the conference attendees. This demonstrates a dedication to students and talented young engineers and a commitment to welcome their participation in the ICLASS community.
Modified on June 30, 2020