UIC chemical engineering alumna Priyanka Sharma wins Outstanding Young Engineer Award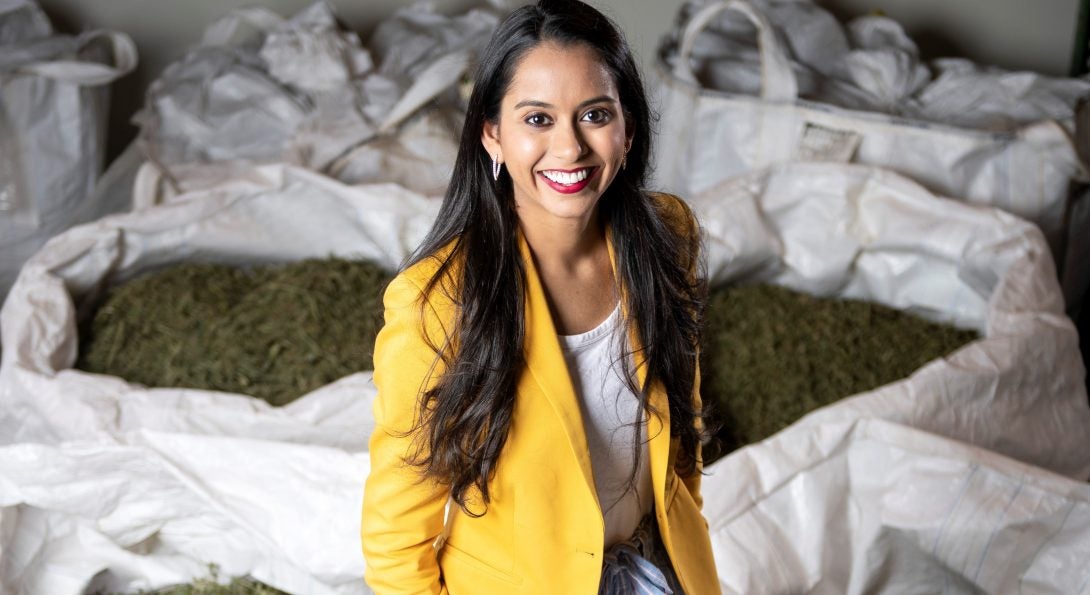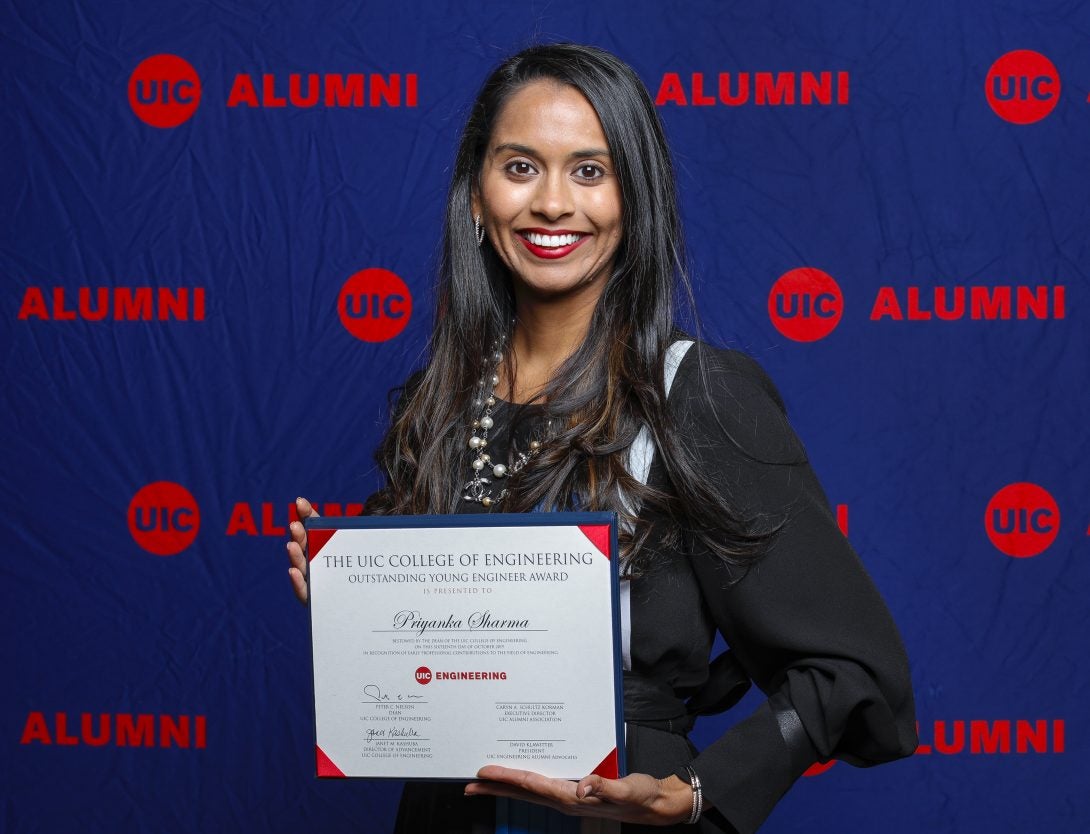 Chemical engineers and the processes they have refined over the years are the backbones of many industries that have been around for centuries. But as UIC chemical engineering alumna Priyanka Sharma has shown, they are also on the frontlines of new and exciting fields.
That field, for Sharma, is the large-scale production of botanical extracts from industrial hemp, a wildly popular crop that recently became a legal agricultural commodity to grow in the United States. As the co-founder of Kazmira, Sharma is a leader in the emerging market of THC-free CBD isolate and oil derived from the crop. She is also focused on mentoring young engineers and technical operators at her Denver-based company.
Sharma recently received an Outstanding Young Engineer Award from the College of Engineering for her pioneering work. She was presented the award at the UIC Engineering Alumni Awards in the new Engineering Innovation Building on Oct. 16. Alumni, faculty, and other guests of the event received a tour of the new building and watched the awards program in the novel High-Bay Structural Research Lab.
Sharma said she was surprised when she found out she had been selected but was excited to come back to campus and receive the award with her family.
"I am really grateful that I've been able to maintain relationships with all the faculty in the chemical engineering department and other professors at UIC," Sharma said. "And I am truly grateful to be recognized by the school."
Sharma, a native of Oakbrook, Illinois, said chemical engineering and the pursuit of science is a family business. Her father is also a chemical engineer, and she grew up watching and learning about his work. Her mother holds a doctorate in molecular biology. Sharma completed her undergraduate degree at UIC in 2011 and decided to stay for her PhD, completing her graduate work under the supervision of Sohail Murad in the chemical engineering department in 2016.
"I had met such wonderful people, and I just wanted to continue to be there," Sharma said.
After completing her PhD, Sharma and her husband moved to Denver and founded Kazmira in 2017. The couple had seen the growth in lifestyle and health-based nutraceutical products, including CBD oils and other products. What was lacking in the industry, were technology companies capable of producing and manufacturing high-quality raw materials from industrial hemp at a large scale.
"Kazmera is in the business-to-business sector of this market," Sharma said. "We provide our clients with raw materials. So, our job is to make sure our products are of high quality, purity, and free of contaminants, and that's something that we have become very skilled at."
Sharma credited the chemical engineering department and her education at UIC for helping her learn and hone those skills that are now critical to the success of her business. She noted the skills every chemical engineering student learns in the Unit Operations Lab—such as distillation and purification—happen every day in the company's manufacturing facility.
Along with those scientific principals and theories, Sharma said the engineering department equipped her with other skills that have been critical to her success as an entrepreneur and business owner.
"A lot of skills you learn in chemical engineering, like quick-calculation skills and learning how to solve problems as they come up, happen every single day here at Kazmira," Sharma said.