Students build solar refrigerator for Chicago nonprofit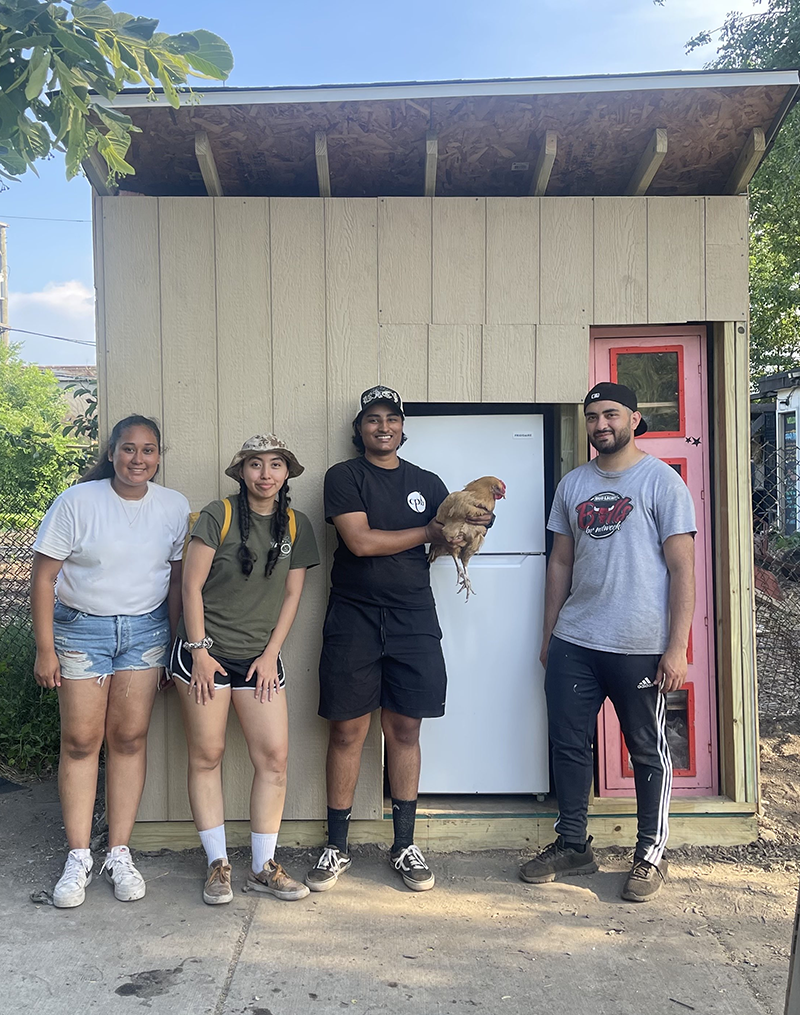 The UIC student organization Engineers for a Sustainable World (ESW) recently designed, built, and installed a solar refrigerator for The Love Fridge Chicago at its Chicago Patchwork Farms location.
The Love Fridge is a Chicago mutual aid group working to place and sustain community refrigerators across the city. Its goal is to care for the community while working against food waste, alongside other like-minded groups. The refrigerators provide neighbors the opportunity to donate food as well as take what they need.
The interdisciplinary UIC team is made up of Barbara Beltran, of mechanical and industrial engineering, Shraddha Zina, of chemical engineering, Kemuel Roberts, of biomedical engineering, Jenny Iype and Raudel Rodriguez, both of electrical and computer engineering, and Sarai Marban, of urban planning & public affairs.
"Our main goal was to build a solar-powered community fridge to provide reliable access to food for a food-insecure community and reduce the energy costs and greenhouse gas emissions generated by a grid-powered fridge," Zina said. "We wanted to do something sustainable, so we were interested in applying solar panels and also helping the community."
"It was such a wonderful project. We were able to teach one another different skills and we really got close," added Iype.
As a student organization project, the solar refrigerator provided the students with the opportunity to develop skills in a real-world experience that is not found in the classroom.
"We had a lot more hands-on experience in every part of the project," Zina said. "We had to make sure we handled the different components correctly, and a lot of our members had never used certain workshop tools before. That was a really good opportunity for all the members to learn.".
In addition to developing their engineering skills and reducing the carbon footprint by replacing the original grid-connected refrigerator, the students enjoyed giving back to a community in need.
"I joined this organization because I always cared about the environment, and it was really exciting to work with renewable sources of energy and we're doing these projects to reduce carbon emissions," Roberts said. "However, as you spend more time in the group, and as you spend more time learning more about sustainability as an overall concept, you realize that you can't just focus on the technology. People are an important component of sustainability."
Rodriquez, who lives near Patchwork Farms and often travels past the site, said giving back to the community is one of the biggest values that students are taught at UIC.
"It serves as a reminder of the hours that we spent together, and the bond that we built," Rodriquez said. "Giving back to the community was the biggest reward that we could ask for in this project."
Beltran said she chose engineering as a major because she wants to leave a positive impact on the world with her career. She added the team wants to give everyone equal chances, and I think that's a big part of what this refrigerator does.
"It's not just a solar-powered refrigerator at a farm," Beltran said. "It's really something that can give a lot of people a better chance at life."