STEM student success program opens doors for underserved students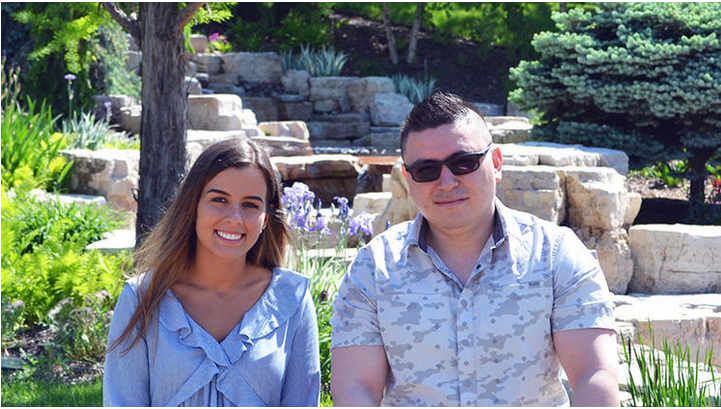 College of DuPage is increasing educational and career opportunities in science, technology, engineering and math (STEM) for traditionally underserved students through its STEM Student Success program.
Funded by a $650,000 National Science Foundation grant and aimed toward academically successful students with demonstrated financial need, the program features a dedicated STEM Student Success Coach and provides individualized academic, advising and career support through case management, counseling, guided study groups, faculty mentoring and cohort-based courses and tutoring. In addition, STEM Student Success program participants have access to enhanced educational opportunities including internships, job shadowing, industry networking, speakers bureau events and undergraduate research opportunities.
For Jesus "Jay" Avitia, the program was a great first step toward a career in civil engineering.
"The STEM Student Success program is a great tool that definitely helps you in the search for success," the Wheaton resident said. "You get the opportunity to attend interesting seminars, meet interesting people and successful alumni in a face-to-face environment and participate in interesting internships. The program also allows you to connect with other students that are walking the same path as you."
Avitia is transferring to the University of Illinois Chicago this fall to pursue a bachelor's degree in civil engineering, a choice he said will provide him the best of his lifelong interest in architecture and engineering. Upon graduating UIC, he hopes to work in the field and gain experience, eventually returning to school to earn a Master's degree and certifications in structural engineering and subsequently working as an engineering consultant.
"The STEM Student Success program helped me realize that there is opportunity out there; it is just a matter of trying," Avitia said. "The program also gave me the opportunity to meet the right people in my education path, as well as helping me make the connection with my transfer university, UIC."
Avitia's advice to prospective COD and STEM Student Success program participants is to be prepared to work and to take advantage of all that the College has to offer.
"Set realistic goals and pursue them," he said "Use COD as a knowledge resource and make lifelong friends. Finally, if you are going for STEM fields, get ready to work. Those classes at COD are challenging, but they really prepare you well for demanding institutions."
Roselle resident Magdalena Tarchala said she initially unsure of what college to attend, but College of DuPage, and the STEM Student Success program, ended up being the perfect choice.
"Being an only child of parents who never attended college, I didn't really have the motivation or support to find the perfect university during high school," she said. "I knew I wanted to stay close to my family and friends, but I wasn't sure where I wanted to go. I decided to go to COD, and after being here for two years, I truly believe this was the perfect school for me. During my two years at COD I not only matured, but I became confident that education and math are what I'm most passionate about, all while saving thousands of dollars I would have had to spend at a four-year institution."
Tarchala, who completed her A.A. at COD this spring and will transfer to Elmhurst College this fall to pursue a B.S. in Secondary Education Mathematics, said she felt honored to be given the opportunity to participate in the S-STEM program.
"The program has given me a lot of motivation to work towards my goals, as well as helped me find the best path for my future," she said. "What I value most about the program is the amazing group of people, as well as the coaches and professors, that were always there for me when I needed them. Despite COD being a very large school, the STEM Student Success program does an amazing job with forming a group of students that share great feedback with each other."
While her career goal is to teach high school math, Tarchala said she ultimately wants to be a lifelong learner, communicating her love of math to her future students and encouraging them to value education and become lifelong learners themselves. She said she is pleased with her experience at COD, adding that the College is a great path for a variety of students with a broad range of goals, circumstances and interests.
"For anyone that's not quite sure what they want to do next, I believe COD is a great school to attend to find what you are truly passionate about, and even when you have already decided what degree you wish to receive, COD is a great place to take all the necessary general education classes at a much less expensive tuition rate," she said.
Learn more about the STEM Student Success program at College of DuPage.
College of DuPage is regionally accredited by the Higher Learning Commission. Serving approximately 26,000 students each term, College of DuPage is the largest public community college in the state of Illinois. The College grants seven associate degrees and offers more than 170 career and technical certificates in over 50 areas of study.
Modified on June 30, 2020