Professors Yeow Siow and Jamison Szwalek successfully launch the MIE Department's first Summer Engineering Camp to introduce students to engineering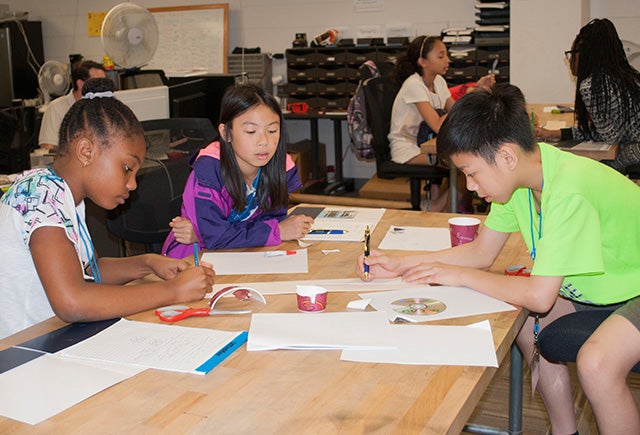 Building a wind turbine out of blank CDs, thin cardboard, and Super Glue might not sound like the average summer activity for a ten year old, but professors at UIC's College of Engineering hope to make it one.
As part of a new summer camp hosted by the College's mechanical and industrial engineering department, forty-three students ages ten to eighteen—split into two age-based tracks—spent a week on campus exploring the engineering world through hands-on activities, field trips, and tours of high-tech labs and design shops on UIC's campus.
More than half the campers had never heard of engineering. But that's the point, said Yeow Siow, PhD, the camp's director. "There was no eligibility requirement. We wanted to reach as many kids as possible—especially kids who would otherwise have no exposure to what engineering is, let alone consider pursuing an engineering career later on."
Siow and co-director Jamie Szwalek, PhD, are both clinical professors in mechanical engineering, but the camp introduced fundamentals in mechanical, electrical, and civil engineering, as well as computer science. "We took a similar framework to an intro-to-engineering-design class and then modified it for younger kids," said Szwalek.
Each activity adhered to the theme of the day: energy, robotics, and structures to name a few. "We gave a quick lesson and then divided them into groups to complete a challenge with inexpensive, readily-available materials," said Siow. He emphasized group work down to the classroom setup. "We used long, tall tables that could fit four to six students," he said, "because all five days had one common goal: to teach the kids how to communicate and work in a team environment."
Szwalek is passionate about getting more underrepresented students involved in engineering and committed to creating a fully immersive camp experience. "The most exposure I had twenty years ago was visiting an engineering school for a few hours before I applied," she said. "These kids are in a much better position than I was because they get to meet engineers, ask questions, see the laboratories, and get an idea of what we do."
On his evaluation, one camper wrote: "I wasn't sure if I wanted to do engineering before this camp, but now I am 100 percent sure that this is what I want to do." For Siow and Szwalek, even if campers think engineering is not for them, they've still done their job. "It's all about opening up their eyes to the possibilities," said Siow.
Modified on June 06, 2019