Professor Abiade is taking teaching to the neighborhood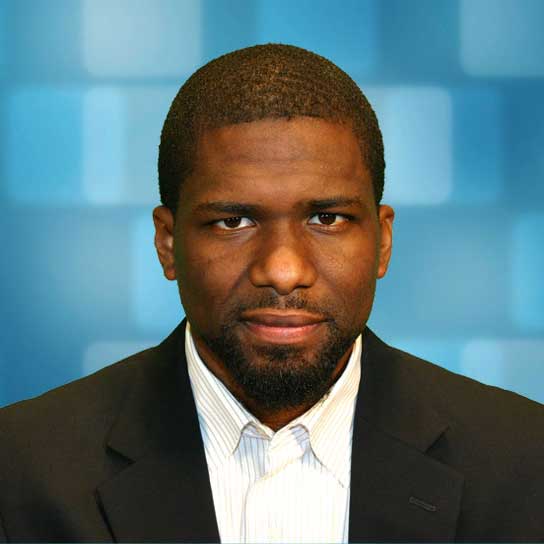 Professor Jeremiah Abiade is taking teaching out of the classroom and into the neighborhood. The Department of Mechanical and Industrial Engineering (MIE) professor is part of a team of UIC educators who are planning to start a community center in a low-income neighborhood where they will interact with residents who are not traditionally involved in Science, Technology, Engineering, Math (STEM), and work together on problems in their neighborhood.
"If they have soil contamination or water problems, we can try to help them from a technical perspective to approach those problems that directly impact them, while at the same time, letting them see the benefit of having a STEM education," said Abiade. "We are giving them a STEM education without telling them. We hope this will help make some of the students and their parents more interested in STEM or at least more literate in STEM."
The UIC professors were awarded a pilot grant from the National Science Foundation called "NSF Includes." UIC is the only recipient institution in Illinois of the two year grant for $300,000, with the possibility of receiving several million dollars to deploy a full-scale solution. To start, they are focusing on Chicago's Little Village and Pilsen neighborhoods because UIC has very strong ties there.
"It's an interesting opportunity to involve students who are not normally involved in STEM," said Abiade, who is the director of MIE's Laboratory for Oxide Research and Education (LORE). "The "E" part of our lab – the education part – we see that as equally important to our research. It's not just about educating my graduate students or undergraduates. I also have a very big interest in reaching out to students who are traditionally locked out of STEM."
The team being led by Dr. Kimberly Lawless is planning to work with community partners in the neighborhood who are already working on environmental issues. They have reached out to the Little Village Environmental Justice Organization and other organizations to form partnerships, see what problems they are working on, and where they need scientific or engineering expertise.
"We proposed an idea focusing on soil remediation," said Abiade. "There are many sites in Chicago that used to be industrial sites. The companies left. The jobs left. But the problems are still there and the families that are living in those neighborhoods are effected by soil or water quality."
Abiade added that they plan to get UIC students involved, too. They want to bring college students and faculty members, community members and activists together in one space outside of the university.
"Water remediation and soil remediation are two of the big ones, and energy may be a third one," said Abiade. "I think it would be really interesting to have students do energy audits of homes. And that may be a good way to convince people to go to more renewable sources of energy or just fixing things that have had delayed maintenance in the house that can save money and benefit the environment."
"Sometimes we don't do things that are more environmentally friendly because we think of the costs," he added. "But if we think of the long-term costs, it may actually be saving money. That may be a way to get people involved."
The professor believes in being heavily involved in the mentoring of individuals from diverse backgrounds, and views the activities as a synergistic component of the LORE mission. This philosophy has helped keep his students engaged in research while thriving in the lab.
Other UIC educators involved in the project are Kimberly Lawless (the principal investigator and project director), associate dean of research in the College of Education; Aixa Alfonso, associate professor in biological sciences; Ludwig Carlos Nitsche, associate dean for undergraduate affairs in the College of Engineering and associate professor of Chemical Engineering; and Donald Wink, professor and director of undergraduate studies of chemistry and director of graduate studies for learning sciences.
Modified on September 09, 2019