New program helping MIE freshmen land internships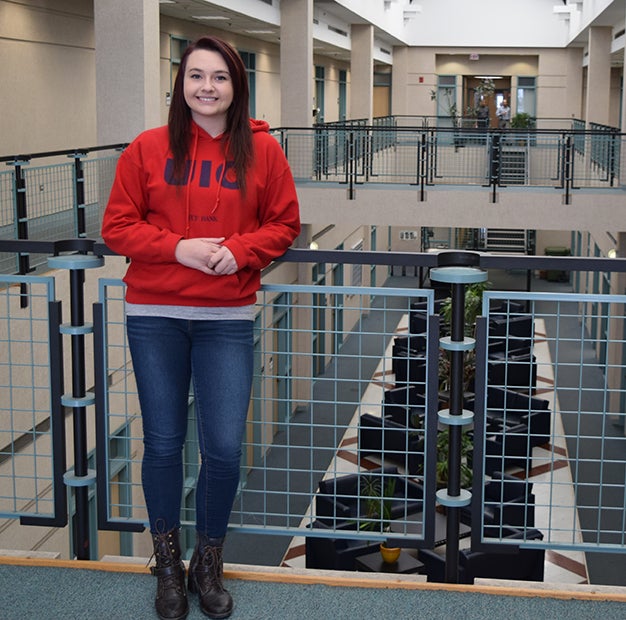 Engineers solve problems. And the six departments that make up UIC's College of Engineering developed a solution to put freshmen on the path to early success. It's called the Freshman Engineering Success Program (FESP) , and it is designed to motivate and support students with their studies. It also rewards them with a guaranteed paid internship at the end of the year.
The program, now in its third year, consists of a series of sessions and group projects encouraging students to learn more about their discipline and how to build an engineering sense by using their existing math and science skills. Throughout the year, the students participate in at least two general sessions, two team-based mini-projects, and are introduced to the wide array of resources at UIC to help them achieve academic success. Additional support comes from required tutoring sessions with by undergraduate engineering students who are dedicated to helping engineering freshmen in their math and science coursework throughout the year.
"This is an important year for engineering students," said Professor Saeed Manafzadeh, a lecturer in the Department of Mechanical and Industrial Engineering (MIE). "It's a change of atmosphere from high school and it can be difficult to adjust. We designed this program to nurture the students and inspire them to be successful."
Throughout the year the students will gain a better understanding of what it means to be an engineer, and learn more about the coursework over the next four years. They will learn from the faculty and have the opportunity to talk to them one-on-one, which is geared toward helping them get know and feel comfortable approaching faculty members with questions.
"Outside of the scheduled group sessions, we have teaching assistants available to provide extra tutoring," said Manafzadeh. "Visiting the teaching assistants is actually mandatory, which will teach the students to be more assertive."
Apart from providing students with projects and tutors, the program introduces students to the professional workplace. FESP coincides with an orientation class that teaches the students how to write a resume, discuss what to expect during an interview, and have the opportunity to learn from industry professionals who visit the campus for speaking engagements.
"It was an introduction of what to expect in the real world of engineering," said MIE student Rachel Cruz. "We learned how to write a resume, how to interview, and things that are not taught in other classes. I rewrote my resume based on the guidelines we were taught."
Gaining Real-World Experience
Students who successfully complete the FESP requirements and maintain a GPA of 3.2 or greater during the first and second semester qualify for the Guaranteed Paid Internship Program (GPIP) during the summer that follows their freshman year.
The freshmen are placed in engineering firms in the Chicago area or in a research laboratory at UIC, where they are exposed to real world engineering practices, build relationships with industry professionals and college professors, and gain valuable experience. In its first two years, more than 150 freshmen have participated in the program and worked summer internships, and Cruz was among the students who earned a paid internship.
Cruz interned at ITW Deltar Fasteners in Frankfort, Ill., for three months during the summer. The company specializes in the design and manufacturing of metal, plastic, cold-formed and other related fasteners and products.
"The clips are for the interior of cars, like break and gas lines and electrical running throughout the car," she said.
At the internship, Cruz found a supportive environment where the engineers assisted her with projects, and answered questions when she needed help on projects she worked on independently. She developed several new professional skills, and also found herself referencing the work back in the classroom.
"I did a lot of design work on AutoCAD programs, and my understanding of the program grew tremendously," she said. "I was able to apply my knowledge from the internship to my Calculus III class, where the z axis is introduced. At the internship, I was drawing in 3D and it has helped me perceive the three axes better."
Apart from AutoCAD, Cruz had the opportunity to work on new machines and evaluate the parts that were being developed at ITW.
"I learned how to use an Instron machine and helped test the parts," she said. "The machine performs tensile tests for strength, tension, compression and extension. It can break the piece by pushing down or pushing up, and we measure the force it takes to break the piece."
For Cruz, a highlight of the internship was putting all of the work together for a project.
"One thing I designed on AutoCAD was a testing panel for the Instron," she said. "They took my design and made it into an actual fixture for the Instron, which allowed me to do testing on a certain clip."
While many college juniors are looking of their first internship, Cruz is seeking her second internship. With the ITW Deltar Fasteners experience on her resume she is confident about landing another one with a local engineering firm.
Modified on August 13, 2019