MIE students display innovation and creativity at design expo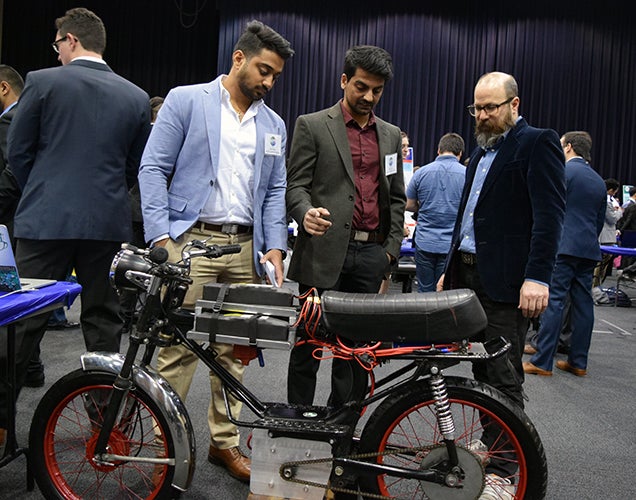 MIE students showed their innovation and creativity during the 29th Annual UIC Engineering Senior Design Expo on Friday, April 27, at the UIC Forum. MIE students were among more than 528 seniors from the College of Engineering (COE) presenting within 27 project categories. They produced 15 Best in Category winning teams in the 12 categories — some categories had two winners — in which they participated.
The Best in Category
In the Building Services Engineering category, the team of Alex Bashqawi, Michael C. Gonzalez, Erik I Pyshnov, Skyler Wilkinson, and Jingwei Wu won for their project ASHRAE 2018 Student Design Competition: HVAC System Design. The students were sponsored by UIC ASHARE.
Two MIE teams were named winners in the Consumer Product Development category. The team of Rocco J. Cordaro, Lyle A Kuykendall, Lynette S. Sugatan, and Rachel E. Winckler won for their project Design of an Indoor Custom Gas Grill for High-End Luxury Homes.
The team of Lukasz M. Dabros, Joseph Daniel Martin, Joseph M. Somerville, and Charles Victor Wiseman won for the project Volumetrically Configurable Conical Beer Fermenter for Consumer and Professional Applications. Both projects were sponsored by Triangle Metals.
In the Electronics Engineering category, the lone MIE team of Rahul J. Dahya, Michael T. Karas, Rahim A. Lalani, Kamran A. Siddiqi topped its ECE competitors with their project High Efficiency Lithium Ion Battery System for Mopeds. The team was sponsored by MIE Professor Max Berniker.
In the Fluids Engineering category, students Matthew Lee Burks, Devin Jimenez, Brandon L. Judkins, Hung Quoc Ngo, and Bartlomiej Jan Szczech won for their design Computational Fluid Dynamics Program for Wind Turbine Performance Analysis. The team was sponsored by Jevon Plog.
In the Industrial Engineering category, two teams were named winners. The team of Agata K. Chmiel, Adriana Garcia, Kristian Pierre Mai, Abiturab Mithaiwala, and Rory John Pognant won for their project Improved Yard Utilization to Increase Throughput at YRC Freight Distribution, which was sponsored by YRC Freight.
Additionally, the team of Sara S. Imburgia, Lovely A. Luna, Asad Mehmood, and Maria Sandoval won for their design titled Optimization of UIC's Extreme Supercomputer Scheduling System, which was sponsored by UIC A.C.E.R.
In the Manufacturing Engineering category, team of Maulik Hiteshbhai Amin, Bilal U. Khaja, Hardik Girishkumar Patel, and Marvin Renteria won for their project An Anti-wrap System for Pouch Laminators, which was sponsored by ACCO Brands.
Sharing the top spot were Kameron Bourne, Anthony Diaz, Luis Linares, and Oscar Ivan Vargas for their project Ergonomic Study: Improving The Design of Three Assembly-line Hand Tools. The team was sponsored by Thule.
In the Manufacturing Equipment category, the team of Walid Hamarneh, Linh Huynh, Hai Phuoc Vo, and Loi Vo were named winners for their project Semi-Automated Architectural Column Sanding System. The students were sponsored by Seven Oaks Millwork, Inc. DBA Royal Corinthian.
In the Mechatronics Engineering I category, the two winning teams were Ze Li, Kaijian Wei, Kaiwen Xue, Chu Zhang, and Jianan Zhang for the project A Shipping Robot on Tracks for physical Distribution of Multiple Items in Warehouses, and Monica Delgado, James T. Keopraseuth, Mateusz Kubak, Vladica Nikolic, and Jude Ademola Nwokenkwo for the design Modular Coordinate Measurement Machine for Reverse Engineering.
In the Mechatronics Engineering II category, the team of Tanisha Danielle Beals, Babatunde Oluwatosin Famuyiwa, Jesus Miranda, and Alex Orzechowski won for their Arduino Controlled Multi-Axial Orbital Fluids Mixer.
In the Vehicle Engineering category, two teams were named the best in category. Students Daniel L Gray, Matheus Scotti Alves Tonin Simoni, Barak Robert Stoltz, and Matt Valenzeno won for the project AIAA Liquid Rocket Design: Injector and Nozzle Systems. The team was sponsored by AIAA at UIC.
Additionally, Mina A. Agamy, Zaid Manaweil Alaraj, Abdelaziz Mohammed and Alhammadi, Vaso Dragicevic won for their project Electronically Actuated Shifting Mechanism for the SAE Formula Car. The team was sponsored by UIC Society of Automotive Engineers.
Modified on August 12, 2019