MIE Student named finalist for prestigious Materials Research Society award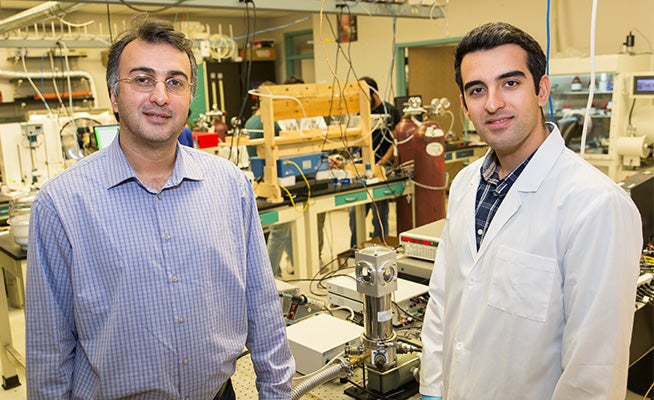 Mechanical and Industrial Engineering student Poya Yasaei is a winner. He has been selected as a finalist for the Graduate Student Award for the 2015 The Materials Research Society (MRS) Fall Meeting on Dec. 1 in Boston. He is one of only 29 students in the world to be selected for the award.
Yasaei is working on his Ph.D. under the direction of Assistant Professor Amin Salehi-Khojin in the Nanomaterial and Energy System Laboratory in the Department of Mechanical and Industrial Engineering at UIC. He is part of an interdisciplinary research group with the mission to advance the state of the knowledge at the boundary of science and engineering. The team pursues fundamental research in the field of advanced materials synthesis, energy recovery and transport at micro/nanoscale.
At the MSR meeting, Yasaei is slated to participate in the Special Talk Session, where he will deliver a 10-minute presentation covering "Thermal Transport Across Individual Graphene Grain Boundaries." The presentation will be followed by a three-to-four-minute question-and-answer segment. The Special Talk Session will determine if he receives a gold or silver award. The awards will consist of a plaque and $400 for the gold awardees and a certificate and $200 for the silver awardees.
"I feel proud for being in the company of best graduate students in my research area across the world," said Yasaei. "I believe this is a great achievement for my personal carrier and UIC. I would like to take this opportunity and acknowledge Professor Salehi-Khojin's dedication in supervising me in research."
He will be representing UIC as he competes against students from the Massachusetts Institute of Technology, Stanford University, and Harvard University in the United States, Fudan University and Tsinghua University in China, Imperial College London in England, and other top international universities.
"This is the most prestigious award in the field of material science for graduate students and it is highly competitive," said Professor Salehi-Khojin. "We look forward to him bringing home the gold."
More information about The Materials Research Society can be found at www.mrs.org. More information about Professor Salehi-Khojin's laboratory and research at UIC is at Nanomaterial and Energy System Laboratory.
Modified on June 06, 2019