MIE student brings leadership to engineering world health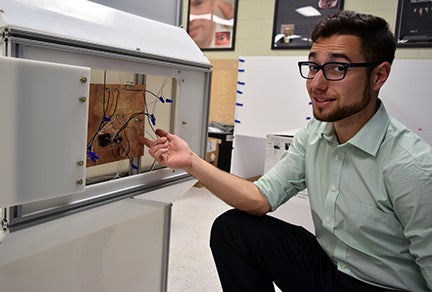 Graduates from the Department of Mechanical and Industrial Engineering (MIE) are bringing more to the workforce than a degree. Many are bringing a wealth of research knowledge and leadership experience, too.
Barak Stoltz is one example of the leaders earning degrees from MIE. He's an active member of UIC's chapters of the American Institute of Aeronautics and Astronautics (AIAA) and Engineering World Health (EWH). Additionally, he won the Maurice Prize as well as the Illinois Space Grant Scholarship. He had the opportunity to conduct research under the direction of MIE Professor Alexander Yarin for more than two years, and landed an internship with SpaceX. In June, he will start working for the Elon Musk-founded SpaceX in Hawthorne, California.
Before he graduates in May and moves onto the workforce, Stoltz wants to complete a few projects with his peers in EWH. Every year, the students take on challenges to improve health care in the developing world. This year, the students are using their engineering knowledge and skills to help people in Vietnam.
"As vice president of EWH, my role is to manage the project managers while defining the scope of each project," said Stoltz. "I do, however, have more hands-on involvement in the 'larger-in-scope' projects, such as the prosthetic arm and laminar flow hood, where work is conducted with a specific end user and due date in mind. The prosthetic arm is our most popular ongoing project. It is being made for a 10-year-old girl in Vietnam named Ahn, who lost her arm in a playground incident when she was younger."
The EWH members created a functioning prototype that they have been testing with the sensor-less technology they developed specifically for this project. The arm will be custom fitted for Ahn, while design requirements will assure the arm is low cost, simple, reliable, and, arguably most importantly, is comfortable and aesthetically pleasing.
"We developed our own in-house feedback system to greatly reduce the complexity of controlling the arm via muscle sensors," said Stoltz. "Additionally, the arm will be almost fully 3D printed to reduce cost and allow for rapid prototyping. Unlike other more complex arms, our approach to all aspects of the design has always kept in mind Ahn's environment and capabilities; reducing both cost and complexity is critical for our team to make sure that any potential failure of the arm results in an easy repair and component fabrication."
While there are a numerous fabricators and vendors working in Vietnam, they are not affordable for Ahn. According to Stoltz, while prosthetic costs have decreased dramatically over the years, the lowest cost for a prosthetic arm today would be more than $2,000. The UIC students are taking steps to make the arm for a fraction of the price.
"The strong relationship between UIC and the hospital which introduced us to Ahn, has allowed EWH to assist the issues regarding affordability, by covering both fabrication and delivery costs of Ahn's arm. That being said, reducing complexity, and thus cost, of the arm is the main driving force behind our team solving the issue behind the tremendous cost associated with custom prosthetics," said Stoltz.
All EWH projects are selected based on making a clinical impact in developing countries and helping those in need. Providing a prosthetic arm for a child is no different. The team put a great deal of thought into each project and how it will personally impact the patient's life in many ways.
"We hope to change the way Ahn goes about her everyday life. The arm is meant to act as both a tool and an accessory, allowing her to show off her new capabilities while removing any stigma that may have been associated with her disability," said Stoltz. "Our prosthetic is not meant to hide her injury, but rather to be an extension of her personality and show off who she truly is and what she is capable of. If we meet our goals, she will effortlessly use the arm and see it as her very own."
The team is on its way to completing a fully functioning prototype by the end of the semester, and plan to deliver a further revised version to Ahn by the end of the fall 2018 semester.
Another project the students are looking to complete is the second version of the laminar flow hood. The original flow hood was built to help the Nhi Dong 1 Pediatric Hospital in Ho Chi Minh City, Vietnam, to reduce the rate of hospital-acquired infections. Unfortunately, the first version wasn't able to be delivered last year due to shipping complications.
"We hit the reset button on the second flow hood this spring semester to make sure we start off on the right foot. Design work is already on the way, with various improvements over the original flow hood being conceptualized," said Stoltz, who was the project manager for the first flow hood. "A product can always be improved, and we've learned a lot from the mistakes we made with the first version. This was the perfect time to iterate and create a more refined and accessible flow hood."
The students are making the new version cheaper, smaller, lighter, and easier to manufacture and maintain.
As one of the most senior members in the organization, Stoltz contributed design ideas as well as establishing project management systems. He also supported the team by sharing advice and providing technical and managerial assistance to each team rather than traditional design work.
"Everything I learned at SpaceX is brought back and implemented in these projects," he said. "From management techniques, to documentation and design, I have learned so many crucial engineering skills during my time at SpaceX that I simply had to make it my goal to share with our members everything I learned."
The members of EWH are also working on a hearing test device, which is a unique consumer product idea. The goal of this device is to self-test and evaluate your hearing capacity. A prototype has been made and successfully tested last semester. The students are busy making improvements and plan to have the final prototype completed at the end of this semester.
Learn more about the student organization at Engineering World Health.
Modified on August 11, 2019