IE students bring academia and industry together during annual conference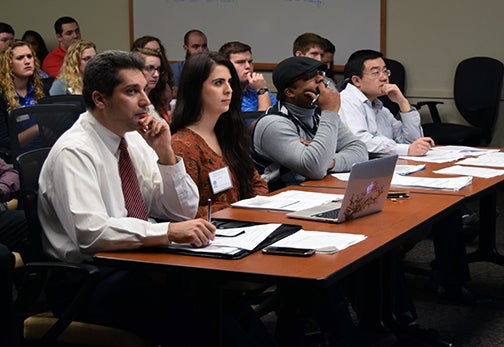 UIC's Industrial Engineering students are getting a jump start on their careers.
The student chapter of the Institute of Industrial and Systems Engineers (IISE) brought together more than 150 participants from 11 regional universities to socialize, network, exchange ideas and compete as it hosted the "2017 IISE North Central Regional Conference" from Feb. 23 to 25.
The annual conference featured speakers from the sponsoring companies and professors from UIC's Department of Mechanical and Industrial Engineering. Industry speakers included Jim D'Angelo, chief operating officer of Lou Malnati's, and Brad Mueller, chief operating officer of Healthsmart International.
"This event is important so different students from different universities get to know each other and what others are doing," said Adriana Garcia, an Industrial Engineering student and president of UIC's chapter of IISE. "It's all part of networking. That is the most important thing when it comes to a career."
Throughout the event, the students were treated to exclusive tours at Chicago's Shedd Aquarium, UI Labs-DMDII, UPS, and AllCell Technologies. They also had the opportunity to attend six workshops. The workshops included health care by Rush Hospital, ergonomics by Zurich Insurance, manufacturing by Nestle, consulting by Accenture, data science by Exelon, and Myer Briggs Personality Test by InRoads.
"A great advantage to hosting the event is the opportunity to explore the city of Chicago," she said. "It's a chance to meet other people and visit other companies while they are here and set up interviews. I think Chicago is a great city and there are many companies around [UIC]."
Another highlight of the conference included a paper competition, which was judged by MIE professors Houshang Darabi, Quintin Williams, Lin Li, and Elnaz Douzali, a UIC masters of science in Industrial Engineering student. As the host school, UIC students were not eligible to compete, which narrowed the field to eight competitors. Jigar Patel, of the University of Illinois at Urbana-Champaign, was the first-place winner. He was awarded $400, and is eligible to compete in the Undergraduate Technical Paper Competition Global Finals at the IISE Annual Conference & Expo in May. Andrew Anderson, of the Milwaukee School of Engineering, picked up the second place and was awarded $200, while his classmate Krystal Sombke, also of the Milwaukee School of Engineering, nabbed third-place and its $100 prize.
The IISE chapter at UIC is part of The North Central Regional Conference, which is comprised of 18 student chapters from Illinois, Iowa, Minnesota, Nebraska, North Dakota, South Dakota, and Wisconsin. The chapter is dedicated to developing a greater network of industrial engineers, connecting students with the right business professionals, sharing resources, focusing heavily on career development, and striving for excellence in all that they do. Being situated in the heart of a world-class city, the UIC students were able to deliver an event that truly supports its mission.
"Participants attended all the events and enjoyed them," said Agata Chmiel, an IE student and vice president of UIC's IISE chapter. "At the officer's meeting after the final banquet, the other chapter officers raved about our speakers, tours, and social events, and shook our hands in congratulations and thanks. The amount of positive feedback we have received by email, Facebook, LinkedIn has motivated us to expand the chapter's presence on campus."
Modified on September 07, 2020