ECE students use senior design projects to help community organizations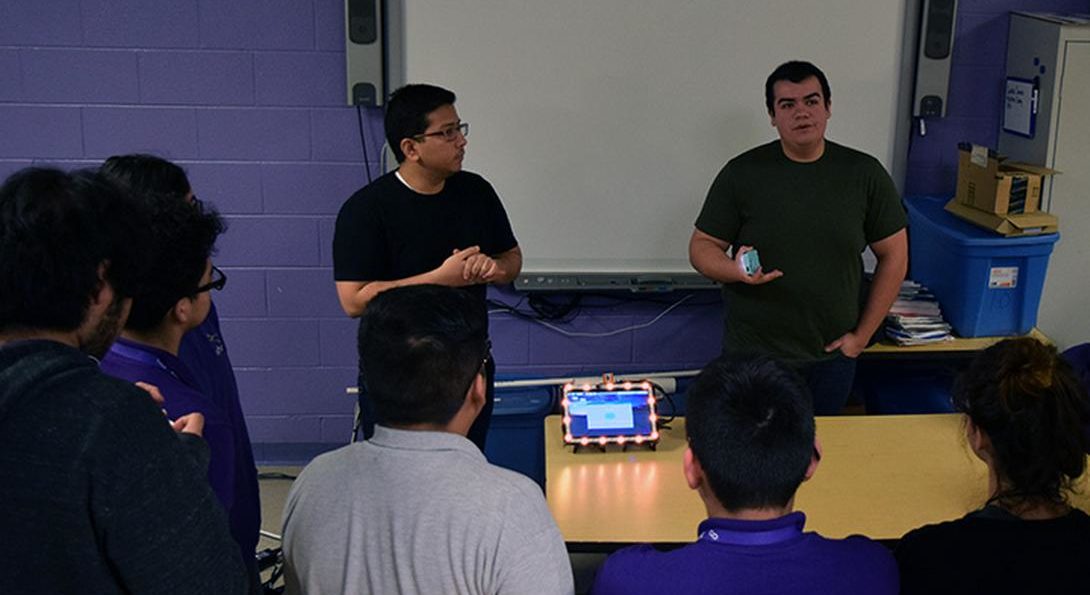 Senior Design projects are an opportunity for students to show creativity, innovation and talent. Starting the spring term of 2017, 16 students in the Department of Electrical and Computer Engineering (ECE) took senior design projects a step further by dedicating long hours and hard work to selflessly serve four area nonprofits with their engineering knowledge and skills.
Instead of working on a project that serves their own self-interests, the students volunteered to help Enlace Chicago, Lakeview Pantry, Little Village Environmental Justice Organization, and People for Community Recovery solve problems that substantially address distinct needs in the community that those organizations serve.
Each of the nonprofits provided a problem statement during the spring 2017 semester. The students worked with the organizations to refine the problem statement and develop a solution. At the end of the spring semester, the teams presented their ideas to the organizations. At the end of the fall 2017 semester, the students presented their completed projects to the organizations during a poster session.
"All of the teams delivered the products that they proposed in the spring semester," said ECE Clinical Assistant Professor Renata A. Revelo, who directed the course. "It's inspiring to see our students use their skill sets outside of the classroom to give back to local nonprofit agencies that are supporting Chicago residents."
Enlace Chicago's Marissa Alvarez, who is a research coordinator at Little Village Lawndale High School, was excited to see the final project. Enlace was using an iPad and photo booth software for taking pictures at its events, but it had an expensive monthly fee. They wanted something that they could use every day with no outside costs, and use as a learning tool at the high school.
"The idea is to bring engineering to our students," she said. "Something that is popular is to take photo booth pictures at events. Sometimes the kids want to do more with the photo booth. However, the app we had is no longer supported and becoming very expensive. So we said let's think about a way we can create a photo booth app that not only takes the pictures, but allows the students to do the coding behind it."
Along with a functioning app, the UIC students created a manual for any class that wants to modify the photo booth. It will allow them to play around with it, learn from it, and improve the camera sizing or modify it in the future.
"That was one of the tasks and they executed it very well," she said. "They were very detailed and made some lighting orange, which is in the Enlace logo. The branding is there and this will help with marketing. Not only are we having events at the high school, but Enlace as a whole is having events in the community where this can be used."
Apart from saving Enlace money by eliminating a monthly fee, the photo booth will support high school students in other ways.
"At our last homecoming, we sold pictures for $2 and that generated money for other programs or buying material for other clubs," said Alvarez. "We have a STEM club, and they do robotics. We would like our students to do not only competitions, but also be involved in this project and be able to teach other students to code [using the new photo booth]. It's been amazing and I can't wait to see where we go with it."
The four senior design projects offered the students more than an opportunity to give back to the community. They also posed multiple challenges. The teams had to work with a real client to solve a problem, and some teams consisted of people who did not have previous experience working together.
"I think making the LED lights work at the same time as taking the pictures was a challenge," said Emmanuel Leon, a recent graduate who was part of a team that designed and built a photo booth for Enlace. "Initially, we just had it taking photos, but we wanted to have some light on it to draw attention to it.
"Our original goal was to upload a picture to Dropbox," he said. "But they gave us a printer to play with and we got it to work with the app. Now, we are printing the photos."
Apart from taking on a challenge as an engineer, the UIC students also learned about the organizations they helped.
"I didn't know anything about [Enlace] until we started working with them," said Leon. "They work at a high school and have an engineering program that teaches the kids, and I think it's important to teach kids about engineering and tech."
The four partnerships are part of a pilot section of the department's senior design course. Revelo views it as an opportunity for the students to give back to the community while building stronger relationships between the ECE department and local organizations.
"The pilot shows the potential for our senior design students to work with local, community organizations," said Revelo. "Our goal is to continue to work on meaningful community design projects each year."
Modified on August 13, 2019