ECE students lead EDT robot team to second place at engineering competition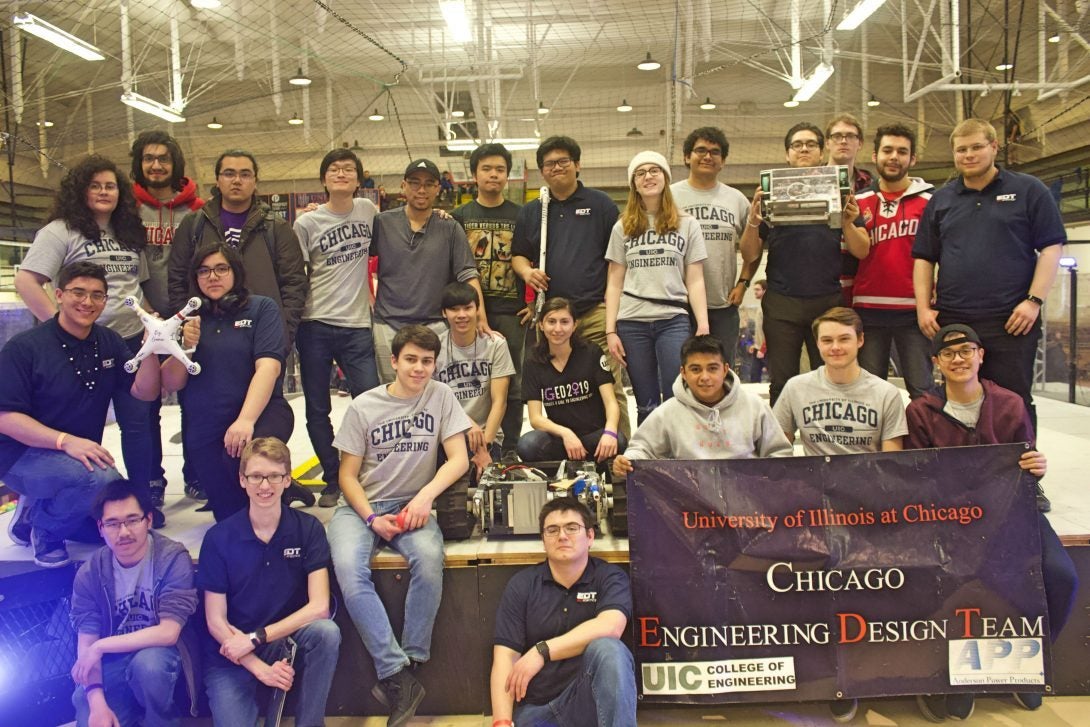 UIC's Engineering Design Team (EDT) brought the heat to this year's Engineering Open House at the University of Illinois Urbana-Champaign, with a strong showing by all three robots entered into the contest by their teams.
In the objectives competition, EDT's ground robot Stella, captained by two electrical and computer engineering students, placed second out of 32 teams, and team Air's drone made it to the semi-final round. Team DevastatingWin lasted three rounds in the combat robot tournament. The two robot contests take place simultaneously at the Engineering Open House—one is skills-based, the other a robot brawl.
The Midwestern Robotics Design Competition was started in 1987 and is one of the oldest continuously-run robotics competitions in country. This annual two-day contest is completely student-run. It involves multi-level platforms, obstacles, and various challenges, and is rebuilt each year. The teams faced tasks including triggering lights on a game in a certain sequence (similar to the classic Hasbro Simon Game), pushing a 12-pound bowling ball up a ramp, flinging small balls through a hoop, and crossing narrow, speed-bump laden bridges without sending the robots tumbling into ball pits.
Team Stella's approach was to re-use as many parts as they could from past contests.
"My grandma was always a very frugal lady, so I try to reuse as much as I can to save the school money and not waste things, like precious metal," Damien Gilbert, co-captain of Team Stella, said. "For instance, the chassis, or frame of the robot has been there three years. It's steel—unless it gets hit, it will stay good forever."
Team Stella's robot was captained by Gilbert and Kaleb Vicary-Rzab, both electrical engineering majors. Gilbert said Stella is all engine. The team put in a motor used in a previous competition, one so large it barely fit their frame. They kept a low center of mass to keep the robot from tipping, and outfitted it with Honda snowblower treads for grip. Initially, the team tried to build a separate mechanism for completing the various tasks. When the team arrived at MRDC, the mechanism still wasn't complete—and the team had to decide if they could score enough points with a simpler tool.
"We made a mechanism on the fly and that's what got us to second place. That's what engineering is about sometimes, finding the simplest solutions to a difficult problem," said Gilbert.
While team Stella used a rebuilt robot, team Air used a brand-new drone—they received it less than a week before competition. The first day, the team was adding a mechanism for scooping balls. Air's captains include Crista Mondragon and Mohammad Mohammad, both computer science majors.
Both the air and ground robots compete at the same time, causing chaos—and excitement. At one point, both Stella and Air were in the arena, and Air flew over Stella as they both went through a hula hoop, with little clearance. Air ultimately crashed on a different hula-hoop maneuver, in the semi-final round.
"If we had more time with the robot I know we would have done even better," Mohammad said.
Next year, Mohammad said the team will likely change to a more advanced drone, one open to developers.
"It would be more fun than a prebuilt drone and we can add stuff to it, work on it from the ground up," said Mohammad. "We may even enter it as an autonomous vehicle."
Mohammad said he and his teammate Laura Rojas are using the offseason to work on an instruction book for aerial drones, as this was the first time the school entered one in the competition. This way, the knowledge can be passed on to other students.
While the Midwest Robotics Design Competition is all finesse, Robobrawl, a double-elimination tournament featuring 30-pound combat robots fighting in a 16-foot by 16-foot arena, is about brawn, with projectile weapons allowed.
Team DevastatingWin, captained by Antonio Romero, an electrical engineering major, and David Cowan, a mechanical engineering major, made it through three rounds in the battle.
Team Stella includes: Francis Paul Amadeo, Keara Dillon, Duy Do, Damien Gilbert, Erick Gonzalez, Steven Mac, Matt Meyers, Singee Nguyen, Tri Toan Nguyen, Adrian Arif Rahardji, Denisse Manzanilla Reyna, Joseph Stiso, and Kaleb Vicary-Rzab.
Team Air includes: Laura Rojas Canelo, Yuritzi Castel, Keefe Li, Mohammad Mohammad, Crista Mondragon-Rivera, Jesus Resendiz, and Hasan Sehwail.
Team DevastatingWin includes: Kamaleddine Abou-zhar, David Cowan, Farid Elbouakhri, Chris Escobar, Thomas Hysick, Hamza Mohammed, Ratnay, Antonio Romero, and Houssain Youssfi.
For students interested in joining EDT, the group holds meetings at the beginning of each semester, and fliers with meeting times will be posted in SEL.
Modified on April 13, 2023