Early internships are a bridge to employment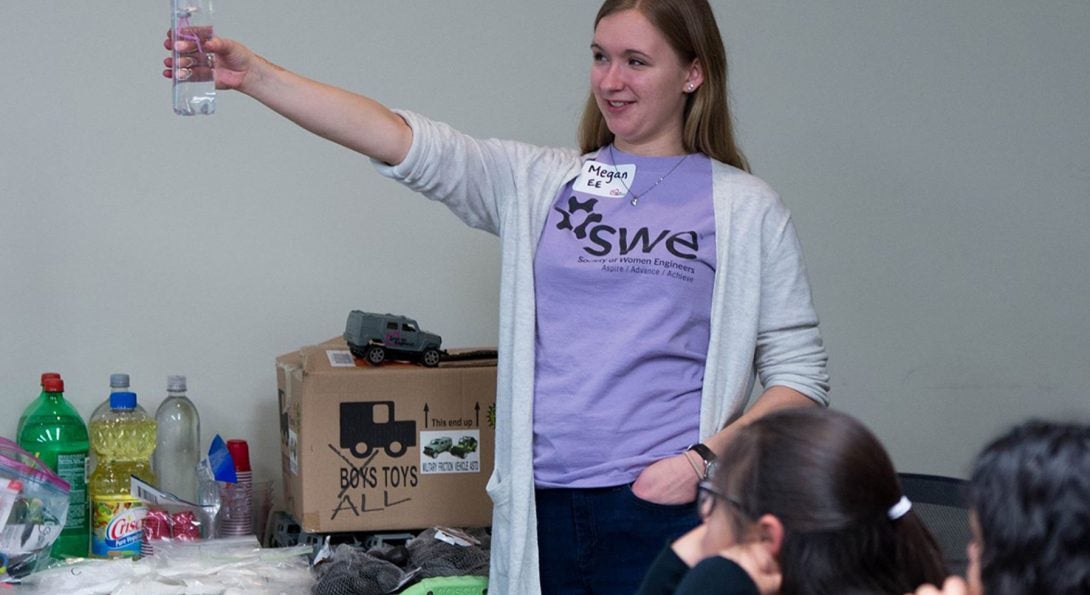 Megan Dague doesn't graduate until spring 2019, but she already knows where she will be working after graduation. The Electrical and Computer Engineering (ECE) senior is set to work as a hardware engineer at Northrop Grumman Corporation, an American global aerospace and defense technology company based in Virginia.
Landing a job during the fall semester is quite an accomplishment for any student. Getting hired requires experience, and Dague took advantage of the opportunities UIC offers to gain the experience employers are seeking. During her tenure as a UIC student she earned three internships, helped faculty as a teaching assistant, and served as a leader – and current president – of the Society of Women Engineers (SWE).
"I got my first internship through GPIP," said Dague, of Fox Lake, Ill. "My first two internships were at Knowles Corporation in Itasca, Ill., and my third internship was at Teradyne, Inc. in Buffalo Grove, Ill."
The GPIP (Guaranteed Paid Internship Program) is a unique opportunity the College of Engineering offers freshman and transfer engineering students. It provides them the opportunity to work as paid interns at an engineering company or a UIC engineering research laboratory during the summer months, providing they meet certain criteria by the end of their first year of study.
"It is important for students to have internships because it tells you what you've learned translates into actual engineering work when you're out there and working in a group with deadlines. It translates into real-life work," said ECE Clinical Associate Professor Vahe Caliskan. "If you do a good job or more than one internship, there is a higher probability of leading into a fulltime position. Also, having internships helps to get other internships, and having multiple internships might lead to a job because you have experience."
"Without the GPIP program, I think I would have struggled a lot getting my first internship, because I only had class experience like everyone else," added Dague. "Getting help from UIC to get me placed at a company or lab, I think that was really beneficial and helped me stand out on my other applications as well."
In most engineering programs, the course work prepares students for the working world after they graduate. For Dague, and many UIC students, GPIP provided her with the unique opportunity to learn engineering concepts early in her student career.
"At Knowles, I learned concepts before I learned about it in the classroom, as well as fundamentals of debugging, testing, and soldering," said Dague. "At Teradyne, I learned how to develop and execute a test plan, debug software interfacing with hardware, as well as having to think quickly and rework my test plan two weeks before the end of my internship. Both companies prepared me to be ready for a full-time position in electrical engineering."
According to Caliskan, she exhibits all the qualities that one needs to succeed.
"She has all the characteristics of a professional," he said. "She's a very responsible, knowledgeable, hardworking student. You only have to tell her something once and she gets it. If she needs help she asks for help. She is very good working in a group, but she can do stuff herself too."
In the classroom, Dague has had a great experience which she attributes to engineering's supportive staff and faculty that helped put her on the road to success.
"After going to UIC, I couldn't imagine going anywhere else," she said. "It's been a really great experience for me. I've learned all the technical skills and I've got a lot of connections through SWE to further my career. I wouldn't exchange it for anything else."
Learn more about the department at ECE Undergraduate Programs.
Modified on August 12, 2019