DuSable Scholars Program wraps up first year with $100,000 donation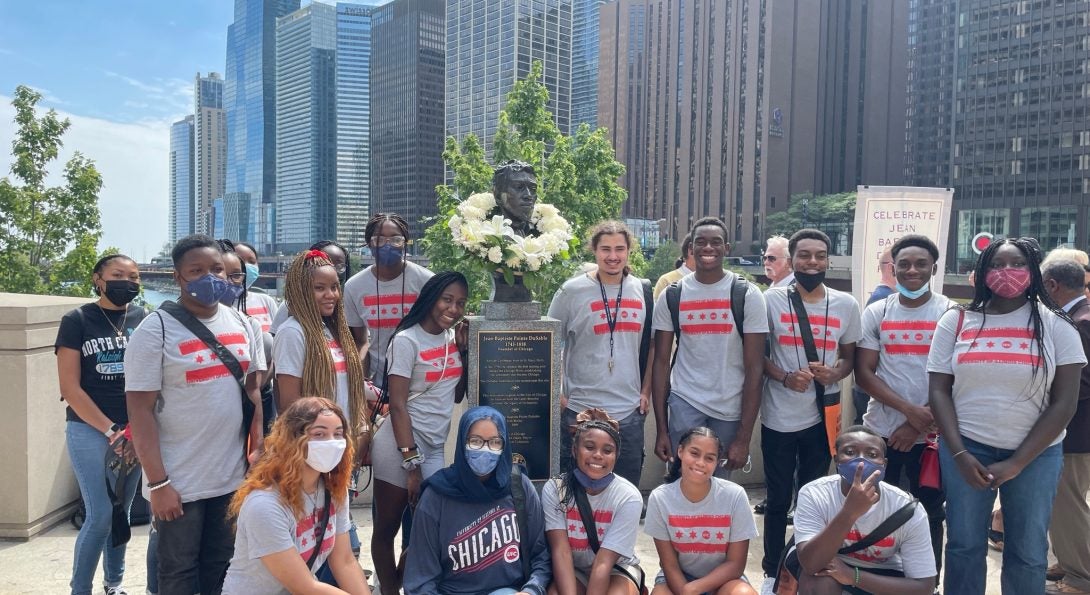 The DuSable Scholars Program marked the end of a very successful first year by accepting a $100,000 donation from Associate Professor Michael Scott, of mechanical and industrial engineering, and his wife, Joy Clendenning.
"I always understood that I had more than my fair share, and when we sold this very successful software company we realized we suddenly had way more than our share," Scott said. "I always felt that I should spend my time and money on making the world a better place, and we wanted to see this program grow."
The couple have often remained anonymous when they make donations, but for this donation, they allowed their names to be shared to inspire their peers and others to support the program.
The DuSable Scholars Program, housed in UIC's College of Engineering and College of Liberal Arts and Sciences, works in partnership with the DuSable Heritage Association to identify and support talented Black students who are underrepresented in STEM fields and guide them through their academic career to a timely graduation.
"The goal of the program is to increase outcomes for minoritized students in STEM, increase the retention and graduation rates, and get rid of this achievement gap," said Jeremiah Abiade, program director and associate professor of mechanical and industrial engineering. "We would like to see these students go on to get PhDs in a STEM discipline and assume research careers."
Program organizers and students also celebrated the successful completion of the full academic year for the first cohort.
"The students did very well, and we retained 100% of them in STEM," Abiade said. "What exceeded my expectations was the excitement from the campus and community about the program and the buy-in from different units to support us."
"I really enjoyed my first year at UIC. It was a great chance for me to connect with people and find different ways to get support," said Kaliah Linear, a mechanical engineering student. "I was able to get supplemental support when I needed it in my classes, and connect with my pears who were in similar classes."
Linear is headed to California for an internship with Abbott Laboratories, where she will work in their vascular division. In the fall, she plans to join UIC Motorsports, beginning her journey toward a "dream job" of being an engineer for Formula One racing.
Students involved in the program said its support structure is crucial to their success.
"It's a pretty tight knit group, and we can depend on each other for studying and emotional support," said Joshua Nwonye, a biochemistry student. "I think my university experience would be significantly different if I wasn't in the program. There are a lot of little opportunities that I don't think I would have known about."
Being part of the program provided Nwonye with the opportunity to meet Prof. Miguel Gonzalez-Meler and work in his lab as freshman. The professor also helped Nwonye secure a summer position working at a cadaver lab, which will help Nwonye as he works toward becoming an anesthesiologist or perfusionist.
Learn more about the program and its students at DuSable Scholars Program.