Drew Reed, who was born without a right hand or wrist, receives a one-of-a-kind birthday gift from UIC's Biomedical Engineering Society: a custom-made, 3D-printed prosthetic arm
story title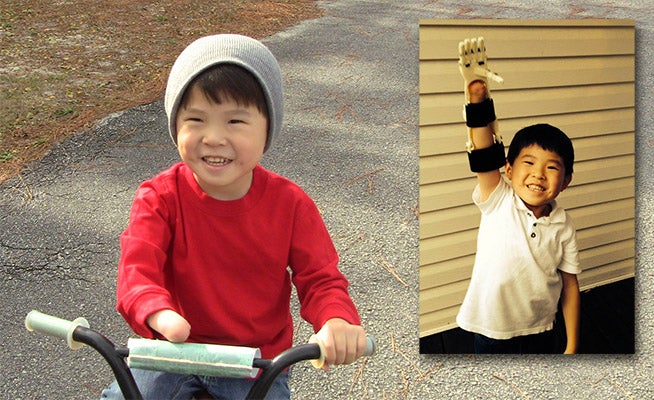 May 12 isn't an ordinary Tuesday for members of UIC's Biomedical Engineering Society (BMES); it's Drew Reed's sixth birthday.
Drew, who was born without a right hand or wrist, received a one-of-a-kind birthday gift from the team: a custom-made, 3D-printed prosthetic arm. Using a mold of Drew's "lucky fin" for exact measurements, BMES modeled and created three prototypes, each one made out of thousands of stacked, 2D-printed layers.
The work started after bioengineering student Samuel Dreyer (BS '16), the group's president for the 2015-2016 academic year, heard about a network called e-NABLE that enlists volunteer groups to build 3D-printed prosthetics for kids. "I knew right away I needed to get UIC involved," he said. So he signed up, recruited members of BMES, and shortly thereafter, Drew and the team were matched.
Kids like Drew, who have this type of rare birth defect, rely on the help of e-NABLE volunteers "because most insurance companies can't afford to cover the cost of a traditional, more expensive prosthetic device until an individual is fully grown," Dreyer said. A 3D-printed prosthetic arm is much different from its traditional counterpart; it's light-weight, kid-friendly, and low-cost—making it easy to produce and produce again after a growth spurt.
The most important aspect of the arm built by BMES is its customization. Drew's case is more severe, so any of e-NABLE's current open-source designs won't work for him. "This just means we have an opportunity to do something new, and something special for him," said Dreyer. That includes a cutout on the forearm that pays tribute to Drew's favorite movie, Transformers.
Aside from giving Drew a memorable sixth birthday, the group's ultimate goal is to release their design to the public domain and help other kids with cases similar to Drew's. They're thinking of calling it the 'UIC Arm.'
Modified on June 06, 2019