College awards visionary leader John E. Major with honorary degree at 2019 commencement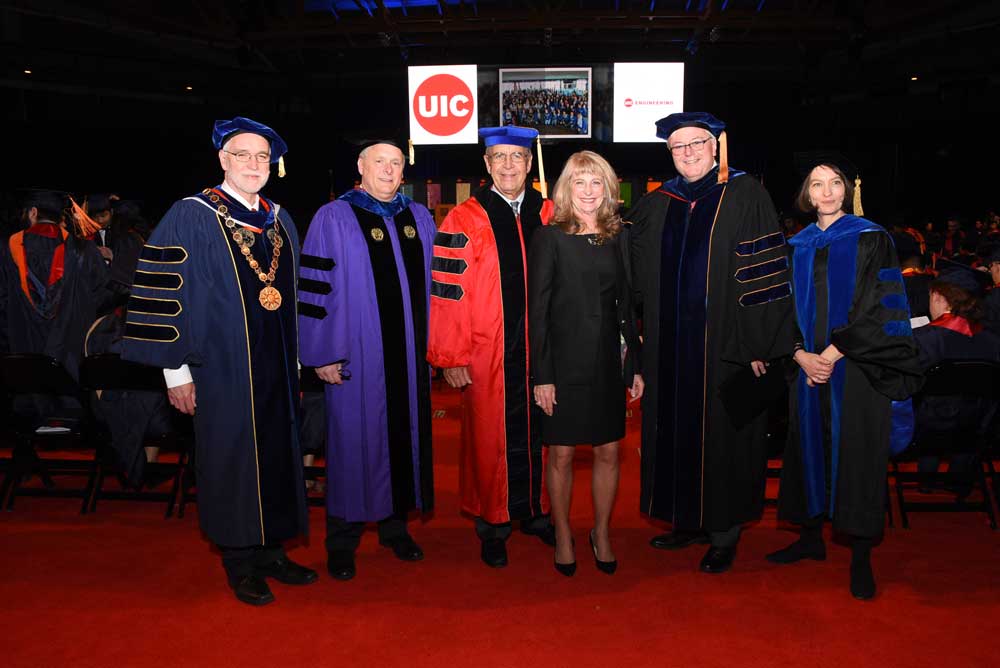 When John E. Major (MS '82) first connected with the UIC College of Engineering, it was to set up an industry partnership for an off-campus master's degree program at Motorola—and he thought the best way to encourage others to participate was to lead by example, so he enrolled himself. Today—after many years of service and leadership—he is the recipient of the college's highest honor: an honorary doctor of engineering.
"John Major is recognized around the world as one of the most influential forces in the wireless telecommunications over the last 50 years: as an innovator, entrepreneur, business strategist and executive," says Peter Nelson, dean of the College of Engineering.
John Major's career began as an engineer at Kleinschmidt-SCM in 1967, where by the age of 30 he was Vice President of Engineering, before leaving to become Vice President of Global Service for Harris Broadcast. John joined Motorola as Director of Physical Design in 1979. His innovations and technical leadership in the area of mobile networks have had a worldwide impact including critical inventions to support moving wireless users. John's team put dispatch on cellular, and that led to the Nextel Cellular System. It also became the bedrock technology for public safety radio systems worldwide.
John's ability to understand large, complicated systems while having a vision for the future of wireless communications led Motorola to assign John to lead large R&D teams and eventually become Motorola's senior vice president and chief technology officer during the pinnacle of Motorola's mobile wireless business when Motorola had 150,000 employees.
In 1998, John left Motorola to serve as Executive Vice President of QUALCOMM and President of QUALCOMM's Wireless Infrastructure Division. John later served as Chairman and CEO of Wireless Knowledge, a joint venture of QUALCOMM and Microsoft; as Chairman and CEO of Novatel Wireless where he led the company's successful initial public offering, and Chairman and CEO of Apacheta.
In 2003, John founded MTSG, an investment and consulting firm and has served and continues to serve on numerous corporate boards of directors including Littelfuse, ORBCOMM, Lennox International, and Lattice Semiconductor. John has served as chairman of the board of directors for several companies including Resonant and Broadcom, which was sold in 2016 for $37 billion.
Bringing that innovative spirit to UIC, Major has been a strong advocate and trusted advisor for the college, helping develop programs outside of the classroom to support student success after graduation. In 2003, he joined the college's advisory board, where he served for nine years as chair and is a member to this day. As chair, Major recruited more than 25 board members, instituted a culture of philanthropy to the university among all board members, and was instrumental in helping the college launch its Guaranteed Paid Internship Program, which provided qualifying students with their first internship in the summer after their first year.
In addition to providing visionary leadership in the development of the internship program, Major and his wife, Susan, are passionate advocates for evening the playing field in engineering and providing more opportunities for women in STEM. In 2012, they created a scholarship to assist with the college's student recruiting efforts and have continued to fund it annually. To date, 15 female students have been recipients of their scholarship. The Majors also pledged their financial support for the college's new computer science building, which is expected to open in 2022, creating additional space for the rapidly growing number of students who seek to study computer science at UIC.
Major's own education includes a bachelor's degree in mechanical and aerospace engineering from the University of Rochester, a master's in mechanical engineering from UIC, an MBA from Northwestern University, and a juris doctorate from Loyola University.
Modified on June 02, 2019