BME alumna sketches out childhood dream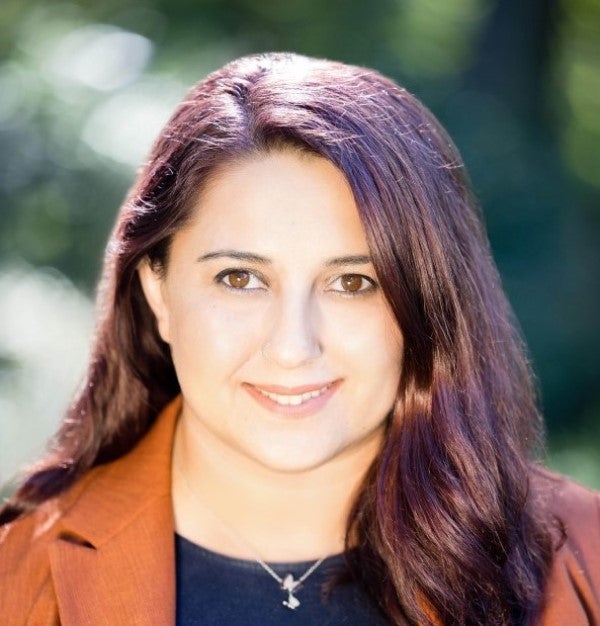 As a young high school student in Istanbul, Turkey, Gamze Gursoy's art teacher asked her to paint a future vision of herself. After thinking about what she wanted to do with her life, Gursoy dipped her brush into the colors and painted a woman sitting at a desk with a sign that read "Professor Gamze" proudly displayed on the front.
Gursoy, a 2016 PhD graduate of the Richard and Loan Hill Department of Biomedical Engineering, is living out her prophetic painting after years of hard work.
This January, she will become a tenure-track assistant professor of biomedical informatics at Columbia University in New York. She also will be a core member of the New York Genome Center and an affiliated faculty member of Columbia's computer science department. Initially, she will teach graduate-level bioinformatics and computational biology classes.
"I am really looking forward to mentoring and shaping the next generation of scientists," Gursoy said. "My research is divided between developing genome-analysis tools that can preserve patients' privacy and developing statistical and mathematical frameworks that are able to model and understand gene regulation."
In the short term, Gursoy hopes to create usable, well-maintained, and sustainable tools and frameworks for the broader biomedical community while contributing to the understanding of how living systems work and what happens when they stop working. Her long-term goal is innovation: she hopes to provide tools that we haven't thought of yet and methods that can enable future scientists to make discoveries.
Gursoy was interested in math, physics, and chemistry as a high school student. When she arrived at Bogazici University as an undergraduate, she decided to combine those three passions into a chemical engineering degree. She eventually realized that she was not especially interested in her chemical engineering classes, but she did enjoy the hands-on work during research projects, particularly computational ones.
"I took a couple of classes in computational chemistry and biology and enjoyed every single assignment," she said. "I spent some time in one of the computational biology labs and really loved the approaches that they were taking. That was my cue to do a computational biology / bioinformatics PhD."
She arrived at UIC to pursue her doctorate in Richard and Loan Hill Professor Jie Liang's Center for Bioinformatics and Quantitative Biology lab. Gursoy credits Liang with helping her to become a scientist and giving her the freedom to learn how to study, design her own projects, and work independently. She added that UIC taught her everything she knows about bioinformatics and computational biology.
"We have a great curriculum that often gets taken for granted," she said. "The importance of the independence and freedom to study what I want to study and how I want to study it was something I did not recognize until I left UIC. I didn't realize how uncommon it is to have this kind of confidence for your work in your mentor's eyes."
Read more about Gursoy's recent research in this story from 2020.