BioE undergraduate authors microfluidic device paper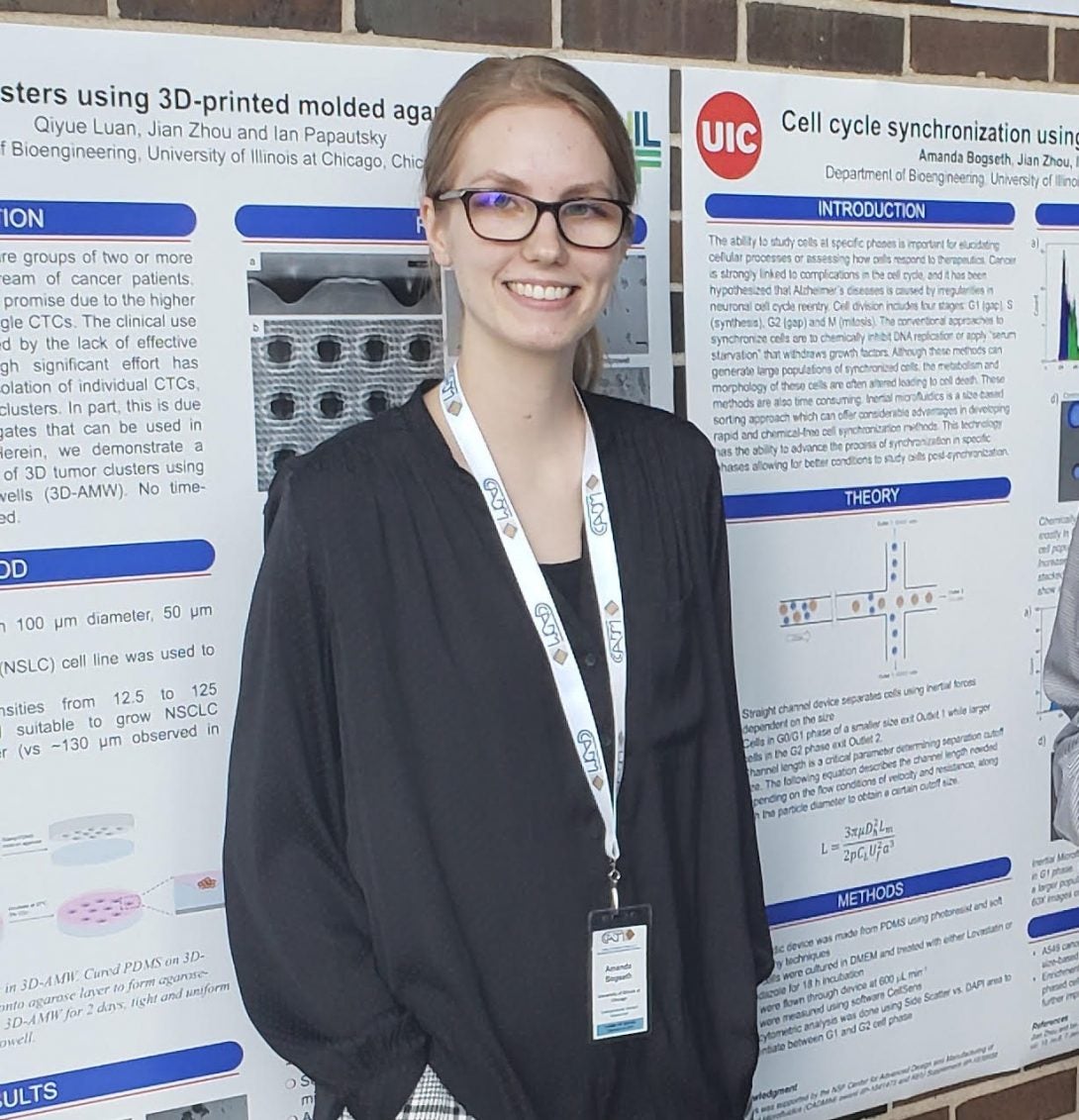 Microfluidic devices can be used to help fuel research into medical diagnostics, tissue engineering, drug discovery, drug delivery, and microscale chemical production. An undergraduate student in the Richard and Loan Hill Department of Bioengineering got a jump start on her research career with a recently published article that helped demonstrate their testing abilities.
Amanda Bogseth, a junior pursuing an undergraduate degree in bioengineering, was the first author of the paper, along with Richard and Loan Hill Professor Ian Papautsky and Postdoctoral Research Associate Jian Zhou.
The article, titled "Evaluation of Performance and Tunability of a Co-Flow Inertial Microfluidic Device," was published in the journal Micromachines.
Bogseth is from Mundelein, Illinois, and decided to pursue a degree in bioengineering because of her passion to create health treatments through engineering. She got her first chance at research in a lab when she participated in the College of Engineering's Guaranteed Paid Internship Program during her freshman year at UIC.
For this research paper, she studied inertial microfluidics, a system that separates micro-sized particles, such as cells, by their sizes. The study investigated the separation quality and tunability of a microfluidic device to see whether a single device can be used for multiple biological samples with various sizes.
"We tested the flow conditions of flow rate, flow rate ratio, and resistance ratio to determine which one provided the largest tunability of the device while still providing high performance of separation," Bogseth said.
The team found that the microfluidic device could be "tuned" to different cutoff sizes with different resistance ratios. This discovery was significant because the same device can be used for numerous samples containing various size ranges, which shows that one device could be used for different samples for applications such as cell cycle synchronization.
She said this experience has helped her translate the concepts she has learned in lectures and see the real-world applications.
"The research experience has greatly enriched my learning experience within the bioengineering department," Bogseth said. "I would recommend anyone interested in research joins a lab during their undergrad, not only because it ties together the concepts that we learn in lectures, but the experience also teaches self-discipline and time management skills that I've found to be very valuable."
After she wraps up her undergraduate career, Bogseth plans to continue her education by pursuing a PhD in either bioengineering or immunology.
"I am interested in developing new technology for medical diagnostics or studying and developing treatments for diseases such as cancer and autoimmune disorders," Bogseth said. "My career goal includes conducting and leading research that positively impacts human health."
Bogseth said she wanted to thank her research advisor Papautsky and Zhou for their mentorship, along with the graduate students that work within the Papautsky Lab. She added she would also like to acknowledge the NSF Center for Advanced Design and Manufacturing of Integrated Microfluidics for partial support through Research Experiences for Undergraduates funds.
Modified on April 29, 2020