3rd annual UIC Bioengineering Research Symposium set for April 16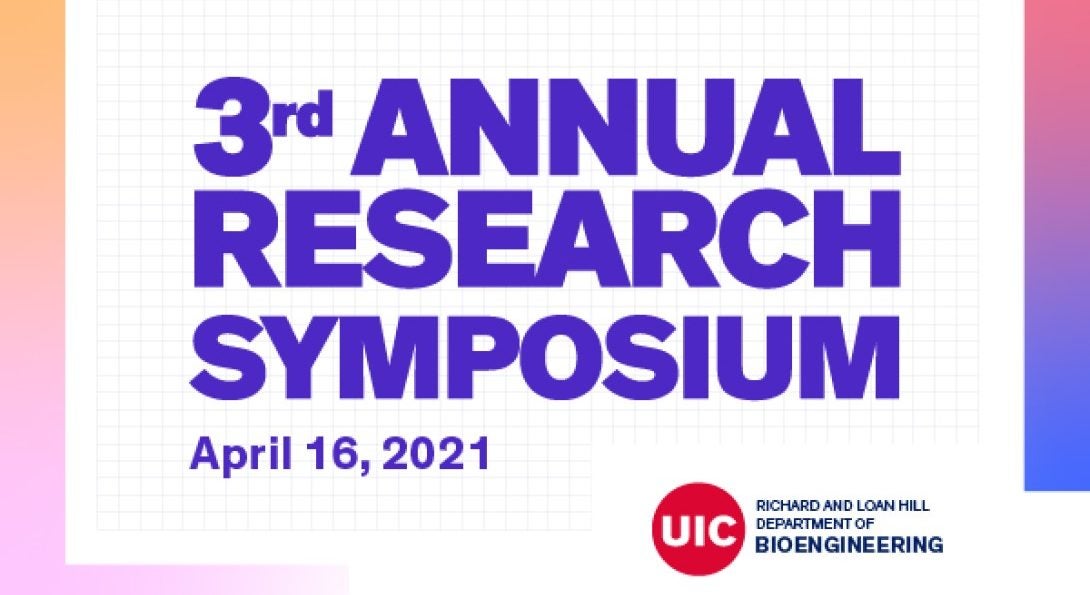 The Richard and Loan Hill Department of Bioengineering is set to host its annual Bioengineering Research Symposium on Friday, April 16 from 9 a.m. to 3:30 p.m. CST.
The third annual event, which is co-sponsored by the UIC student chapter of the Biomedical Engineering Society, will feature a keynote presentation along with oral and poster presentations from both undergraduate and graduate students.
As with most events during the last year, the symposium will be held virtually. Most of the symposium will be held in the main virtual room, including the opening remarks, the keynote speaker, the oral presentations, and the awards ceremony. However, during the poster session and lunch break, attendees will be able to join breakout rooms to view the poster presentations of their choice.
Associate Professor Salman Khetani said that while the symposium will be virtual this year, the organizers believe it will allow more students and faculty to participate than in years past and attend from wherever they are located in the world on the day of the symposium.
"We anticipate that the added convenience factor is the silver lining of the virtual symposium," Khetani said. "Furthermore, poster presenters will be able to interact with more attendees as physical space constraints on poster viewing areas will not be present in the virtual format this year."
The symposium is open to all undergraduate students, graduate students, postdoctoral fellows/associates, and research associates/fellows/specialists at UIC who are engaged in bioengineering research.
A panel of judges will award Amazon gift cards to the top poster and oral presentations for both graduate student and undergraduate student categories.
Students interested in submitting an abstract have until March 5 at 11:59 p.m. CST to submit their work. The deadline to register for the event is April 2 at 11:59 p.m. CST.
For more information or to have any questions answered, please contact bioeresearchsymposium@uic.edu.