$1.1M brings new computing resource to UIC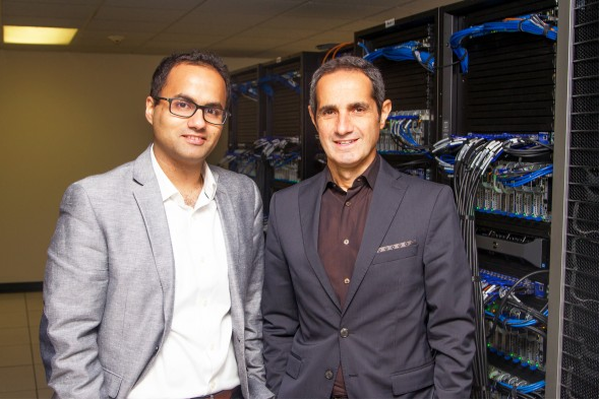 A new computing resource called SABER (Shared Analytics and Big-data Enterprise Resource) funded by $1.1 million from the National Science Foundation will support interdisciplinary high-performance computing (HPC) and big-data mining research at UIC.
Researchers in nine colleges across campus will utilize the equipment, including Farzad Mashayek (pictured above; right), professor and head of mechanical and industrial engineering and SABER's principal investigator, who uses HPC to study supersonic combustion in the Computational Multiphase Transport Laboratory; Philip S. Yu, professor of computer science and Wexler Chair in Information Technology, who studies big-data mining in e-commerce, health care, social networks, and more in the Big Data and Social Computing Laboratory; and Thomas Royston, professor and head of the Richard and Loan Hill Department of Bioengineering, who uses HPC to measure naturally-occurring sounds in the lungs and heart in the Acoustics and Vibrations Laboratory. The Electronic Visualization Laboratory will also use SABER to visualize results on its own systems and work with researchers to stream visualizations to their offices or labs.
Co-principal investigators from the College include Maxine Brown, director of the Software Technologies Research Center and the Electronic Visualization Laboratory; Ao Ma, associate professor of bioengineering; and Philip S. Yu, professor of computer science.
Read more about SABER here.
Modified on August 13, 2019