Engineering students get professional boost from Gaspardo & Associates, Inc.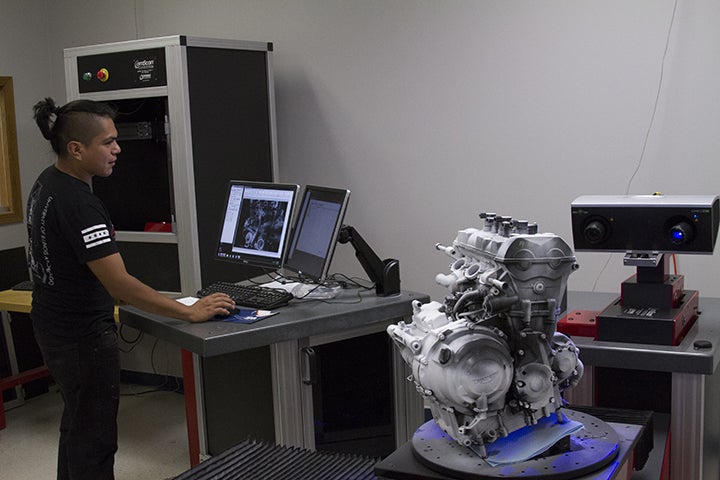 It takes more than a driver to win a race. It takes a team! And the UIC Motorsports Formula team recently received a powerful boost from one of its new corporate sponsors.
Several engineering students had the opportunity to visit Gaspardo & Associates, Inc., in Batavia, Ill., where they had a chance to use company's 3D measurement devices to make computer models of the engine for its formula race car.
"We went to Gaspardo and Associates to scan our engine using their product, ComScan," said Mechanical and Industrial Engineering (MIE) student Simona Narubin, of Wheaton. "With the engine scan, we will be able to use in our vehicle model in SolidWorks, this will give us more precise measurements within the model and allow for better design work."
At the facility, the students learned about the different tools that can be utilized in the field to check the accuracy of a produced part through 3D scanning and creating a CAD model, as well as the benefits of being able to digitally recreate a 3D item from a physical object.
"This trip has enabled us to use leading edge technology that would have been unavailable to us otherwise during our normal studies as engineering students," said MIE student Alexander Knox, of Genoa, Ill. "I helped scan the oil pan of the new formula engine in order to make a custom oil pan. Having an accurate engine model at the beginning of the design phase ensures less errors in the manufacturing phase."
Apart from supporting the student organization, the future engineers who visited the location were able to see and understand cutting-edge technology in use by major manufacturers worldwide. They also gained education for real-world applications of 3D component scanning in the field of metrology.
"We are able to connect with other engineers to not only see how the knowledge learned in college manifest into real life careers, but also learn a new technology that helps us as students in our goal to create the next formula vehicle," added MIE student Jeremy Villarde, of Chicago. "The company is allowing us young college students to use their equipment to scan our parts that would otherwise be an expensive service that we would have to pay for."
The value of the services Gaspardo & Associates, Inc. provided during the three days the students visited the company is valued at approximately $10,500. The real-world experience for the students is invaluable.
"Innovation requires critical thinking, a willingness to learn, and an inquisitive mindset," said Steve Gaspardo, owner of Gaspardo & Associates, Inc. "I believe that tomorrow's innovators are today's students, and the best way to help the engineers of tomorrow is to provide them with the framework for what it looks like to push the limits of technology. It is easy to follow the conventional path, but it is harder, in many ways, to be committed to evolving those conventions. That, to me, is what learning is about — understanding where the conventions fall short, and finding new and better ways to do things. This has been our mission at Gaspardo & Associates, Inc. and helping the engineering students at UIC understand the value innovating in this way fits perfectly within our mission."
UIC Motorsports, the College of Engineering's student chapter of the Society of Automotive Engineers, has a Baja team and Formula team. Both teams compete in national competitions throughout the year. More information about the student organization can be found at http://sae.uic.edu
Modified on August 13, 2019