UIC's PoliThinkers claim victory at BuiltWorlds hackathon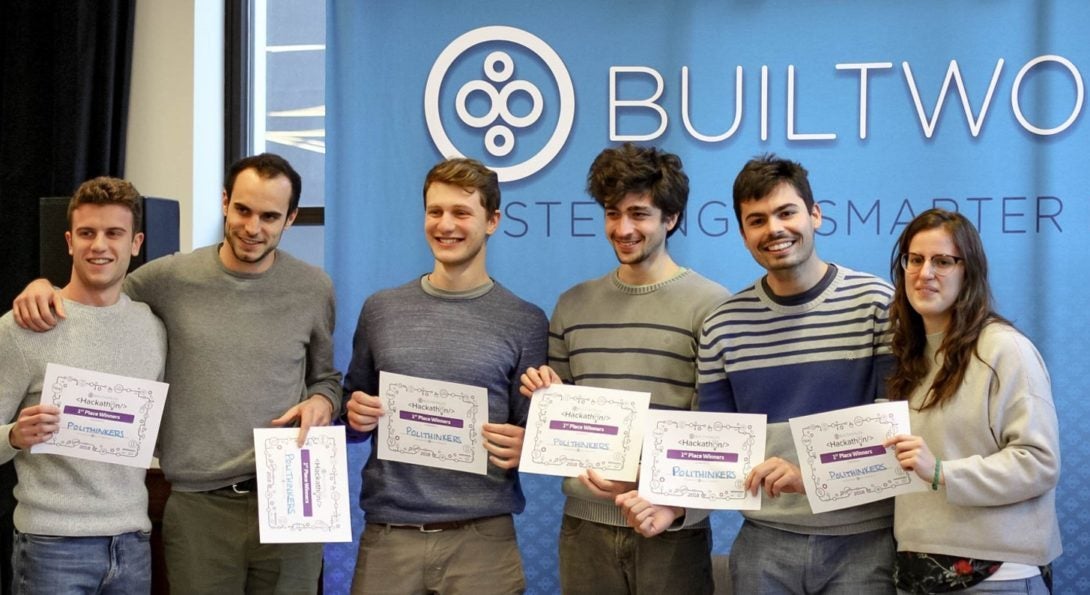 Combine a serious intellectual challenge, creative thinking, and interdisciplinary teamwork from students representing three of UIC Engineering's six departments. Heat for 36 hours, and judge with a careful, critical eye.
What do you get?
A big UIC win in the BuiltWorlds hackathon, a day-and-a-half-long competition where teams are asked to solve problems related to the built world around us: buildings, infrastructure, and beyond.
Congratulations to our winners! They are: Giovanni Agugini Bassi, Iacopo Olivo, and Francesco Pinci of the computer science department; Andrea Ciccardi and Michele Giovanni Calvi from electrical and computer engineering, and Chiara Gatti of bioengineering. The problem that the team—whose name is PoliThinkers—decided to handle is construction-site safety.
Team members cite the statistic that 25 percent of workplace deaths occur in the construction environment, deeming this a "paramount issue" for workers, construction companies, and society as a whole.
The team's solution is an interactive system of wearable devices for workers at building sites. The devices are capable of detecting unsafe situations, preventing injuries by making the wearer more aware of his or her surroundings, and lowering the response time in case harm befalls anyone. The device issues immediate warning signals or messages to its user, to other workers, and to site supervisors.
Winning the BuiltWorlds Hackathon demands more than just a great idea. Teams, which include students and professionals alike, also must identify a market for their product and conduct a competitive analysis of similar companies or products. Teams are judged on their creativity, the match between their proposed product and market need, their level of personal growth and development during the hackathon experience, and their final presentation.
PoliThinkers' members described the competition as intense, especially "due to the fact that our team has no background in the construction industry." But, they noted, "it gave us the opportunity to learn from a different field from ours."
Modified on August 11, 2019