UIC nabs third place at ASCE Great Lakes Student Conference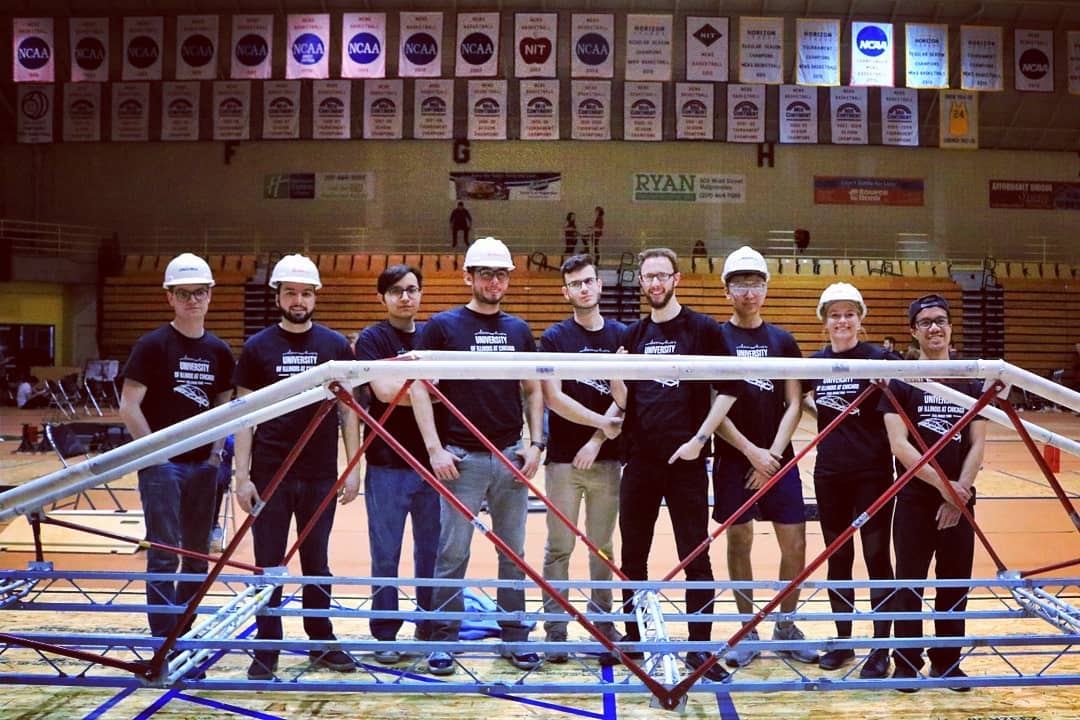 Students from the UIC chapter of American Society of Civil Engineers (ASCE) proved they are a team to be taken seriously. The students made an impressive showing as they captured third place overall at the recent ASCE Great Lakes Student Conference (GLSC) at Valparaiso University in Indiana.
The ASCE student chapters are divided into 18 regions, and GLSC encompasses schools from southern Wisconsin, northern and central Illinois, and Indiana. Every April, approximately 19 schools from the GLSC region come together to compete in a set of civil engineering-based competitions. The Concrete Canoe and Student Steel Bridge competitions are always hosted, and serve as a qualifier for the national competition.
The UIC students captured third place in the Wooden Bridge, Materials Design, Scavenger Hunt, Blue Sky Competition of Competitions, and the Student Steel Bridge Competition. While UIC didn't advance to the national competition, the third-place finish showed a more focused and disciplined team.
"We successfully passed loading over 2,600 pounds on the bridge. It's very exciting to say we have a great program here," said Moshe Carron, UIC's Steel Bridge team captain. "I know we got second place in stiffness, which is a big accomplishment. During loading, they measure how much the bridge deforms. So we were able to place second with deflection of 1.4 inches, which is tiny compared to the next school which had 2.3 (inches)."
Apart from the weight the bridge held, the team practiced often to ensure they had a quick build time.
"Our first build practice was three hours," Carron said with a laugh.  "We narrowed it down to 45 minutes, which is the qualifying time. We managed to practice, practice, practice, and get it down to 23 minutes. At the competition, we got 20 minutes and 43 seconds."
"We spent the past year designing, fabrication and practicing timed builds in the Makerspace garage," said Kyle Berry, and CME student at steel bridge team member.
A key element of the team's success was the dedication and commitment they put in before the day of the competition. Carron said he learned a lot about time management, coordinating a team, and staying on schedule.
"Part of the reason we did so well was because a lot of the people invested a lot of time, and that helped so much," said Carron. "Kyle Berry did the milling of the connections, and he spent two or three weeks milling them out for the team. Daniel Garcia-Rico did a lot of the welding. Many people put in a lot of time and that's what made it a success. We are all busy with school, so we had different shifts that kept things rolling and on schedule."
Additional support came from the team's faculty advisor Didem Ozevin, an associate professor in CME and director of the Non-Destructive Structures laboratory, and her PhD student Gorkem Okudan. Ozevin helped the team by checking and evaluating the design components, while Okudan ran tests and simulations on segments of the bridge.
"We had a new connection design that helped us get a higher score overall with a fast fabrication, he said. "He was able run it in the software to see if it would handle the stress and the loading on it."
As part of earning third place, UIC is in the running for a wild card position to compete in Nationals at Southern Illinois University on May 31. They will find out on May 6 if they are selected.
The steel bridge team is made up of Moshe Carron, Donald Franch, Abdel-Jabbar Alqam, Kyle Berry, Anna Dudek, Daniel Garcia-Rico, Cleo Jaurigue, Daniel Koltys, Adam Palacio, Rolando Sifuentes, and Manuel Velasco.
Learn more about the UIC chapter of ASCE at https://sites.google.com/view/asceuic.
Modified on August 10, 2019