Three MIE students awarded Chicago Consular Corps Scholarships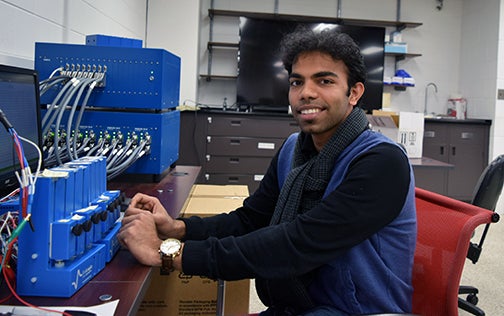 Three students from the Department of Mechanical and Industrial Engineering have been awarded Chicago Consular Corps Scholarship for the academic year 2016-2017 from UIC's Office of International Affairs (OIA).
Mechanical engineering students Ramasubramonian Deivanayagam, Poya Yasaei, and industrial engineering student Jose Yanes Vargas were honored at OIA's award ceremony on Nov. 17 at UIC. The ceremony marked the Chicago Consular Corps Scholarship's 10th anniversary at UIC.
The students are three of only 15 successful applicants university-wide who were "favorably reviewed" and awarded the $1,000 scholarship. They also are among the thirteen UIC international degree seeking students who were awarded the scholarships. Two scholarships were awarded to full-time, degree seeking American students. Eligibility for the scholarship is limited to students who have a minimum cumulative UIC GPA of 3.5 (on a 4-point scale).
Deivanayagam, of India, is working on his PhD under the direction of Professor Reza Shahbazian-Yassar in the NanoEngineering Laboratory. He is part of a team whose research interests include in situ transmission electron microscopy, energy storage and conversion, and nanomaterials for electronics and biomaterials.
"This is a great recognition for Ramasubramonian and our group members," said Shahbazian-Yassar. "In less than one year that Ram has joined our lab, he has demonstrated great leadership skills, excellent writing skills, hardworking character, very good teamwork, and performing high-quality and reliable experiments."
Yasaei, of Iran, has been awarded the scholarship twice. He is working on his Ph.D. under the direction of Assistant Professor Amin Salehi-Khojin in the Nanomaterial and Energy System Laboratory. He is part of an interdisciplinary research group with the mission to advance the state of the knowledge at the boundary of science and engineering. The team pursues fundamental research in the field of advanced materials synthesis, energy recovery and transport at micro/nanoscale.
Jose Yanez Vargas, of Mexico, is an undergraduate student pursuing a bachelor's degree in industrial engineering.
Modified on February 01, 2021