Registration is open for UIC Robotics Summer Camp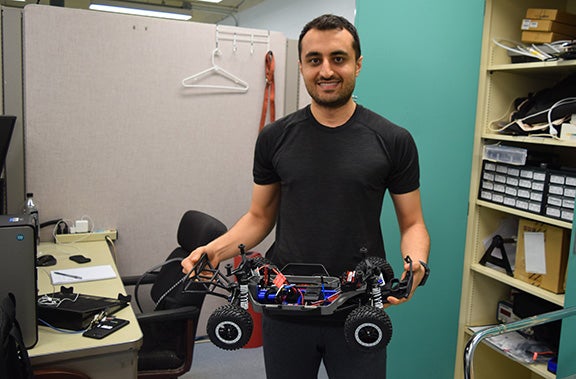 Registration is open for UIC's Robotics Summer Camp. Hosted by the College of Engineering, the summer camp is set for July 17-28 from 9 a.m. to 3 p.m. at the college's Engineering Research Facility, 842 W. Taylor St, Chicago IL 60607. It is open to qualified middle and high school students with an interest in robotics technology.
The summer camp is an opportunity for students to learn in a research laboratory environment and get hands-on experience with state-of-art robotics technology.
During the two-week camp, students will be building a self-driving four-wheeled Mecanum car kit, which has four independently driven wheels via DC motors and gear reducers.
Students will install various sensors needed for a self-driving car, ultrasonic range/obstacle sensor, line tracking sensor (like a vision system), and wireless communication (Wi-Fi/Bluetooth). The embedded controller is an Arduino board (ATmega 328 microcontroller), and programming language will be implemented in C/C++. MATLAB and Simulink programming also will be discussed during the session.
"Robotics is in the process of revolutionizing the way we produce and the way we live," said camp director and Department of Mechanical and Industrial Engineering Professor Sabri Cetin, of Forest Park. "Within a decade, we can envision 100% automated factories, farms, self-driving cars, and trucks. Therefore, it is very important that we educate the young generation on the robotics technology. The impact of robotics technology in everyday life is coming to reality much faster than anyone expected. Questions of elimination of jobs by robotics is a different topic. Suffice it to say that, we think, for a prosperous world, we must help accelerate the integration of robotics, not resist it."
Cetin is the camp director and participants will be working directly with his Ph.D. students Babak Shahian-Jahromi, of Oak Park, Syed Ameen Hussain, of Schaumberg, and Burak Karakas, of Chicago.
"Artificial intelligence, robotics, and self-driving cars are the main topics universities and researchers are working on," said Shahian-Jahromi. "It's a good idea for high school students to get exposed to the beginning of programming, and how to build the frameworks for driverless cars. This is a basic introduction to driverless cars and its technology. We are looking ahead, and there are a lot of companies that are working on this autonomous car technology. Start exploring the amazing robotics and self-driving car technology. This is the future of engineering."
The summer camp will conclude with a competition to see who can make their car drive a test-range with obstacles. The car needs to detect and safely finish the course with minimal travel time.
The two-week camp cost $1,200, and scholarships are available for qualified, low-income families. The camp is limited to 50 students, and lunch will be provided to the participants.
Modified on August 13, 2019