Professor Megaridis kicks off distinguished professor lecture series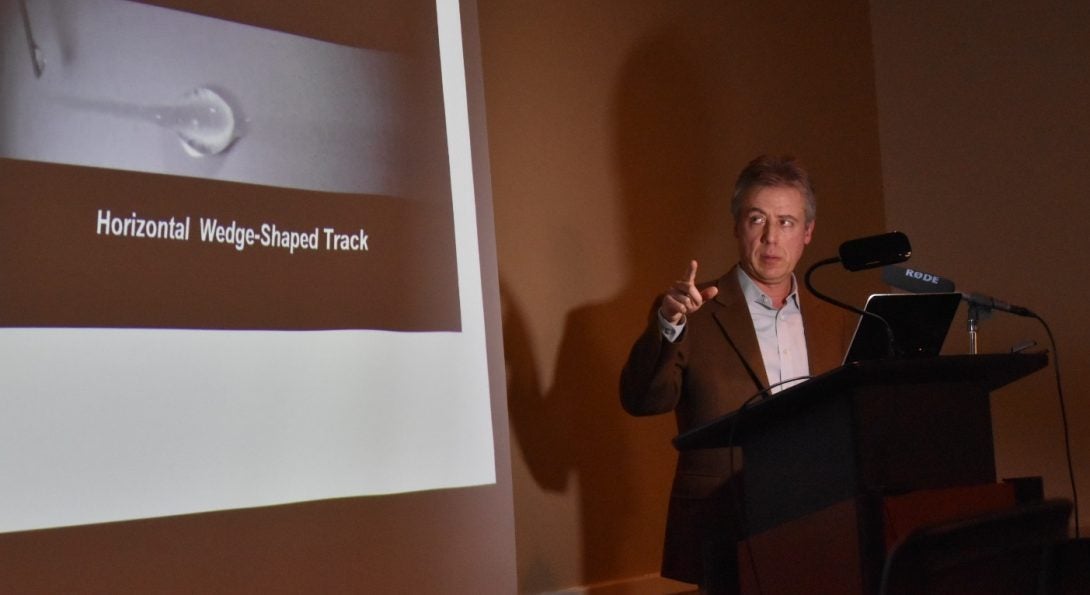 The title of UIC Distinguished Professor isn't simply awarded. It is earned. The designation is one of the highest academic honors for faculty at the University of Illinois Chicago, and it was established to recognize faculty members who have made a significant impact in their field through scholarship, creativity, and leadership.
To celebrate this honor, the College of Engineering launched a public lecture series called "Reflections" to recognize each new UIC Distinguished Professor. The lecture is a memoir of education, research, key breakthroughs, and collaborations that led to achievements.
The inaugural lecture was delivered on March 18, 2019, by the 2018 new UIC Distinguished Professor Constantine "Dino" Megaridis of the Department of Mechanical and Industrial Engineering (MIE).
The opening remarks came from the COE Associate Dean for Research Venkat Venkatakrishnan, COE Dean Pete Nelson, and MIE Department Head Farzad Mashayek.
"The campus is typically awarding two to three Distinguished Professor designations per year among our 1,700 faculty members, so it's very selective," noted Nelson. "We are very proud to have Dino receiving one during this academic year, and this is a lifelong title."
Mashayek noted a few of the honors and awards that Megaridis has received throughout the years at UIC.
"He is a fellow of the American Society of Mechanical Engineers and the American Physical Society, and associate fellow of the American Institute of Aeronautics and Astronautics," said Mashayek. "He received the UIC Inventor of the Year Award in 2015, and also University of Illinois Scholar in 2012. He also received the Kenneth T. Whitby Award of the American Association for Aerosol Research."
Before he spoke about his research, Megaridis recognized and thanked his peers in the College of Engineering who were named UIC Distinguished Professors in the previous years.
He honored Ahmad Shabana and Alex Yarin, as the third UIC Distinguished Professor in MIE. Additional UIC Distinguished Professor in COE are Richard Magin, of Bioengineering, Farhad Ansari, of Civil and Materials Engineering, Bing Liu and Philip Yu, of Computer Science, and Mitra Dutta, Michael Stroscio, and George Uslenghi, of Electrical and Computer Engineering.
The lecture entitled "Reflections of an Athenian … turned Chicagoan" can be viewed at UIC Distinguished Professor Lecture Series.
Learn more about Megaridis and his research at https://mnftl.lab.uic.edu.
Modified on June 30, 2020