Professor Lin Li Wins two teaching excellence awards, promoted to associate professor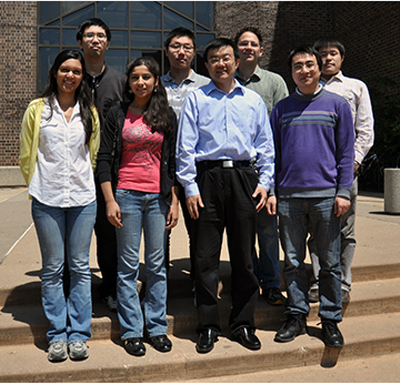 "If the students can feel the teachers are really enthusiastic and devoted themselves in teaching, they will be willing to engage in teaching activities in the classroom," said Professor Lin Li, of the Department of Mechanical and Industrial Engineering (MIE) at UIC.
Li clearly knows what he is talking about. Before the spring 2016 semester ended the professor received two teaching awards and was promoted to associate professor.
He kicked off the year by receiving the 2015-2016 Teaching Recognition Program Award, which is the UIC's only campus-wide faculty-administered teaching award. He was one of only 14 people throughout the university selected by his peers to receive the award. The dedicated group of colleagues determined his "teaching is an excellent example of the high quality of instruction that characterizes the best of UIC." The committee was impressed with the range of his teaching activities and program development, and noted that his teaching philosophy was clearly articulated and supported by excellent peer reviews. The professor will be honored by the campus at the 2016 Faculty Awards Reception in the fall, and will receive $1,500 added to his base salary.
On the heels of the first award, the professor was named the sole recipient of the 2016 Harold A. Simon Award for Excellence in Teaching from the College of Engineering, which is the highest teaching distinction in the UIC College of Engineering.
The late Dr. Harold A. Simon was a mechanical engineering professor known for teaching excellence. In 1985, a memorial award recognizing teaching excellence was established by the College of Engineering, and it is presented each year to one faculty member who exemplifies the dedication, distinguished service, and teaching excellence that were the hallmarks of Simon's career.
"It is my great honor to receive these two teaching awards," said Li. "I truly appreciate the course evaluations by my students and the positive comments from award review committee members."
Most recently, professor Li was honored with a promotion from assistant professor to associate professor with tenure.
"It's great to see that our young faculty who are successful researchers are excelling in teaching as well," said Professor Farzad Mashayek, MIE Department Head. "Lin's service to the department has been exemplary as a professor."
Apart from teaching, Li directs MIE's Sustainable Manufacturing Systems Research Laboratory, which he established in 2011. In his lab, he works on various aspects of sustainable manufacturing systems research including but not limited to joint production and energy system modeling and control, real-time energy management of manufacturing systems, electricity demand response of manufacturing systems, electric vehicle battery manufacturing and reliability assessment, system-level cost evaluation for cellulosic biofuel manufacturing, and intelligent maintenance of manufacturing systems.
Being able to incorporate the groundbreaking research from his laboratory into the classroom is part of the professor's philosophy toward teaching.
"I envision that engineering classes and overall curricula need to be enriched more and more with examples from real systems using real data, especially as real-time information is no longer an extra, but a requirement," said Li. "My research in sustainable manufacturing systems represents an endless source of examples that I intend to use in my teaching. In addition, I strongly believe that the combination of diverse fields I can teach represents a unique advantage I intend to leverage. In any course I teach, I would like to extract and expose mathematical foundations that span and interconnect areas of engineering statistics, production and operation, and systems theory. Such an integral approach will enable me to give the students a unified view of these apparently very diverse, but fundamentally very interrelated areas."
Learn more about Professor Li and his research at SMSRL.
Modified on August 13, 2019