PhD candidate wins Provost's Graduate Research Award with soft robotics research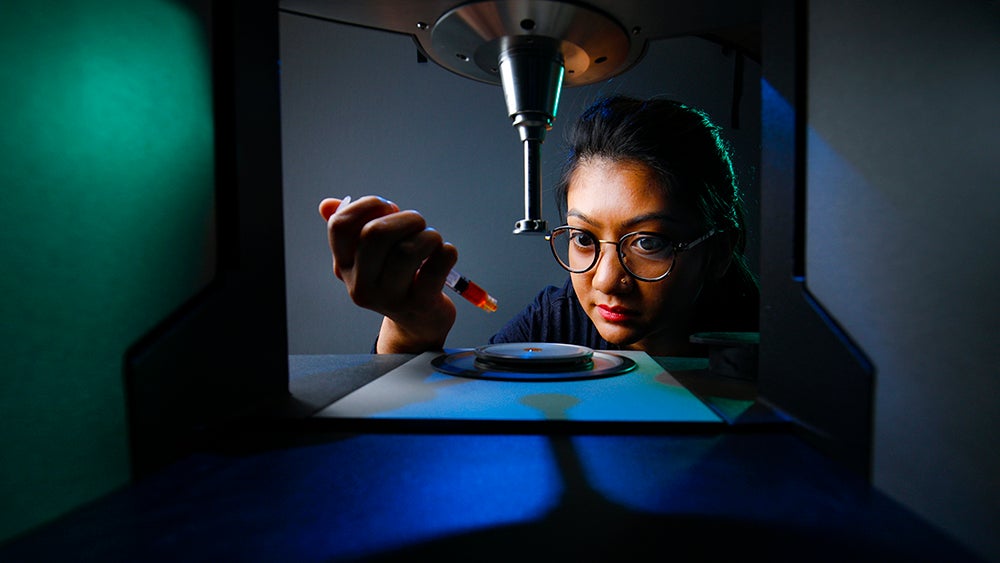 Erina Joyee, a PhD candidate working under the direction of Professor Yayue Pan in the Additive Manufacturing Laboratory, has been named a winner of the UIC Provost's Graduate Research Award (PGRA).
The PGRA supports multidisciplinary scholarship and provides a way for students early in their studies to develop new research directions for their PhD dissertations or terminal degree thesis/capstone project. This seed money, a stipend of $5,000, will help her develop stronger applications for funding from external sources.
Joyee's research is focused on additive manufacturing of soft robotics. She's developing soft or partially soft-bodied robots that utilize the motion and control system of various living organisms in nature. These tiny robots have the potential to be robust and versatile, and even safer for human interaction compared to traditional rigid robots. Soft robots based on biomimetic principles are being designed for real life applications by paying attention to different shape, geometry, and actuation systems in organisms that respond to surrounding environments and stimuli. Especially, creatures such as caterpillars or inchworms have garnered attention due to their soft compliant structure and crawling locomotion system, making them ideal for maneuvering in congested spaces as a transport function.
"I published one paper on the basic movement and the basic printing process of the robot," she said. "We already successfully showed that it can crawl like an inch worm. It mimics the same movement of the inch worm."
The research was recently published in the journal Soft Robotics and titled "A Fully Three-Dimensional Printed Inchworm-Inspired Soft Robot with Magnetic Actuation."
The work is an interdisciplinary collaboration with UIC's Bioengineering Department since it will be a bio-compatible robot to work inside the human body. Joyee and Pan did some test on seeding the cells in the robot to see if it's bio-compatible.
"They will be used for the drug delivery in the human body in the future," she said. "We are in the preliminary stage of designing the primary design and prototyping of the design and how it will work and move."
Joyee spoke about her research passionately and sees it as the next wave of robotics.
"I really like working on the additive manufacturing and 3D printing because now 3D printing has a great future in each and every field of engineering. It's really exciting," she said. "In terms of manufacturing process, additive manufacturing has emerged as an effective tool for obtaining structural complexity with high resolution, accuracy, and desired geometry."
The student also expressed her appreciation for Pan's leadership in the laboratory.
"She is a great mentor and I learned a lot from her," she said. "When I started, my undergrad was in mechanical engineering and I didn't know much about manufacturing, and she helped me a lot to grow."
Research in the Additive Manufacturing Laboratory is based on a class of new fabrication processes that can directly yield physical objects from Computer Aided Design models. Pan's research objective is to advance additive manufacturing through exploring the science in physics and materials, to transform how we create and work by developing and applying novel additive manufacturing technologies in a wide range of applications. The main research focus includes multi-material additive manufacturing, additive manufacturing of electronics, soft robots, medical devices, and thermal energy management devices.
Learn more about the research in professor Pan's laboratory at Additive Manufacturing Laboratory.
Modified on March 29, 2021