New WIEP associate director strives to bring inclusivity, support to students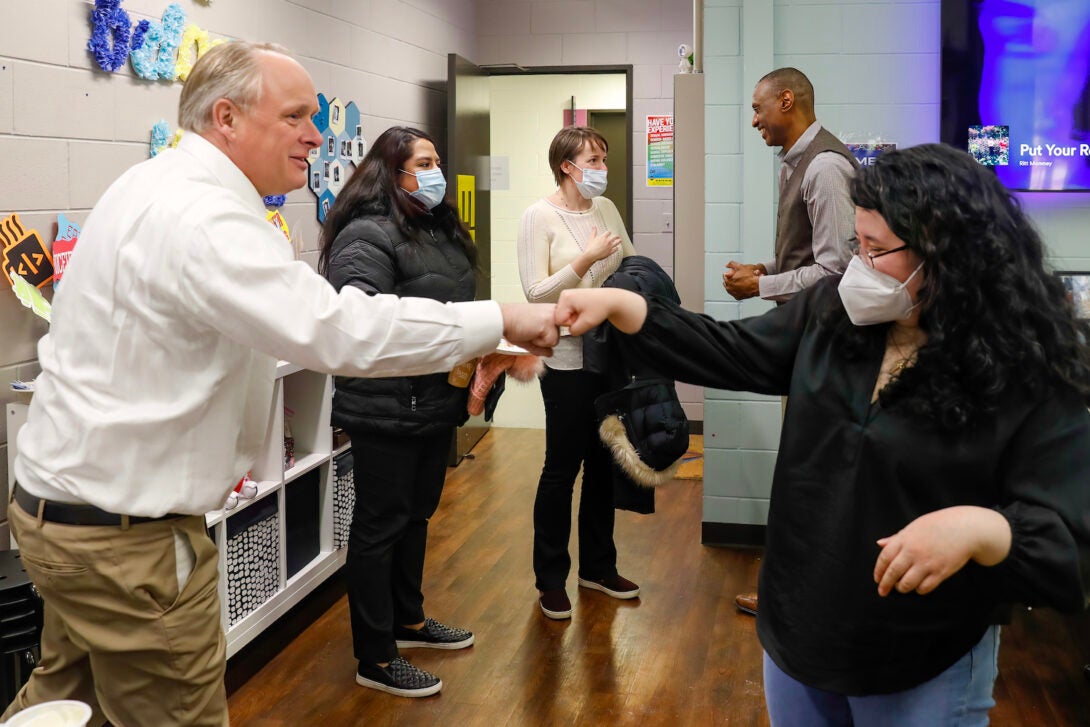 As the Women in Engineering Program's new associate director, Sabrina Jones tells the students she works with to not wait for a degree or experience in the industry to make an impact. She encourages them to use their current knowledge, experiences, and unique perspectives to make an impact now.
WIEP is geared toward women-identifying and non-binary students in the College of Engineering.
Jones has also been one of the lead instructors for the group's summer program for three years and has been involved with WIEP for four years.
She believes that it is not only important to represent women in male-dominated fields like engineering, but it's also important to bring students' cultures and identities into those spaces as well.
"We want our WIEP and Equity and Inclusion in Engineering Program (EIEP) spaces to be open to all," Jones said. "These are places where students can come and be appreciated and supported. We want to make sure students are seen and that they feel seen."
Jones grew up on the south side of Chicago where she lacked exposure to anything engineering-related from elementary school through high school.
"The only kind of exposure I had to technology was working on these big clunky desktop computers where you would use floppy disks for all of your data," she said.
She explained that engineering never felt like a viable path or option until college.
"We're here not just to support them as engineering students and as future engineers, but also just as people and as friends," Jones said. "We want them to know that we are not just their mentors, but we are also some of their biggest supporters and we can provide them with environments where they can feel comfortable to be themselves."
Jones earned a bachelor's degree in electrical engineering in 2021 and is now pursuing a master's in electrical and computer engineering. Her background in engineering helps her relate to the students she works with. She knows engineering is not easy, and it is also a huge financial endeavor for many students and their families to take on.
"I really want to make sure these challenges don't become barriers that prevent students from pursuing the career that they want," Jones said.
Her passion for encouraging and assisting students, as well as transfer students, comes from her own experience as a transfer student.
She transferred to UIC from Harold Washington College and soon became an officer for Electrical and Electronics Engineers at UIC. Along with the help of IEEE, she created the Tinkering Program.
The program hosted 20 students from UIC and a local community college once a week for seven weeks to teach a variety of engineering topics entirely led by Jones and IEEE undergraduate engineering students. The goal of the Tinkering Program was to spark creativity, partnership, and encourage students to get involved.
Through the Tinkering Program, Jones met Elsa Soto, the director of EIEP, and later became part of WIEP in 2019.
She applied what she learned through the Tinkering Program to her roles in WIEP where she gained a much broader understanding of what it takes to run outreach programs. Later, it was through Soto's mention of the open position and encouragement that Jones applied.
"We already worked really well together for several years," Jones said. "She is one of the greatest mentors anyone could ask for. Elsa taught me so much about what it means to be a woman in engineering and WIEP is only what it is today because of her. When this opportunity arose, I knew it would allow me to help and do more to encourage others as well."
In 2021, Soto and Jones ran the first-ever WIESP 2.0 targeting community college students in the Chicagoland area, introducing them to circuit building and programming.
"Our WIESP programs are a great way to encourage students, provide them with support and network opportunities, and show them to appreciate what makes them unique so they can go into male-dominated fields and succeed," Jones said.
This upcoming summer, WIESP for high school students will center its program around environmental engineering and electrical and computer engineering.
"Environmental engineering is a brand-new major being offered to students at UIC, so we're excited to show younger students what that major is like and the opportunities that are available to them in that field," Jones said.
She added that often times students who participate in the summer program, or WIEP Girls Who Code club, come to UIC and become involved with WIEP as mentors themselves.
Jones also believes engineers have a responsibility to create technology that is safe and ethical and benefits all groups of people, especially those who are underrepresented and disadvantaged.
"The only way to truly reshape our technology to be more inclusive is to redesign how technological decisions are being made. By bringing in more diverse minds, identifying and acknowledging persistent problems, and making it our mission to target those problems, can we continue to brighten our future," she said.