New SWE president continues lifelong journey with UIC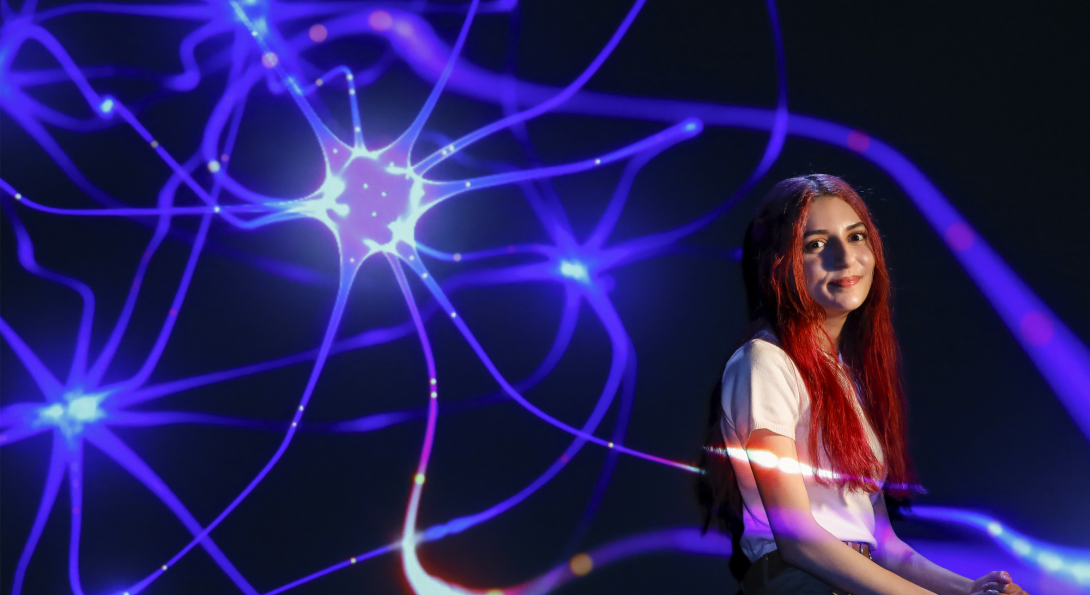 As a middle schooler attending a Mom, Me, & SWE event in the early 2010s put on by UIC's Society of Women Engineers, Rana Hasan enjoyed herself but thought being an engineer was beyond her potential.
In a story that shows we should never doubt our own potential, Hasan is now going into her third year at UIC and is pursuing a biomedical engineering degree — and she was just elected president of SWE.
"It always seemed so unattainable to me. It didn't seem like something I could actually do because it seemed like a dream, but I applied for the president role and I got it," Hasan said. "It was one of the best moments of my life. I was almost in shock. I'm president of SWE. It's something I've always loved and admired in my life."
Growing up in the Chicago area, Hasan made many trips to UIC with her father, who worked for the university. During middle school, she attended two Mom, Me, & SWE events and one Introduce a Girl to Engineering Day.
While she enjoyed those visits, she did not start thinking about a career in engineering until her junior year physics teacher recognized her love for the course and encouraged her to pursue engineering.
"She would bring up a lot of engineering examples in everyday life, and she felt strongly that there should be more women engineers," Hasan said. "I remember her saying in class, "Guys, I know there are a lot of women in our class right now, but out in industry there really isn't a lot of us, and I really want to push you to consider it.'"
Hasan started her UIC career in the mechanical engineering program but decided to switch over to biomedical engineering during her first year. She is pursuing a concentration in biomedical imaging and plans to do research that will either help people with disabilities or focuses on the brain to help detect and treat mental health and other brain illnesses.
In addition to her excitement and passion for her classes, Hasan was also eager to get involved with SWE her freshman year in 2020, but all of her classes and club activities went virtual because of the pandemic. By 2021, campus began to open back up and SWE was able to have some in-person meetings. Hasan ran for and was elected co-communications chair.
As president of SWE, Hasan is looking forward to the full campus experience and reconnecting with her fellow students. Hasan will be joined this year on the SWE Board by:
Vice President Chandhana Voleti
Treasurer and Outreach Chair Adriana Olvera Cabral
GradSWE President Jaqueline Rojas
Planning Chair Alicia Delgado
Communications Chair Darlene Salacsacan
GradSWE Communications Chair Gabi Ramirez
SWE is advised by Associate Director of Women in Engineering Programs Elsa Soto. Hasan said Soto has been the group's biggest supporter for years and the students can all tell how much she truly cares for them.
Hasan and the rest of the board have been busy this summer planning events and reaching out to alumni and local companies interested in connecting with the current students. Hasan has placed an emphasis on getting students back together in person to get SWE back to the group it was previously and to help improve the lives of students in the college.
"I feel it's really important to bring students together in person because we often feel like we are alone in what we are dealing with," she said. "Especially for women engineers. We can feel like sometimes there are not many of us, and we feel very alone, but we are not. There are still a lot of us that can come together and say we are dealing with the same things, talk about how we can cope with things, and then decide how can we make it better together."
Students interested in learning more about SWE's events or joining the group can contact Hasan at president.swe.uic@gmail.com.