MIE kicks off 'Lunch and Learn' with Amazon CTO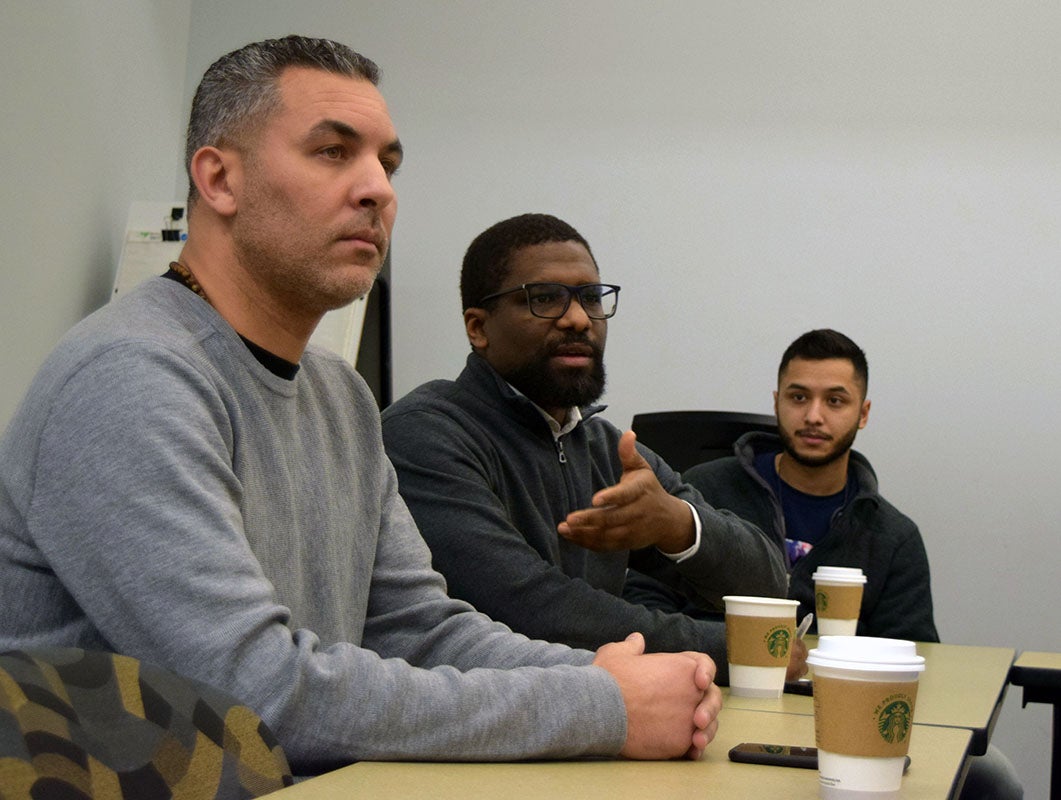 The University of Illinois Chicago launched a new program geared toward exposing UIC students to leaders in STEM.
On Jan. 15, Jeremiah Abiade, an associate professor in the mechanical and industrial engineering, hosted a discussion with Amine Chigani, the chief technology officer in residence at Amazon Web Services, for the inaugural "Lunch and Learn" program.
Chigani, a native of Morocco, has held several leadership positions since earning his Ph.D. in computer science at Virginia Tech. He is the CTO in residence at Amazon Web Services for strategic enterprise customers cloud adoption and digital transformation initiatives. Prior to this position, he was the CTO at Sentient Technologies where he led the DigitalClone Platform organization, which connected equipment operators and suppliers through supply chain efficiencies.
"We hosted the event to allow our students to network with leading STEM professionals. Our aim is to allow our students to understand elements of success for STEM leaders and to also develop an understanding of current and future trends in industry and academia," said Abiade. "We also believe our hosting of STEM leaders is a great opportunity to showcase UIC, our programs, and our students and hope that our guests will be ambassadors for the quality education and scientific innovation here at UIC."
The program is slated to be presented two or three times each semester at the Daley Library at UIC and provides an informal interdisciplinary discussion for students interested in careers in various areas in STEM or leadership in STEM fields. The guest speakers will include professionals from major companies and researchers from other universities or national laboratories.
While the department offers seminars with guest speakers from visiting universities, the Lunch and Learn program takes a different approach.
"These events do not have a formal presentation. They are more akin to a brown bag luncheon during a loosely moderated discussion," said Abiade. "A faculty member usually introduces the guest and asks a few leading questions to stimulate conversation. Students and other attendees are free to interject with questions/comments as they see fit. There is no pre-set agenda or previously determined topic of discussion. The objective is to learn about the guest, their journey to their current position, and to extract some lessons that can be applied for success in the STEM professions."
Abiade serves as the faculty director the UIC President's Award Program (PAP) for STEM Initiatives, which sponsored the event. The initiative supports scholars majoring in STEM disciplines to join a network with their peers and faculty in the UIC community of scientists and engineers. The students perform research, develop a professional network, and enhance their experience at UIC through faculty seminars, classmate interactions, and the option to live in a residential living-learning community on campus, while preparing for graduate school.
"PAP-STEM has two goals: support students to graduation in STEM in four years and to prepare students for research-based graduate programs," said Abiade. "The speakers have also completed doctorates in a STEM discipline. We plan to host a range of speakers to provide students a good array of career options that might be available to them after graduate school."
For more information about PAP-STEM and its programs, contact Kristy Kambanis, assistant director for STEM Initiatives, at kristyk@uic.edu.
Modified on June 30, 2020