MIE graduate Joseph Mates selected as 2015-16 Outstanding UIC Thesis winner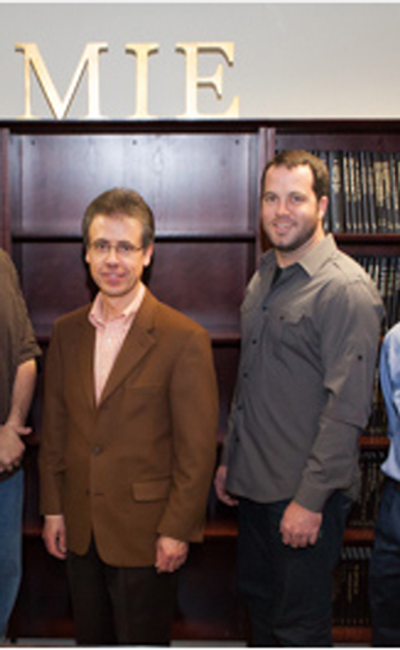 The UIC Graduate Awards Committee has selected Mechanical and Industrial Engineering student Joseph Mates' thesis, "Tunable Multifunctional Nanomaterial & Polymer Composites: Nonwoven Applications," as the Outstanding Thesis for 2015-2016 in the division of Engineering, Mathematics, and Physical Sciences.
Mates will be awarded $750 and a plaque during the Graduate College's Student Awards Ceremony at 2 p.m. on Tuesday, April 19, 2016 in the Student Services Building. He is one of only four students college-wide to be selected and beat out seven students in his division for the highly-competitive award.
Mates worked on his Ph.D. under the direction of Professor Constantine Megaridis in the Micro/Nanoscale Fluid Transport Laboratory at UIC. He was part of a team funded by federal and industrial sources, and focusing on fundamental and technological aspects of fluid and particle processes, especially at length scales ranging from sub-millimeter scales down to the nanometer level. The research pursued by the group pays specific emphasis to multifunctional coatings with extremely high or low wettability and their applications.
"Having Joseph's thesis selected is a tremendous honor for Joseph but also for the MIE department, as this honor recognizes the quality of research pursued here," said Megaridis. "During his years in graduate school, as his PhD dissertation advisor, I had the pleasure to witness his transformation from a humble new graduate student to a leader with ability and vision that are rare among his peers."
Mates graduated from UIC in May 2015, and received a prestigious NRC Postdoctoral Fellowship to work for two years at the Air Force Research Laboratory at Edwards Air Force Base in California. "This is an honor that is awarded only to a select few each year," said Megaridis.
More information about Professor Constantine Megaridis' research in the Micro/Nanoscale Fluid Transport Laboratory at UIC can be found at http://www.uic.edu/labs/MNFTL.
Modified on August 13, 2019