Middle and high school students have a blast at MIE's Engineering Summer Camp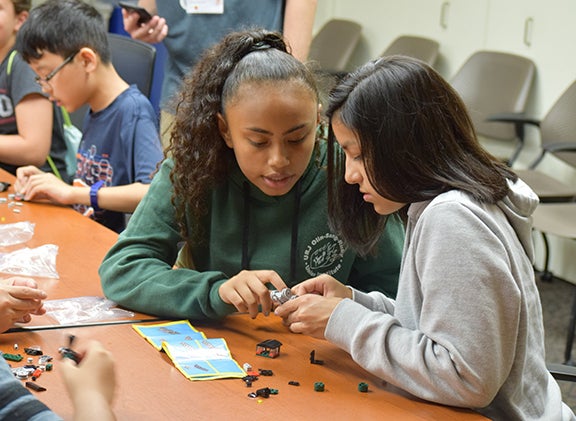 Enrollment shot up for the recent Engineering Summer Camp hosted by UIC's Department of Mechanical and Industrial Engineering (MIE), 842 W. Taylor St., Chicago. Throughout the summer, MIE hosted 160 high school and middle school students, which is sharp increase compared to last year, which was attended by 120 students. The demand was so high, the department coordinators added a fourth week to accommodate the ambitious youths.
The annual camp is designed to introduce students to the various and multi-faceted engineering disciplines, and provide a variety of hands-on learning experiences where they can immerse in projects that are intended to improve the environment and quality of life. The themes include 3D printing and rapid prototyping, coding, robotics, renewable energy, product design, aerodynamics, structures and safety, efficiency and productivity, and much more.
"We had a lot of new stuff, which was good," said Stephanos Chiganos, a junior at Downers Grover North High School, who was attending the camp for the second consecutive year. "I would definitely recommend this (camp) to others, especially if you are on the fence of engineering. This is definitely something that will push you to maybe pursue it as an occupation, which is something that helped me. It's a lot of fun, too."
Marisol Sanchez, a recent graduate from Community East High School on Chicago's southwest side, attended for the camp for the first time and took home a lot of new skills.
"I wanted to get more involved in engineering and do something hands on," said Sanchez. "I met new people, and learned many things about people. Building bridges needs teamwork, to trust your other team members to get their part done, and learned a lot with the (teaching assistants) with physics, coding and 3D printing. My favorite part was 3D modeling, because I never worked with Solid Works 2016, which was good for me."
Apart from working with camp participants, the students were guided by UIC professors and graduate and undergraduate students from the MIE department, which was essential to providing a nurturing and safe environment for learning.
"The summer camp is a chance for students to experience life as a student on a Chicago college campus, while discovering the creative aspects of engineering," said Yeow Siow, a Clinical Associate Professor in MIE. "Most kids are inquisitive and curious about the world around them, and this camp gave them a chance to use their minds and hands to solve problems and to make new friends."
Modified on August 13, 2019