Looking in on 'touch and kill'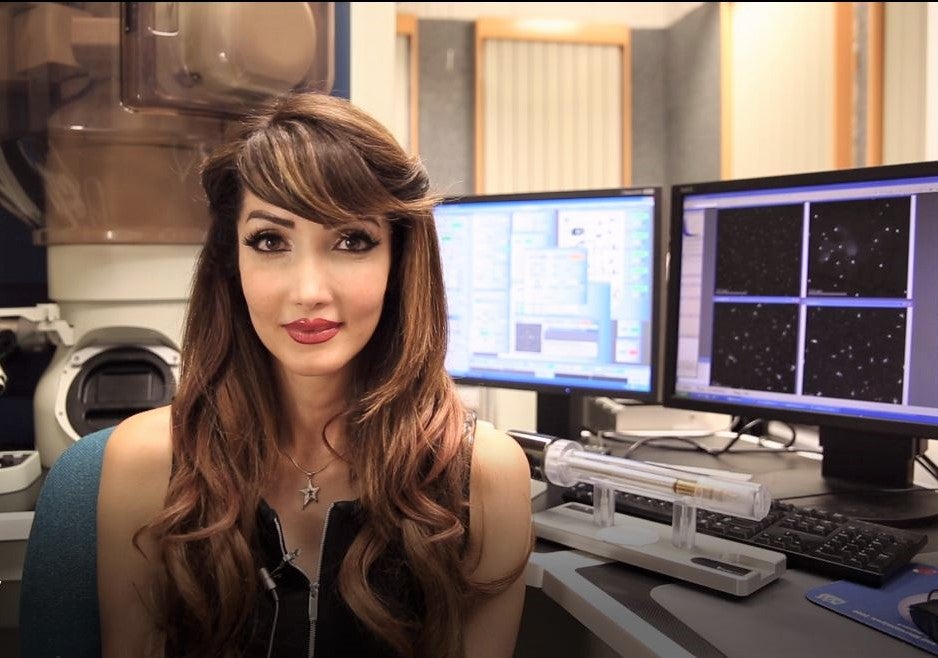 Bioengineers looking for new ways to destroy bacteria without using chemicals or drugs were able to observe a novel approach in action: nanomaterials that can physically stab and kill bacteria cells.
Tolou Shokuhfar, an associate professor in the Richard and Loan Hill Department of Bioengineering at UIC, received a grant from the Non-Woven Institute to investigate a mechanical route to eliminate bacteria, which she calls "touch and kill." She explained that the antimicrobial products and drugs currently on the market all use a biochemical approach, which ultimately causes the bacteria to transform and mutate to resist those substances.
Shokuhfar said her and UIC Distinguished Professor Constantine Megaridis' alternative idea, based on engineered nanomaterials, was inspired by examples of this process in the natural world.
"There are many plants and insects, including cicadas and their wings, that battle and survive against a harsh environment filled with bacteria and viruses with pure physical and mechanical cues—and without the need of synthetic chemical substances to remove the germs," she said. "They not only kill the intruder bugs but also stop the cycle that creates 'superbugs.'"
Shokuhfar and her collaborators created nanoscale surfaces using common biocompatible polymer particles with plasma etching that represented the uneven and peaked surface of a cicada wing. They placed their engineered material in a state-of-the-art graphene liquid cell in situ transmission electron microscope and watched as the bacteria collided with the uneven surface, where "nanopillar" structures killed them.
They concluded the nanopillars bind to the bacterial cell. This interaction compromises the bacterium's cell wall, which leads to its death.
Shokuhfar hopes this work is a step toward stopping a future wave of superbugs, the name given to bacteria that have evolved a resistance to chemical antibiotics. Her team is excited to start working on a face mask that would incorporate this technology into the fibers, which would kill any bacteria that come into contact with the mask.
"In the war of humans against microorganisms, we need to find strategies that are effective and fast," she said. "The longer the therapy takes to work, the lower the chance of winning the battle."
Shokuhfar and her colleagues published their new observations in the International Journal of Nanomedicine in a paper titled "Correlative ex situ and Liquid-Cell TEM Observation of Bacterial Cell Membrane Damage Induced by Rough Surface Topology."
Additional authors include Megaridis and Professor Reza Shahbazian-Yassar, along with UIC students David Banner, Emre Firlar, Justas Jakubonis, Yusuf Baggia, and Jodi Osborn.
Modified on July 30, 2020