Hill professorships now total six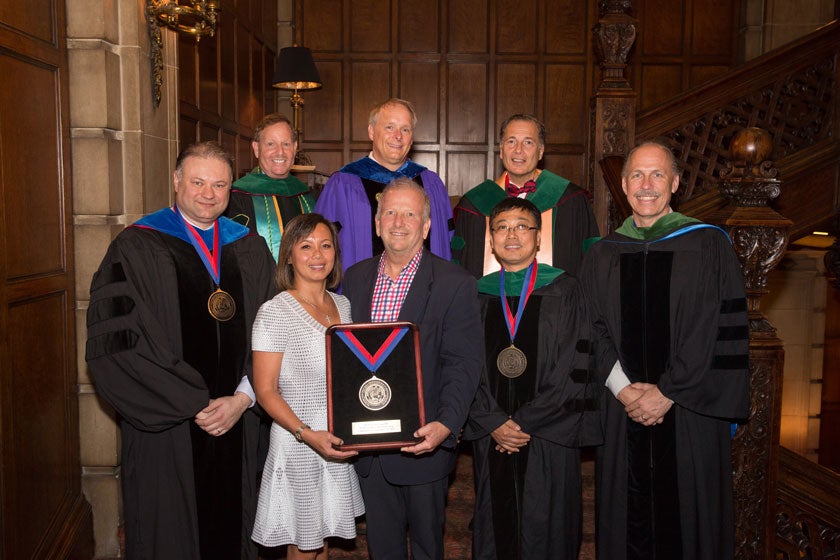 On September 18, 2017 the College of Engineering and College of Medicine jointly celebrated the investitures of professors Ian Papautsky, PhD, and Xincheng Yao, PhD, as the new Richard and Loan Hill Professors.
Papautsky and Yao are now two of six professors endowed by Richard (BS '74) and Loan Hill, bringing expertise to their respective research areas in the Richard and Loan Hill Department of Bioengineering.
Papautsky's research areas include microfluidic systems and point-of-care sensors. These devices, aimed at improving public health and safety, have applications in sorting complex cell mixtures for biopsies or blood analyses and measuring exposure levels in humans to heavy metals like lead and manganese. Papautsky also serves as the co-director of the NSF industry/university cooperative called the Center for Advanced Design and Manufacturing of Integrated Microfluidics.
Yao, who has a joint appointment in the Richard and Loan Hill Department of Bioengineering and the Department of Ophthalmology and Visual Sciences, develops optical technology for advanced imaging—including super-resolution ophthalmoscopy—of the retina, neural tissues, and endocrine cells in order to reveal distortions at early stages of eye disease. He serves as the instrument core director at the UIC Lions of Illinois Eye Research Institute, which houses his laboratory: the Biomedical Optics and Functional Imaging Laboratory.
Endowed professorships like these ones, the Hills believe, reinforce strong, leading-edge, multidisciplinary research at UIC and strengthen UIC's role as a major player in Chicago's biotechnology sector.
"The key to success for Chicago and its universities," says Rick Hill, "will be creating an environment that stimulates investment in breakthrough medical technologies, which will lead to rapid economic growth." To this end, the Hills have given nearly $9 million to UIC, which includes a $6.5 million pledge—the largest gift in the College's history—to the Richard and Loan Hill Department of Bioengineering, named in 2013.
Rick Hill graduated from UIC with a bachelor's degree in bioengineering. He has held engineering and management positions at Hughes Aircraft, Motorola, General Electric, and Tektronix. In 1993, he became CEO of Novellus Systems, a small semiconductor capital equipment company in Silicon Valley, which he led to become one of the top ten semiconductor equipment manufacturers in the world.
"UIC is a winner, and it's in a winning position," says Hill. "It's located in a world-class city that's both a leading academic medical destination and has a biotechnology business base that's poised to expand."
Modified on August 13, 2019