Hatami-Marbini wins Waring Medal Award for Editorial Excellence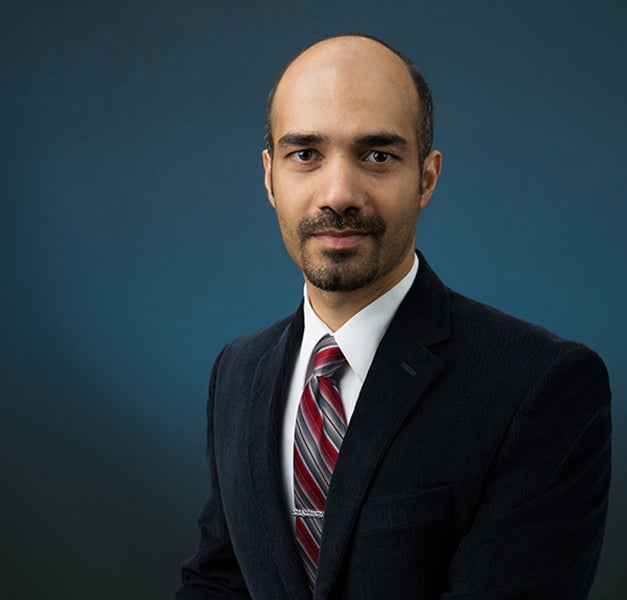 MIE Professor Hamed Hatami-Marbini has been named the winner of the Waring Medal for Editorial Excellence based on his article published in the Journal of Refractive Surgery "Influence of Microstructure on Stiffening Effects of Corneal Cross-linking Treatment." He was presented with the award in November during the Ocular Surgery News (OSN) New York 2019.
The Waring Medal for editorial excellence is awarded to an author who has made a significant contribution to the Journal of Refractive Surgery. Sponsored by SLACK Incorporated, the award consists of a medal and a $5,000 prize. The medal represents the tenure and contributions of George O. Waring, III, editor-in-chief of the Journal of Refractive Surgery from 1989 to 2010. It was established in 2006 to recognize individuals who publish work of outstanding quality as judged by an award review committee. It is open to all authors regardless of age, professional degree, or academic/institutional affiliation.
"This is an unexpected honor that has been bestowed upon me by my colleagues; I am indeed thrilled and very grateful for it. My students and I will do our best to justify their faith in our work," said Hatami-Marbini, who is the first researcher from UIC to win the award.
His research investigates the stiffening effects of corneal cross-linking (CXL) on tensile properties of anterior and posterior corneal flaps. The research was funded by a four-year, $321,000 grant from the National Science Foundation.
The cornea allows light to enter the eye, and its mechanical properties play a significant role in maintaining stability and optical function. Diseases such as keratoconus and ectasia can lead to the loss of corneal structural integrity and the ripple effect may cause severe visual impairment including blindness.
"Corneal crosslinking using riboflavin and ultraviolet-A (UVA) light is a recent treatment procedure that restores corneal mechanics and halts the progression of ectasia," said Hatami-Marbini. "Our research provides novel insight into the underlying mechanisms of this therapy and will assess its efficacy in restoring the mechanical strength of the cornea."
The next step in his research is to address the same issue on the diseased tissue of corneas with keratoconus.
Learn more about his research at https://cbrl.lab.uic.edu.