Future engineers flock to UIC Engineering Summer Camp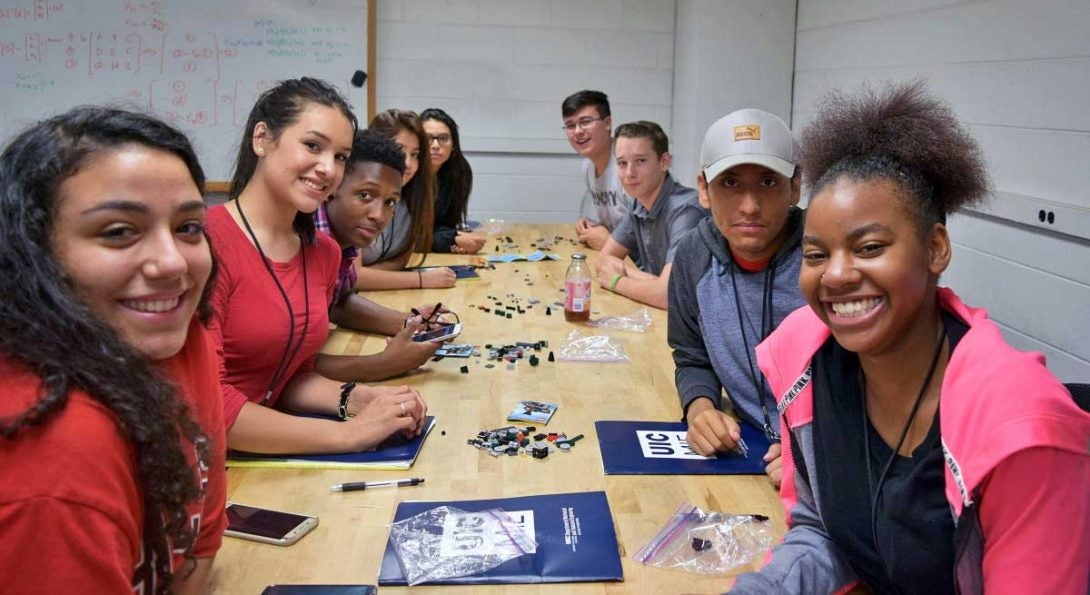 Summers on college campuses are slower than the fall and spring semesters. But for three weeks in July, 125 high school and middle school students took over UIC's Department of Mechanical and Industrial Engineering (MIE), 842 W. Taylor St., Chicago, for the second annual "UIC Engineering Summer Camp."
MIE professors Yeow Siow and Jamison Szwalek organized the camp, which brought together qualified students from Chicago and the surrounding suburbs for a week of lively projects and camaraderie. The program was broken down into three one-week sessions and grouped the students together into different age groups. Session one was for incoming high school juniors and seniors, session two was geared toward incoming high school freshmen and sophomores, and session three was attended by middle school students (ages 10-13).
The students were immersed in design and collaborative hand-on engineering projects, which included efficiency of wind turbine blades, aerodynamics of race cars, structure and safety of truss bridges, optimization of a LEGO production line, creation of complex shapes using software and 3-D printers, and the design of a circuit. The MIE professors carefully designed and customized the projects for each age group, so that at the end of each day the participants will see the results of their hard work unfold before their eyes.
"Through carefully curated team- and project-based activities, participants learned the values of peer reinforcement, self-reliance, critical thinking, as well as importance of engineering in the real world," said Siow, camp director and MIE professor. "Participants discovered that, through science and engineering, one can make a difference."
"I enjoyed all of the different projects we did and meeting all the different people. It was a very positive experience" said Keenan Brunner, of Oak Park, Ill., who attends Oak Park and River Forest High School. "I enjoyed being able to design something, see it actually become what I wanted it to be, and watch it perform a task and succeed."
Undergraduate engineering students acted as the daily caregivers and project facilitators, which was essential to providing a nurturing and safe environment for learning. With a participant-to-chaperone ratio as a low 6 to 1, each participant was given the attention, care, and patience needed to appreciate the technicality and meaning of the daily projects.
"It was a great experience getting to meet other people interested in engineering and learning more about engineering," said Stephanie Zalinski, of Niles, Ill., who attends Regina Dominican High School in Wilmette, Ill. "My favorite part of the week was making the wind turbines. I don't have a lot of opportunities to work hands-on with tools and this camp provided that opportunity."
"I did this camp last year and I wanted to make sure it was different and it was. It was well organized and there were more people," added Julian Sierra, of Cary, Ill., who attends Northridge Preparatory School in Niles. "My favorite part was CAD. Being able to make whatever I wanted was great."
For some students, the engineering camp was made possible by a $5,000 donation from Innovating Worthy Projects Foundation, in Miami Beach, Fla. The organization believes in supporting culturally and economically underrepresented teenage demographics in acquiring exposure to engineering. With its generous support, MIE was able to offer full scholarships to approximately 16 children and families in need.
For parents who traveled to the camp with their child, the week presented the opportunity to deviate from their regular routine and enjoy the change of scenery.
"I've been hitting the grocery stores we don't have [at home], checking out State Street and Michigan Avenue, exercising, dining, and relaxing in the sun with a book," said parent Roberta Wajrowski, of Crystal Lake, Ill.
Apart from reveling in the abundant activities near the campus, she was thrilled with many aspects of the camp and what it provided for her son.
"It was inexpensive, local, and I didn't have to drive. I took the train down each day and it was convenient," said Wajrowski. "My son said he is learning a lot, and he is excited to learn new things. He had taken a camp [at another university] and he said UIC was a higher caliber."
"The summer camp is an opportunity for students to experience life as a student on UIC's campus, while discovering the creative aspects of engineering," said Siow. "We had three times as many students as last year, who were inquisitive and curious about the world around them. Our goal is to get them to try new things, meet new people, and use their heads and hands to solve problems like an engineer."
Modified on August 13, 2019