From California to the stars (and back)
ECE student holds internships at Tesla, NASA, and SpaceX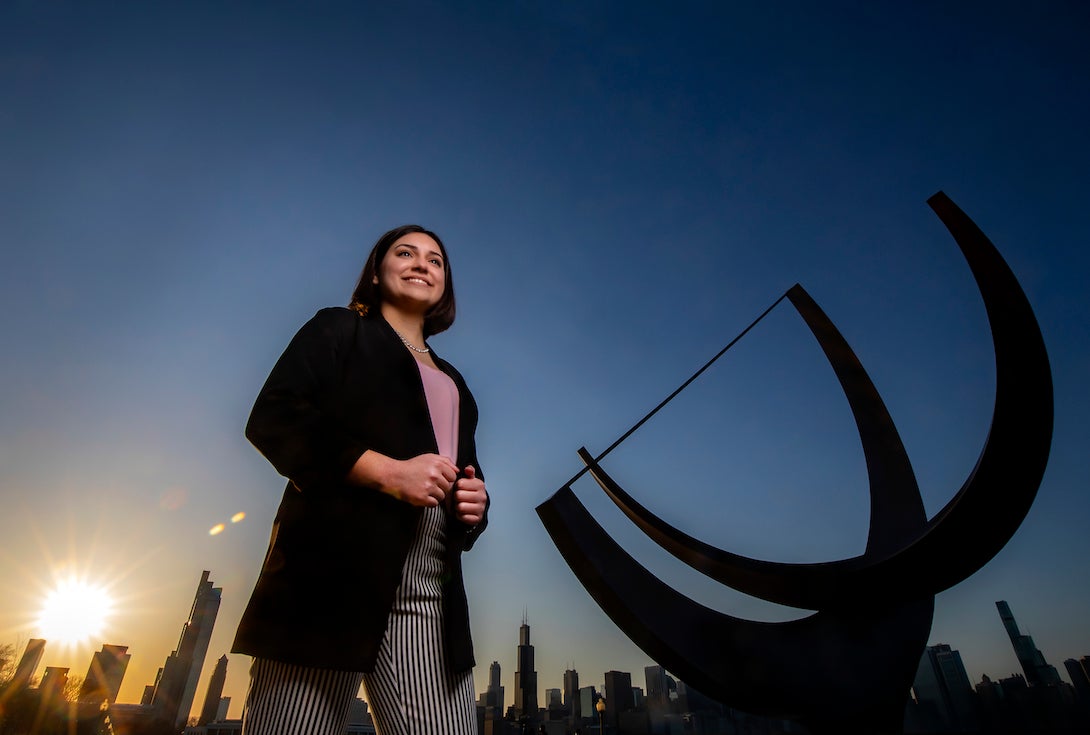 Tesla, NASA, SpaceX: these are some of the dream workplaces for many aspiring engineers. Emily Hernandez, a junior in UIC's electrical and computer engineering department, will have all three on her résumé before graduation.
Hernandez came to UIC in fall 2018, certain of her desire to obtain an engineering degree. She started as a chemical engineering major, but a coding class led her to pivot briefly to computer science. After an internship following her freshman year, Hernandez found her home in ECE.
Her interest in vehicles, especially autonomous vehicles, took root when Hernandez joined the student organization Vehicle Electronics and Systems Engineering, or VESE, in her freshman year.
"I loved chemistry and coding, but I realized I needed to get more into building things," she said. "The work I did with VESE—putting things together, building things, working with motors—made me want to focus on autonomous vehicles."
Her first internship was in the autonomous operations group of CNH Industrial in Pittsburgh, a vehicle and powertrain design company, where she worked on an autonomous rover for the agricultural industry. These rovers are designed to survey fields and provide farmers with a detailed view of on-the-ground conditions. The company later relocated its North American headquarters to Burr Ridge, Illinois, so Hernandez was able to continue with CNH through her sophomore year as a mechatronics engineer intern.
"The first internship helped me realize software wasn't what I wanted—I liked a mix of hardware and robotics. Computer engineering suited me most," Hernandez said. "At CNH I also learned a lot of fundamental industry skills, things that aren't taught in a classroom that are desirable to other employees."
Those skills helped her to land her next internship at the electric vehicle and clean energy company Tesla. Hernandez said she applied to Tesla every time it opened internship applications, joking that it took 50 tries before getting what she called her "dream job."
She took the fall 2020 semester off from UIC and moved to California to be an intern in Tesla's vehicle engineering group, which focuses on chassis control, firmware, systems engineering, the electronics inside the car, camshaft, and testing. Her work included a focus on brake systems.
"I wasn't in the autonomous vehicle group, but I learned what they were doing, I saw their testing," she said. "The internship opened my eyes to everything about automotive vehicles in general."
Then, from earth to space: shortly after returning from Tesla, Hernandez was surprised by an acceptance letter from NASA, to which she had previously applied for an internship. In January, she began a remote position and is juggling her UIC classes with work on an autonomous voice assistant for space. Unlike Alexa, Siri, or any other earth-based voice-activated assistant, this system won't be able to utilize cloud computing, so the setup has to be entirely different.
"It's very different from what I've experienced," Hernandez said. "I'm working on something completely new, and that helps me grow and learn more as an engineer."
Working remotely for NASA allowed Hernandez to live at home with her parents and older sister in the Chicago suburbs. She's very close with her family, whom she considers her biggest supporters, always pushing her to do her best. But she said she would have enjoyed seeing some of the Green Run launches, which include NASA's first full test of all the space launch system core stage hardware, in person at the Stennis Space Center in Mississippi, where her internship technically was based.
"I'll get my chance to see the rockets one day," Hernandez said. "When I watched the Crew Dragon launch, that was so inspirational to me. I am completely in awe of what SpaceX is doing. That became my new Tesla, and that's when I began to push to get hired there."
Hernandez already has landed an internship with SpaceX in avionics for the Falcon rockets. She takes off for that opportunity in California this summer.
Hernandez doesn't know what will come after SpaceX or her UIC graduation, which she anticipates will take place in December 2022. She is contemplating an advanced degree in robotics or autonomous systems or taking a job in industry, joking that the plan changes every month. She is now president of VESE and involved in UIC's Women in Engineering Program, where has found a passion in helping middle and high school students with career discovery.
She credits two mentors with doing the same for her while she was a student at Lockport Township High School: her AP chemistry teacher, Colleen Gosewisch, whom she calls "Ms. G" and who urged her to become an engineer, and William Kane, another science teacher who worked with Hernandez on an Exemplary Student Research Program at Argonne National Laboratory, which allows high school students access to the world-class facility to conduct experiments with their teachers.
Hernandez also believes UIC has been critical to her success.
"I tell anyone who will listen to come here. It's a fantastic education with great professors and fellow students. It's affordable. And there are so many resources: the Guaranteed Paid Internship Program, the career fairs and Engineering Career Center, and the student organizations. UIC is so diverse and welcoming," Hernandez said. "I'm so happy I came here."
Modified on September 05, 2021