For senior Aaron Schreyer-Miller, undergraduate research key to his success at UIC
For senior Aaron Schreyer-Miller, undergraduate research key to his success at UIC Heading link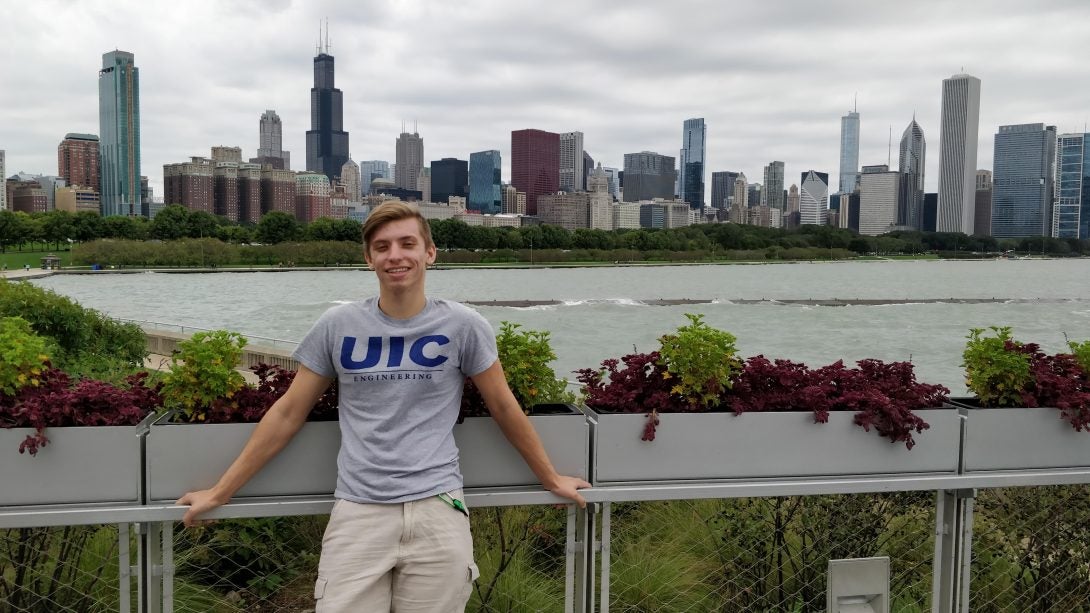 For Aaron Schreyer-Miller, a career in electrical engineering has been a lifelong dream. Now, thanks to all of the research he's conducted as an undergraduate student at UIC, Schreyer-Miller knows his path forward will include pursuing a PhD degree in photonics. Though he's not sure if he ultimately wants to teach or work for an engineering company, he appreciates the learning opportunities he's had outside of class and inside the lab.
Schreyer-Miller, from Des Plaines, Illinois, chose to attend UIC specifically because he knew UIC was a public research institution, and he wanted to "get his hands on some research." He appreciated UIC's urban location, liked the proximity to mHub, and was impressed by a tour of UIC's Makerspace.
From tinkering with electronics as a seven-year-old to working on the staff of Maine West High School's radio station as an executive engineer, the self-described workaholic loves gaining hands-on experience. He's found no shortage of that here at UIC.
Schreyer-Miller worked under Associate Professor Igor Paprotny in his Micromechatronic Systems Laboratory as part of UIC's Guaranteed Paid Internship Program (GPIP), which provides freshman and transfer students who meet department criteria with paid summer internships within university labs and departments. Schreyer-Miller worked with Mehdi Azadmehr, a visiting professor from the University of South-Eastern Norway, to develop and test a resonator circuit for a wearable particulate matter sensor Paprotny created.
It was during the GPIP internship that Schreyer-Miller and another undergraduate student, Lisa Soderlind, used some downtime to take up Professor Paprotny on an idea to culture some paramecium—single-celled organisms common to freshwater environments.
"We went over to a fish tank in the Makerspace and collected some of the water," Schreyer-Miller said. "Over a week, the culture started to grow. When we took a droplet and put it under microscope, we could see them swimming around."
Schreyer-Miller and Soderlind had access to a Nanoscribe, a microscale 3D printer with a 100 nanometer resolution, so they printed some tiny structures to place into the water droplets with the paramecium to see if and how the organisms would interact with them. They created a tiny lobster cage and observed deflections—the cage would tilt when the paramecium swam into it, and they would push on the outside of it.
"We knew this would be really interesting for Igor's lab. He has crawling and flying robots, so he wanted to see aquatic micro robots in his lab," Schreyer Miller said.
After the summer ended, Schreyer-Miller wanted to continue his research and was thrilled to find that the Chancellor's Undergraduate Research Award would provide federal work study funds, and he could be paid for some of his hours in the lab that he would have been volunteering. He wouldn't have to find a job elsewhere.
He continued collaborating with other students and faculty in Paprotny's lab. Last summer, the work on paramecium continued. Introducing electric fields to change how the organisms swam (see video below), the team created "micro swimmers."
Over winter break, Schreyer-Miller and another undergraduate, senior Álvaro Sahagun, were selected to go to the University of California-Berkeley to fabricate field emitters and electrodes for some of Paprotny's micro fliers, supported by NSF funds available for undergraduate students to learn microfabrication.
"I read up on a lot of materials. Before you can use the tools in the clean room, you have to undergo training and pass an exam on that tool. They want to make sure that if anything goes wrong you can fix it," Schreyer-Miller said.
Schreyer-Miller feels that his classes at UIC prepared him for the research.
"Most of the classes I've been taking have taught me a lot about these tools. It's really cool to see and use the tools I've been reading about in all of my classes," Schreyer-Miller said.
He also says the research has helped him with his classes.
"From the first project, the research has really put me forward in a lot of my classes. The skills that I learned—building a circuit and simulating, taking measurements in the time domain, transferring to the frequency domain—are what students learn in ECE classes," Schreyer-Miller said.
His involvement at UIC isn't limited to the classroom and lab; he is part of the Institute of Electrical and Electronics Engineers, American Institute of Aeronautics and Astronautics, and the new Hyperloop team.
"I use these as a way to help teach future engineers. We have some awesome freshmen come into those clubs, and it's great to get them excited about the subject. It's exciting to see what they can do outside of classwork," Schreyer Miller said.
Schreyer-Miller spent spring break studying for his graduate entrance exams and plans to graduate in December 2020.
Paramecium interact with a micro scale 3D-printed lobster cage in Associate Professor Igor Paprotny's Micromechatronic Systems Laboratory. Schreyer-Miller worked on this project as part of his undergraduate research at UIC.
Modified on April 13, 2023