Engineering the future of healthcare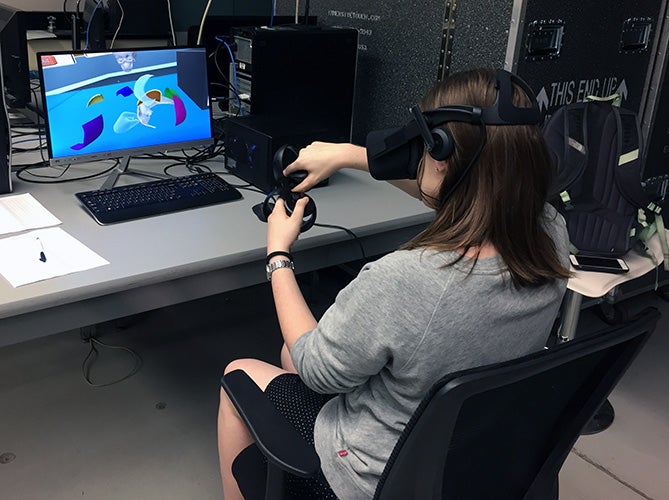 Professor Banerjee Researching, Equipping Students with Virtual Reality Simulators for Surgery
In August, doctors successfully separated twins conjoined at the head – a condition known as craniopagus – during a 22-hour procedure at the All India Institute of Medical Sciences (AIIMS) in India. Since 1952, approximately 50 attempts have been made to separate such twins across the world, with the success rate less than 25 percent.
According to doctors, craniopagus occurs in one in three million births, and 50 percent of those affected die within 24 hours. For this rare surgery, the doctors had an opportunity to prepare for the operation unlike anyone before them. Prior to the surgery, they practiced the procedure in a 3D operating room using the ImmersiveTouch Mission Rehearsal virtual reality surgical platform developed by UIC Professor Prashant Banerjee, of the Department of Mechanical and Industrial Engineering.
"We build surgical simulators and that has been my research for the past 15 years," said Banerjee, who led the Mission Rehearsal team in India. "One way to think about it is that it is like a video game console. The surgeon sits in front of the machine, he wears 3D VR glasses that allow him to see things in 3D, and he uses a haptic robot that lets him feel different tissues in the body."
The technology converts traditional CT — special X-ray tests that produce cross-sectional images of the body using X-rays and a computer — MRI, and angiogram imaging into a 3D virtual environment. This allows the surgical team to see inside the brains and vascular structure of the twins to plan the surgery. The technology also allowed the doctors to replicate the surgical touch and feel of a medical device interacting with the patient while providing valuable pre-surgical insight.
"We could see, feel and study connected tissue, discuss anatomy, and examine surgical pathways," said Dr. Deepak Gupta, Professor of Neurosurgery, at AIIMS. "Our team of roughly 40 doctors from pediatric neurosurgery, anesthesia, plastic surgery and cardiovascular sciences used the Mission Rehearsal platform to practice the surgery multiple times and plan the most effective surgical roadmap."
"The virtual reality environment is a vast improvement over the distortions of x-rays and other traditional imaging that can misrepresent the challenges inherent in the patient's anatomy," said Banerjee, who is the CEO of ImmersiveTouch. "It removes much of the guesswork in advance and provides surgeons with a new, more informed and visualized plan of care."
Providing medical professionals with the opportunity to practice a surgery in a virtual environment before they actually perform a procedure on a patient is a radical change for the future of healthcare. In the United States, the technology is being used at MetroHealth in Cleveland and by Banerjee's students at UIC.
Innovative Technology Benefitting UIC Students
As a research institution, UIC engineering students and medical residents are benefiting tremendously by having access to ImmersiveTouch technology for education and research.
"All of my Ph.D. students have been in high demand," said Banerjee. "I have not had a Ph.D. student that was not found attractive at multiple places. Some chose to work at my company and some have gone on to work at other places.
Jie Jiang is one of Banerjee's former students and is working at California-based nVidia Corporation, which is one of the hottest companies working on graphics processing units. Under Banerjee's direction, Jiang expanded the research further, wrote a paper, and a patent has been submitted based on his work.
"He worked on some interesting algorithms for us, which was demanded by some of our surgeon collaborators," said Banerjee. "He was developing two applications. One was enhancing our bone drilling method to be more efficient, and the other was bone cutting."
Jiang is only one of several students to excel from the use of the opportunity to use the ImmersiveTouch technology. Master's students have used the software and hardware for their thesis, and a Ph.D. student from Taiwan used the equipment to write a research paper.
Banerjee's company also is providing software and simulator equipment free of cost to UIC for students to use at the Craniofacial Center on the university's west campus. At that location, approximately 20 students are attending a Virtual Healthcare Engineering class taught by Banerjee.
He is working with Professor Pravin Patel, the chief of Craniofacial Surgery at UI Health, and Professor Fady Charbel, head of Neurosurgery in the UIC College of Medicine, and Professor Rachel Yudkowski, director of the Graham Clinical Performance Center. UIC's Department of Surgery is slated to set up a major simulation center based on Banerjee's ImmersiveTouch products in the spring.
Learn more about professor Banerjee's research and accomplishments at Banerjee Profile.
Modified on August 12, 2019