Engineering students take on real-world challenges from corporate sponsors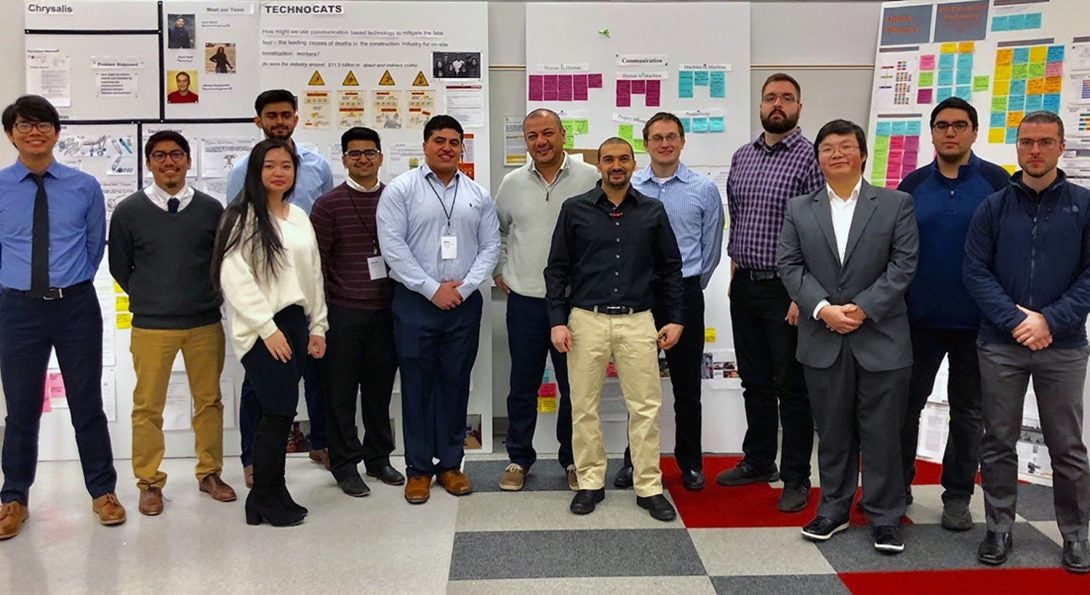 Every year, graduating students participate in the Engineering Senior Design Expo to show off their talents and engineering knowledge. For more ambitious students who want to take on a bigger challenge, the college offers the Interdisciplinary Product Design (IPD) program.
IPD is a two-semester curriculum that groups engineering students with UIC design and marketing students to work together in teams to research and develop new product concepts for sponsoring companies. The course is taught by a team of faculty from the three colleges. It focuses on the early stages of the product development process, from identifying market opportunities through prototyping and building a business case.
"The beauty of the IPD program is that students are working on providing a complete solution for a real problem in the industry. This adds a great learning experience for our engineering students," said ECE Clinical Associate Professor Loay Abusalah.
"Apart from solving a real-world problem is the interdisciplinary experience. When engineering students work with business students and designers, they start to explore how exactly those disciplines contribute to the success of a complete innovative solution," added Abusalah. "An engineer might not have the skills yet to understand design aesthetics or report market saturation. Collaborating in teams that address all of these fronts, gives all of the students more awareness of the entire process behind product development. Each team is like a small company with business, design and engineering professionals that provides a complete solution with the necessary supporting documentation. By the end of the year, the students see the enormous improvement in their research, design, communication, leadership and teamwork skills."
This year, Peoria-based Caterpillar tasked the students with solving a communication problem. As the sponsor, Caterpillar also provides the financial support needed to incorporate outside resources and materials not normally available to an academic environment.
"For the sponsors, there are three faculty members and around 40 interdisciplinary students working to provide solutions for the provided problem statement. The sponsor will be receiving five or six solutions by the end of the year which is a great return on investment," said Abusalah. "The students also work with mentors from Caterpillar – professional engineers and senior management – who are on campus almost weekly to provide guidance and mentorship to each team."
At the end of the year, the student teams present their final solution to the corporate sponsor during a mini expo held at UIC's Innovation Center, which is an enormous resource for the program.
For some students, the course has offered more than they expected. Several students have been hired by the company they worked for during the class.
"Cobra Electronics who sponsored many IPD courses in the past few years, hired some of our engineering and marketing students that worked on their projects," said Abusalah. "The industry is looking for students who have this type of interdisciplinary product development experience. This experience really adds much more to their resumes."
Apart from ECE, students from the Department of Mechanical and Industrial Engineering and BioEngineering also are working with corporate sponsors to solve unique problems related to those industries.
Past companies that have sponsored the IPD course include Baxter, BMW, Whirlpool Corporation, Rehco LLC, Pactiv Corporation, Motorola, Inc., Elkay Manufacturing, Dell Electronics, Coinstar (Redbox), Cricket Wireless, Dunkin' Donuts, Prince Castle, Cigna Healthcare, CAT, USG, and Copco, which is a Division of Wilton Industries, Inc.
Learn more about ECE at ece.uic.edu. Learn more about UIC's Innovation Center and the IPD course at http://www.ipd.uic.edu/IPD/index.php.
Modified on August 24, 2023