ECE students show talent and ingenuity at Expo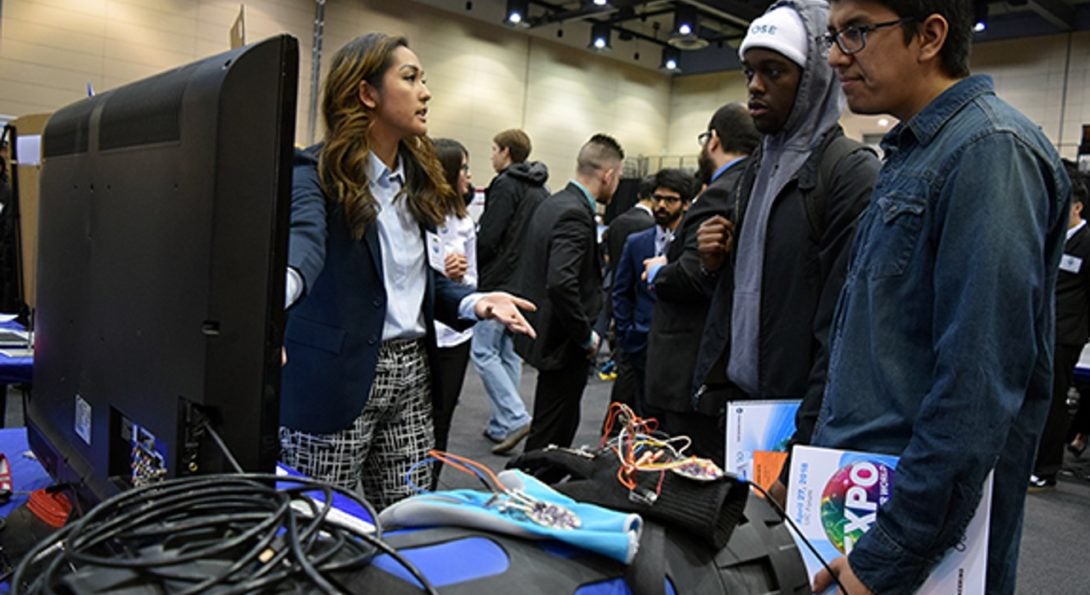 ECE students showed their talents and ingenuity during the 29th Annual UIC Engineering Senior Design Expo on Friday, April 27, at the UIC Forum. ECE students were among more than 528 seniors from the College of Engineering (COE) presenting within 27 project categories. Eleven ECE teams were named Best in Category – some teams tied for first – in the eight categories in which they participated. 
The Best in Category
In the Electronics Engineering category, Paul Benjamin Johnson and Joshua H. Tang nabbed the top spot with their Velo Nexus.
The project leverages the power of a smartphone to add additional sensors easily and on demand allow for variability for an individual user's needs and wants related to a bicycle ride.  Controlling lights, measuring cadence, and speed are a few options available.
In the Mechatronics Engineering category, Giovanni Alanis, Samuel S. Baki, and Tony V. Huynh triumphed with their project GuidingBot.
The GuidingBot is geared toward helping the visually impaired navigate a new environment through the use of autonomous robots. They provided an efficient and safe method for the visually impaired to navigate through unknown buildings.
In the Sensor Technology category, Brandon Wayne Ardisson, Paul George Bator, and Robert Paul Griffin collaborated on Hard Target to earn a spot on the podium with the winners.
Hard Target is a rapidly deployed, self-powered, multi-purpose sensing device that provides spatial monitoring and alert capabilities. It is primarily intended for Emergency Management Services, reducing risk to first responders by checking if a hazardous environment is clear of victims remotely. The device also could be used by anyone involved in outdoor recreational sports, work, or activities in remote locations, providing environmental data or acting as a distress beacon.
In the Signal Processing Engineering I category, two teams were deemed Best in Category.
Sara Adie, Hayato Doi, and Kvetta Mame Ama Abokuma Quagrainie won for PointConnect.
The intent is to use braille to better connect the deafblind community with non-ASL speakers, allowing an easy way to communicate with anyone who would like to speak with them. To achieve their goal, the students developed a device designed to translate spoken word directly into braille in real-time.
The co-winners were Omar Alhayek, Carol Diaz, Hector A. Oliva, and Stephanie M. Sagun with ROBATO: 3D AUDIO CONTROLLER.
ROBATO is a wearable controller that utilizes MIDI and open sound control to create a more intuitive interaction with higher order ambisonic systems. It allows users access to the development environment of the audio processing program Max for Live and map their hand gestures to several audio effects in real time.
In the Signal Processing Engineering II category, two teams were named winners. The team of Zizheng Liu, Mingze Wei, Ruomeng Yang, and Shi Zhen succeeded with their project Data Fusion Approach in Indoor Navigation. The goal is to design an indoor navigation system, based on non-GPS technology that combines localization information from two or more systems. Each of these independent systems need not have very high localization accuracy, but together they produce sufficiently accurate results.
Additionally, Liming Bao, Feng Chen, Feiwu Wang, and Haoran Xu earned a win with their project Invisible Signature Security Device. This project is a system that people can use to sign their name by waving their hand in the air, as if writing on an invisible wall. This method of signing is secure, difficult to copy, and more reliable in extracting user-specific features to confirm a person's identity. It's able to acquire 3D dynamic signatures to confirm a person's identity.
In the Software Engineering category, students Giovanni J. Martinez, Yannick K. Nimy Kalemba, Teslim O. Salami, Derick Santa Maria, and Demitrius J. Smith were the sole winners with the project Epileptic Seizure Detection App.
The objective is to develop an application compatible for both iOS and Android devices that would detect a person suffering from a seizure and call for immediate assistance as soon as it occurs.
In the Systems Engineering category, two teams shared the top spot. The team of Anthony James Flowers, Jonathan D. Lostroscio, Pravallika Paidi, and Michael Rivera won for An Autonomous Medical Delivery Drone.
The students' objective was to create an autonomous aerial delivery drone that can transport supplies to patients and medical personnel. Bypassing roads and traveling through the air, their drone is able to travel in conditions previously impossible and provide an option that drastically reduces delivery time.
In the Computer Engineering category, the team of Yue Cheng, Ye Liu, Haolun Tang, and Ming Yang won for their project Electronic Infusion Monitor.
The goal of the project is to design an easy-to-use drip line monitoring system that constantly monitors the IV drip rate. When the liquid runs out or when the drip rate is outside of a desired range, a nurse is notified by text message. The infusion monitor also helps a nurse set the proper drug dose rate by displaying measured drip rate parameters.
Also earning a win was the team of Javier Francia, Brian C. Gerlach, Randy Gnatek, and Yara Abdulaziz Merei for their project Deployable Emergency Alert System. The goal of this project is to enhance public safety while avoiding high costs of installation, manufacturing, and support services.
Modified on June 04, 2019